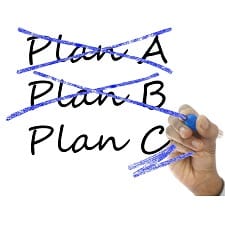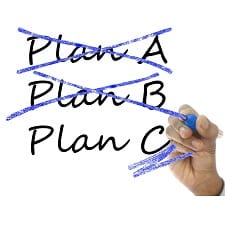 2018 Update: We still stand by this discussion on backup childcare strategies; you may also want to check out our most recent discussion on snow days and working parents.
What does your backup childcare situation look like, ladies? How many backup layers do you have, how did you decide on those, and has your backup plan ever failed you? 
In my experience, there are two main times this can come up: your sitter/nanny can cancel — or your child may be too sick to send to a group care situation like daycare.
When Your Sitter Cancels (But Your Child is Well)
When my older son, J, was about a year old, I got invited to speak at a local event for fashion bloggers. It was a big honor, and I was looking forward to it — and my babysitter at the time, a girl in her early 20s, knew that I was worrying about what to wear, getting my hair done, preparing my speech, and more. Still, the morning of the event, she called to cancel, complaining of a headache. Um… great. (We later fired her for other reasons, but man, her frequent, last-minute work cancellations based on headaches and other vague health problems should have been a sign to us that she was not cut out for regular childcare work, at least for us.)
My backup childcare plan at the time was: 1) My husband or I would stay home — in this case, it was my husband. That was it. At the time, my nearest relatives who could have watched the kiddo (my brother and MIL) were both working full time. I suppose in that particular instance, where I had a speaking gig, I could have begged one of them to take the day off at the last minute, but I would have hated to do it. I suppose another plan would have been to ask another friend who had a full-time nanny if her nanny could have taken my child — but it would have been a totally foreign situation for everyone, since he'd only had a few playdates with her son, and both boys were so young they were more of a social outing for me and my friend.
Fevers and Green Snot: When Your Child is Too Sick for Daycare
On the flip side, if you're in a group care situation like daycare, there may be strict rules about when you must keep a sick child at home — at J's old daycare you couldn't send him until 24 hours had passed since he last had a fever. Taking care of a child sick with a head cold can be low key — turn on Winnie the Pooh, keep a full cup of water/juice in front of him, and set up shop with your laptop or Blackberry to keep an eye on work. But some kiddos (or is it all kiddos during some phases?) can be clingy and whiny and want to snuggle in your arms, or get upset without your full attention… which can make working a challenge. (As my boys get older I'm already starting to miss those NEED-MY-MOMMY moments!) As we've noted before, this is one of the downsides to daycare.
So, ladies, what do you do about backup childcare? Particularly for those of you who don't have family nearby — what's your Plan B? And for those of you who've been around the block a few times, do you have any tips for younger moms? I remember one working mom advised me, "say you're sick yourself — a working mother should never say she can't do something because her kid is sick" — an interesting perspective that I've always remembered.