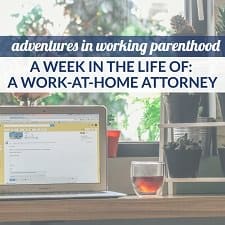 For this week's installment of our Week in the Life of a Working Mom series, I'm happy to introduce CorporetteMoms reader Mindy B., who lives in a suburb of Detroit and is a work-at-home attorney mom with a teenage daughter. Our usual caveat applies: Please remember that this is is a real person who has feelings and isn't gaining anything from this, unlike your usual friendly (soul-deadened, thick-skinned, cold-hearted, money-grubbing) blogger — so please be kind with any comments. Thank you! – Kat
If you'd like to be featured (anonymously or otherwise), please fill out this form! You can see all posts in this series here.
First, Some Basics about this Working Mom…
Name: Mindy B.
Lives: A Detroit suburb
Job: Work at home (part time) for a boutique law firm
Age: 49
Home Situation: I live in a Tudor home in a community-oriented small town with my husband who travels frequently for work, our 14-year-old daughter who's in all honors classes (plus band) in 8th grade and swims competitively 20+ hours per week, and two 2-year-old CRAZY pups.
Childcare Situation: Because I work from home, I only need babysitters when we will be out past the time our daughter goes to sleep (i.e., theater, etc.) but I do need "chauffeurs" to drive our daughter to/from activities when I have afternoon or evening commitments and my husband is traveling/working late.
Mindy pointed out how her schedule may be different from other Week in the Life moms we feature:  
(1) we only have one child (I have NO idea how parents juggle more than one child!), (2) she's more responsible than most adults I know, and (3) my husband's office is an hour away from home and he also travels out of town 1–2 nights a week, 2–3 weeks per month.