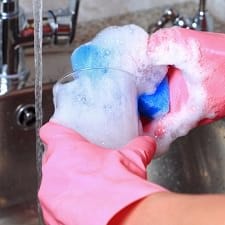 Ladies, let's just discuss: have you hired a cleaning service or cleaning professional to help clean your home? Did you hire a cleaning service BEFORE kids, or was it only something you investigated once you became a parent? (Or, did you ramp up from, say, a quarterly cleaning to a biweekly cleaning?) When would you advise other working moms to hire a cleaning service? On the flip side, is the cost of daycare (or nanny or other childcare) so great that you can't get behind the idea of hiring a cleaning service — and then have you gotten into the Flylady system or some other cleaning schedule for yourself (even if it's just a last-minute cleaning system when company's coming)? 
I still remember when I realized it was time for my family to use a cleaning service — it happened when my older son had just upgraded from the baby tub to the regular tub. For some reason, when I took my own showers I never noticed all the mold and soap scum on the tub, but sitting on the floor next to my son who was happily licking the walls and toys and drinking the dirty bathwater (WHY?), I was horrified. Up until then, my routine for keeping a "clean house" involved 15 minutes every day when I wiped down counters, scrubbed toilets, dusted something, or organized something — but I realized that with a small, crawling, growing little man (who was licking weird stuff) that I needed to raise my game. I had no particular interest in spending more than 15 minutes a day cleaning — or even to scrub the tub on a regular basis! — so this kind of depressed me. 
Around the same time, as luck would have it, we went out for a date night with another married couple, and they started talking about how AMAZING their cleaning professional was. "She's like the housekeeper I had when I was in London," the husband, A,  gushed. The wife, my friend N, piped up: "Yes! She asked if she could organize A's closet and then did a great job!" 
We expressed interest, and so they asked, and soon their cleaning professional, O, was cleaning our home once every two weeks. My home quickly became WAY cleaner than with my own cleaning method — not just cleaner, but more organized. There was at least ONE DAY every two weeks where I felt a sense of peace and calm coming from a 100% clean home. There is no way I could go back to the way things were before!
Some tips from someone who's had a cleaning professional for a while: