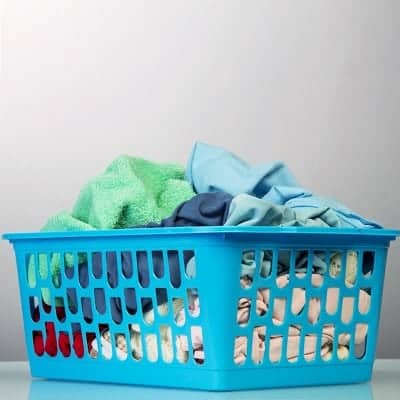 I've seen a lot of conversations about this topic — on here, on Corporette, on Facebook, amongst friends, etc. — but I don't think we've ever had an explicit post about working moms and laundry. So, ladies, let's talk: How does your family do laundry? More accurately, WHO does the laundry in your house? Do you outsource parts of it, like asking your au pair or nanny to do your kids' laundry, or having a mother's helper in once a week to help you sort laundry? Has it changed since you had kids — for example, did you and your husband used to do laundry separately but now it gets combined? At what age did YOU start doing your own laundry — and at what age will you ask your kids to do their own? Side question: Who does your delicates?
In Casa Griffin, my husband tends to be the primary Initiator of Laundry — he feels like throwing a load in is a great way to get something accomplished, and he has very little patience for actively dirty clothes sitting around, whether it's spit-up or pee or otherwise. He and I differ on When Laundry is Done, though — he seems to think it's done when the dryer has stopped, or perhaps when there is a large pile of clean laundry on the bed. This is one of those little marital differences, in that I would not start laundry if I couldn't do it to completion, which for me includes sorting and putting it away. I've learned that our household runs best if, when I find clean unsorted laundry, I just take the task and run with it. (Oh and socks — those will sit for DAYS if I don't do them, so I try to sort and put those away first.)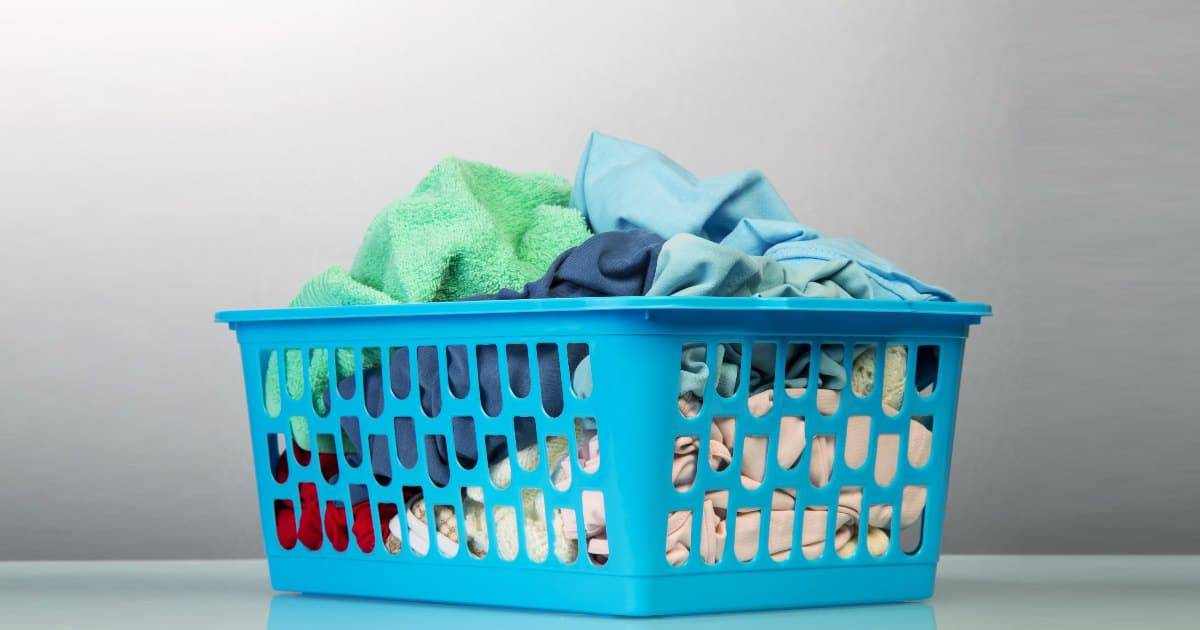 Another of those little marital differences — my husband used to just go around and collect any dirty clothes in any hamper and put them all in a load in the washer, which then meant that whomever was putting the laundry away (ahem) maybe had to open up four different sock drawers, four different underwear drawers, four different shirt drawers, and so on — even if there was only one or two of each item. So now I try to encourage that at least our laundry is done separately vs. the kids' laundry.
A few other notes in terms of how one working mom's laundry system works at Casa Griffin:
delicates: I collect my own delicates and do them separately. This isn't to say that my husband is incapable of doing my delicates — and if I need something done STAT and I put it in one of those little mesh bags, there is at least a 70% chance that he will remember to not put it in the dryer. It's just easier for all parties if I do my delicates separately.
folding: LOLhahahaha. I am a mean, mean mother who does not believe in a) hangers for kids' clothes or b) folding for most kids clothes. I try to fold seasonal clothes when I put them away (so that my 7-year-old's long t-shirts and pants are folded nicely at the end of summer, for example) but his drawers so often turn into a tossed salad that I don't really see the point in taking the time to fold things more regularly. My husband very much prefers the "Gap fold" for his folded shirts and sweaters, whereas I'm fine with a much, much messier fold because anything I actually like is on a hanger — so I tend to let him fold his own shirts.
sorting as a kid-friendly chore: I keep meaning to make my kids help me with sorting laundry as an easy chore they can do — but because I've adopted this crazed "must get clean laundry sorted and put away ASAP" mentality, I don't often think about "leaving" it for the kids to help with.
changed laundry habits after kids: We definitely changed our laundry habits after having kids, just in that my husband wanted to do the laundry more often because there were soiled clothes around. (In fact, after having kids we were doing laundry so often that we also started actively using rags instead of paper towels for cleanup wherever possible.) But before that, the biggest change came once we moved into our condo with a washer/dryer — I used to do laundry once a month (!) when I had to trek down to the basement of my old 1-bedroom, but once we had our own washer/dryer it became a much more regular thing. But I can't remember a time when my husband and I didn't have a shared hamper or when we wouldn't both take responsibility for the laundry.
Ladies, over to you: What's laundry like in your household? Is it something you delegate or manage, or a task you prefer to do yourself? What do you see among your fellow working moms and laundry — how do they manage their laundry?
Stock photo via Shutterstock / Laboko.