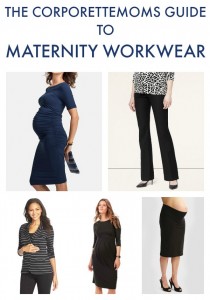 As we note in our book, the Guide to Dressing Professionally While Pregnant, the bulk of the things you buy should be classic, understated pieces — if you choose, these will last you through multiple pregnancies! Trendier, seasonal pieces are a fun way to mix things up though — so we've separated the page into two parts: the classic, and the trendy. If you're on a budget, don't forget to check eBay for people selling maternity wardrobes as a lot, as well. Check this page for our full breakdown and thoughts on maternity stores in general. Ladies, what classic maternity workwear pieces am I forgetting thus far? (This page will probably always be a work in progress!)
Don't forget that we also feature a maternity work outfit idea every Monday, and we often feature nursing-friendly and pumping-friendly workwear ideas.
Pictured at left in "Guide to Maternity Workwear" graphic: dress, pants, blazer, dress, skirt. 
If you're at the very beginning of your search, I thought I'd round up a few of the maternity classics:
Postpartum product picks:
(L-all)
Classic Maternity Workwear

Trendier/Seasonal Maternity Workwear