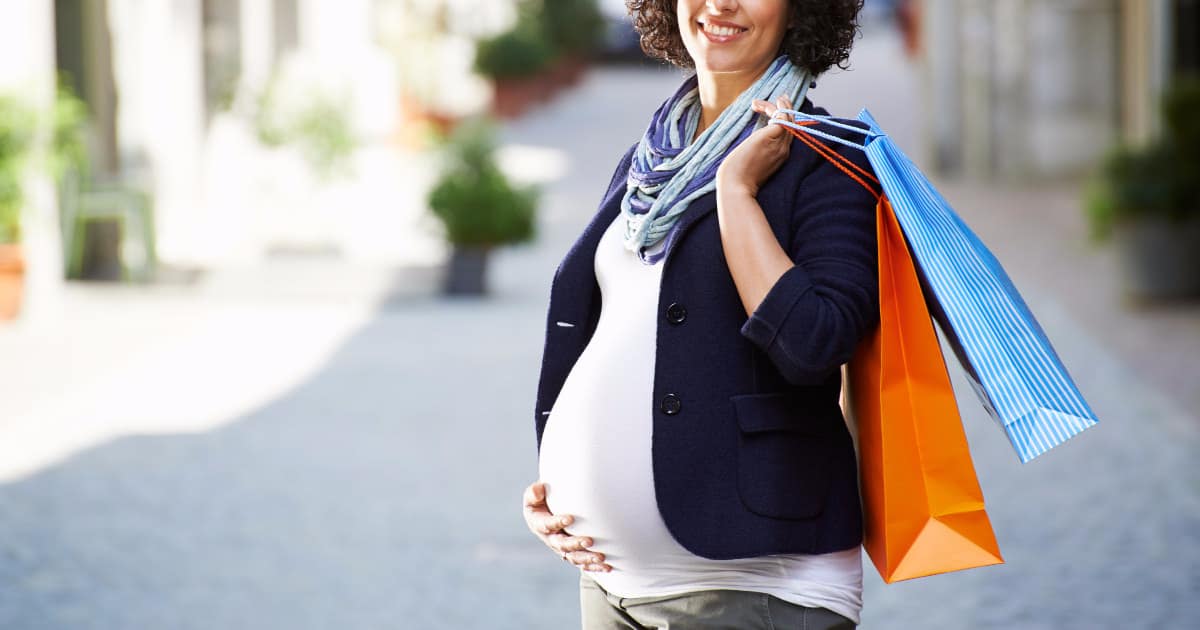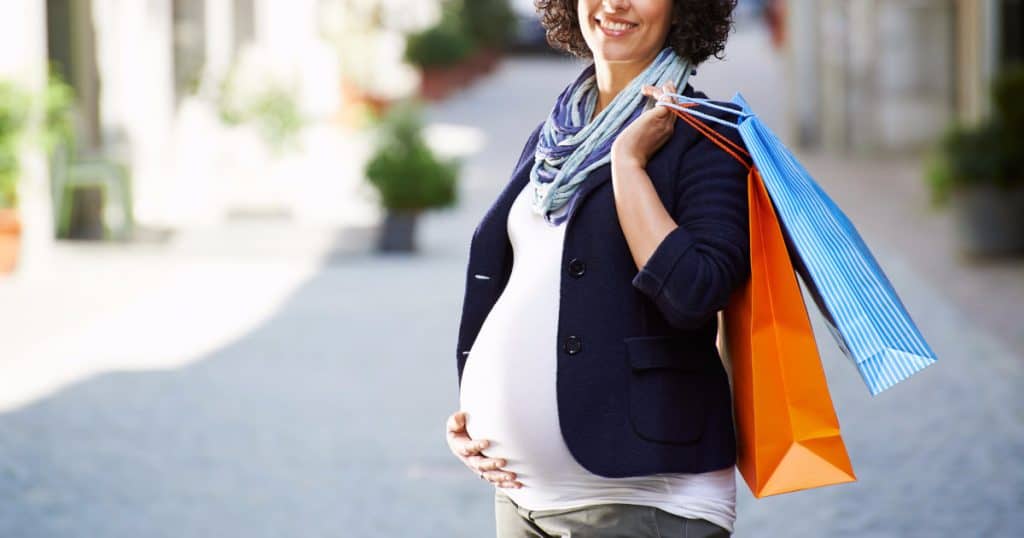 It's been two and a half years since I wrote my little ebook on Dressing Professionally for Your Pregnancy, so I'm in the midst of revamping it. Here's an update on my general advice for maternity shopping for work.
(Pictured — for more specific pieces to buy, don't forget to check out our Guide to Maternity Workwear.) Ladies, what are/were your best general tips for maternity shopping for workwear?
Some of my best tips on maternity shopping for workwear include:
DO NOT BUY SHOES, at least not with the thought, "These will be great when I'm back in regular clothes!" My feet changed an entire half-size after pregnancy — I also developed some foot problems — and I wound up selling many of the new shoes I had been excited to wear after pregnancy and just giving away the majority I'd worn before. Maybe you'll be different, and I hope you are, but my $.02: Don't buy shoes unless you need them during the pregnancy itself, and in that case, look for more comfortable flats and low heels, supportive walking shoes, etc.
If any of your recent purchases of regular, non-maternity clothes still have tags, seriously consider returning them. There can be a myriad of reasons you won't want to wear them after pregnancy: size and fit (most mamas I know agree that their bodies were fundamentally different after pregnancy, and even if they stayed the same size or weight, clothes just fit differently), trend (unless it's a very classic piece, consider returning it), style (you won't know what works for you during nursing/pumping unless you're there — or even if/how long you'll be doing so), fabric (you will be very reluctant to wear silks, nice wools, and any general dry-clean-only fabrics until your kiddo is out of the Sticky Hands Phase), and more.
If you can get your money back on anything you bought before you knew you were pregnant (or before you read this), I strongly recommend you consider returning it.
Don't get too crazy with maternity shopping. Many women can wear their normal pants until week 20 (perhaps with the aid of a Bella Band (see top) or even a rubber band), and many women can get by until much later by wearing many of the same dresses and tops. Depending on weight gain (how much / where) you should even still be able to wear your old blazers well into your pregnancy (albeit unbuttoned). The really bad weeks will be weeks 30-42 (most doctors won't let you go past week 42 without inducing you) — so primarily buy maternity clothes with that season's weather in mind.
Regular (non-maternity) cardigans are great buys while maternity shopping, particularly open/waterfall cardigans. You'll find these very wearable during your pregnancy and useful if you're nursing — and the great thing is, no matter what your size after birth (or how your body weight has redistributed), odds are good that they'll still fit. Look for easy care fabrics like cotton and washable wool, and reconsider cashmere, silk, and other delicate fabrics.
Buy big, fun necklaces. My chest was huge while pregnant and even bigger while nursing, and for balance, I needed some statement necklaces. (They were also great for helping me feel like I had a bigger maternity wardrobe than I actually did!) Think 18″-22″, no longer — you want them near your face. Have fun with color, material, and sparkle. Online discount shops like BaubleBar can be a great source; also look for sales at spots like J.Crew, Bluefly, and flash sales like Gilt and Rue La La.
Some fun statement necklaces:

Buy colorful printed scarves in easy care fabrics. Sensing a trend here? Back away from fine silk/cashmere scarves, at least for a little while. You can wear the easy care scarves for balance (and much needed variety) in your maternity wardrobe; later, if you're nursing, you can use them as an impromptu cover, to hide milk stains (hence the patterns), to camouflage too-full breasts, etc.
Don't worry about finding a great maternity suits. The quality and styling on maternity suits is generally horrible (Pregnant Fashionista, a lawyer who's shopped her way through four pregnancies in five years, considers it "maternity's most elusive piece"!).
Honestly, you'll probably be fine wearing a maternity dress with a regular blazer unbuttoned over it. Besides, I think most circumstances that might otherwise require a suit — court, big meeting, presentation, job interview — will be filled with people who either a) won't give a second thought to why the pregnant lady isn't wearing a suit, or b) will understand. If you're literally in suit situations every day, buy a few maternity suits in very neutral fabrics — but by and large the rest of you get a pass.
If you must, these are our latest favorite maternity suits…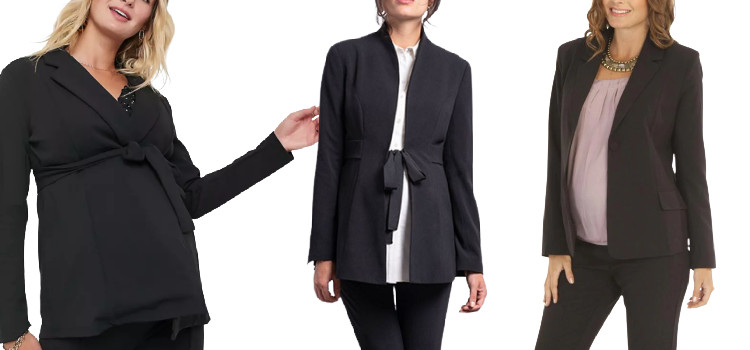 Focus on simple, versatile tops and pants while maternity shopping. Many, many mamas end up wearing their maternity pants for several months after pregnancy, and if you buy simple basics, these can hopefully be worn again in a second (or third) pregnancy.
Note that maternity pants generally contain a stretchy band that goes under your belly or a stretchy "full panel" that goes OVER your belly. (Seraphine Maternity has a great "bump band guide.") This tends to be a matter of preference, but the general intention is that the under-belly bands are for early pregnancy and the full-panel bands are for later pregnancy. Personally, I vastly preferred the full-panel bands — they smoothed out my baby bump and helped me feel in general like I wasn't losing my pants throughout the day. (Unfortunately, you'll probably feel like you're constantly yanking/adjusting most maternity pants.)
For tops, camisoles, and even dresses, keep an eye out for ones that double as nursing tops. There are many products on the market that will accommodate your bump during pregnancy and will then be nursing-friendly. There's a huge variety in style and quality (to say nothing of feasibility of nursing), but if they're affordably priced they can be worth it. (That said, I primarily wore regular t-shirts while nursing my son, and if you're planning to pump at work your considerations may be different — see this Corporette post for our discussion on pumping-friendly clothes.
Looking for the best nursing camisoles and tanks? These are great for adding coverage for your belly if you lift your shirt up to nurse…

Underpinnings
Invest in at least two bras for every size your breasts go through during pregnancy. You may find that your breasts will grow dramatically throughout pregnancy, so make sure that you're always wearing a bra that fits, for professionalism, propriety, and, gosh dang it, comfort. (Buy two of each size so you can give them at least a day off between wears and avoid other cardinal sins of bra care.) (I never saw a need for maternity underwear, but you may find you want to purchase a larger size.) After about week 35, your breasts probably won't get any bigger and you can purchase your first nursing bra. Don't go overboard while maternity shopping — I wound up not liking any of the first nursing bras I bought, even though they were fine for regular bras, so wait until you actually start nursing to make a big investment.
Get maternity tights. If you'll be pregnant at all during cold weather, I highly recommend maternity tights (particularly if you tend to wear control-top tights when you're not pregnant). You may also want to talk to the women in your family about varicose veins, spider veins, and other fun pregnancy side effects — these tend to be genetic. (Pregnant Fashionista had a great post a few years ago about compression tights.) At least in early pregnancy, you may also want to try this DIY approach to roomier tights, which some Corporette readers have suggested:
If you want to wear tights but want to loosen the waistband, you can try this trick (on a cheap pair of tights). Up at the top of the thick part of the band, make a small vertical cut down about halfway the length of the band (not through it completely, that's how you get a run). You can put two in front, two in back, and one on each side. When you put them on they'll pull apart like a V. Add a little clear nail polish and BAM, roomier tights.
Consider other light support garments while pregnant. Even if you're usually not a fan of Spanx or other girdles, most mamas I know appreciate the (very light) support while pregnant — I was so happy with Spanx's maternity line, I haven't tried other options.
How about you, ladies — what did you find while maternity shopping? What are your best tips for other moms just starting to do maternity shopping?
Social media images via Deposit Photos / diego_cervo.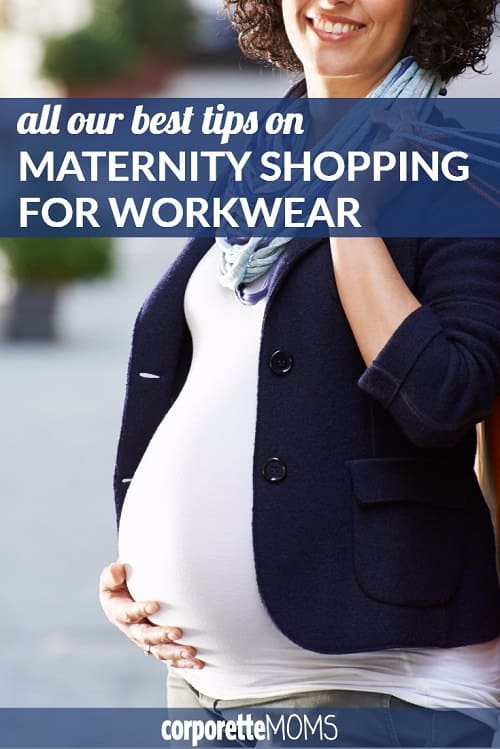 Sales of note for 11.28.23…
(See all of the latest workwear sales at Corporette!)
See some of our latest articles on CorporetteMoms:
Click here to see our top posts!
And — here are some of our latest threadjacks of interest – working mom questions asked by the commenters!