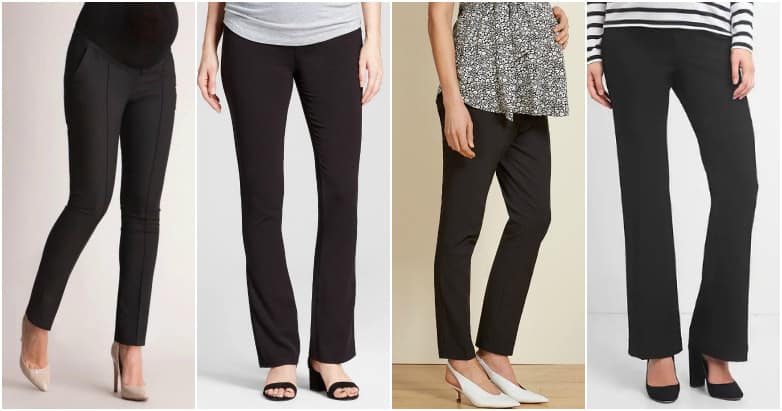 Several months ago, we rounded up the best maternity dresses for work, and now it's time to look at another essential area of your everyday maternity wardrobe: the best maternity pants for the office.
(We just rounded up the best pants for work at Corporette, and we were struck by how few brands offered maternity pants for work!)
Many moms-to-be are lucky enough to be able to wear their regular pants up to week 20 or so (perhaps less likely if you're on your second pregnancy or beyond), especially with the help of a Bella Band (or a rubber band, in a pinch!).
Somewhere around that stage, though, you'll probably find that it's time to switch to maternity pants (which you may get even more wear out of than you think, considering that many moms continue to wear them postpartum).
This post contains affiliate links and CorporetteMoms may earn commissions for purchases made through links in this post. For more details see here. Thank you so much for your support!
Maternity pants usually have a stretchy waistband that you wear under your belly — typically more doable in the earlier stages of pregnancy — or a stretchy full-panel waistband that you pull all the way over it, which can feel a bit more secure. We feature both options below.
Do tell, moms and moms-to-be: What do you think are the best maternity pants for the office?
We have lots of recommendations for you today, most of which are machine washable. Many are on sale, too!
This post contains affiliate links and CorporetteMoms may earn commissions for purchases made through links in this post. For more details see here. Thank you so much for your support!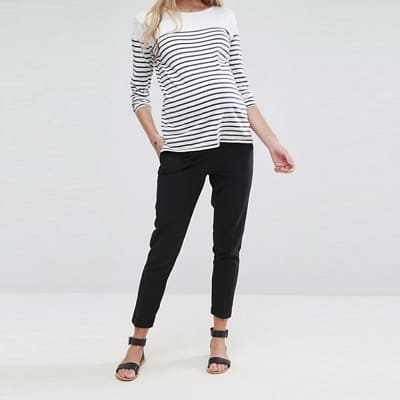 If you're planning on only having one kid, you may not want to spend a ton on maternity pants, or maternity clothes in general. In that case, ASOS Maternity is a great place to start your search.
Bonus: these stretch slim pants from New Look Maternity have pockets! (Do note that the model pictured is 5'10", so clearly, the pant hem is likely to be significantly longer for you if you're of average height or shorter.)
The pants come in sizes 0–14 — and you can't get much more affordable than $24.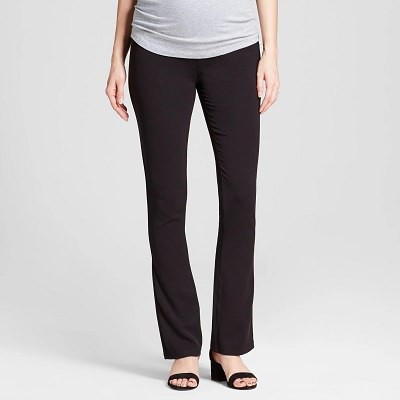 Another good bet for affordable maternity pants is Target's Ingrid & Isabel line, which includes this crossover panel bootcut trouser (pictured above). The brand has a few options in plus sizes, as well.
If you're looking beyond bootcut, other styles at a similar price point include $35 MAMA slacks in sizes 0–10 at H&M and the $39 full-panel pixie ankle pants from Old Navy that go up to size 20 (currently on sale for $29).
If you'd prefer more traditional pants, Uniqlo has a limited maternity section, but they're still a good place to check for options like these $39 wrinkle-resistant ankle-length pants with a front crease.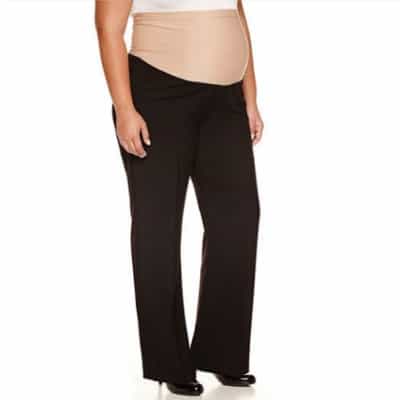 It can be really difficult to find plus-size maternity clothes for work, but JCPenney delivers — they have options for sedate pants as well as more "fun" styles.
This $39 wide-leg style from Duo is washable, has two back pockets, and comes in three colors — black, gray, and beige — in sizes 1X–3X. It has tons of great reviews, as well.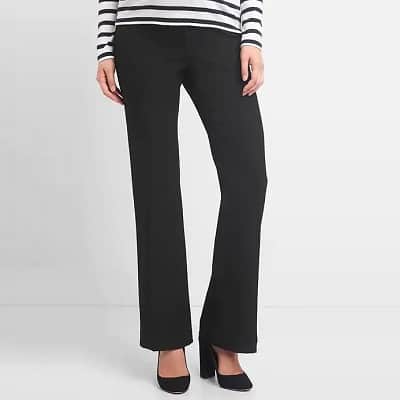 You'll find lots of skinny options for maternity pants at Gap, but do note that they've had these full-panel baby boot trousers for at least 10 years! They're machine washable and have back pockets.
The pants are currently on sale for $56 and are available in indigo and black. Sizes go up to 20; keep checking for your size if it's sold out!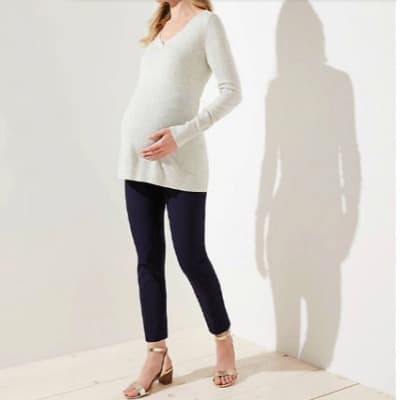 Loft has lots of options for maternity pants, with both roll-down and demi-panel styles available — and these skinny ankle pants (pictured above) are an online exclusive. They go up to size 18 and come in black and navy.
(Note that the pockets, which are shown in one of the photos online, are faux pockets.)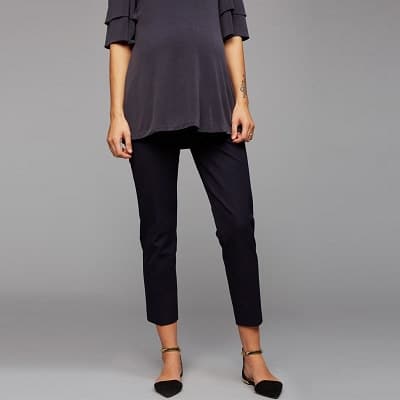 You can find lots of options for A Pea in the Pod's Secret Fit Belly maternity pants (XS–L) at both A Pea in the Pod and Amazon. The pictured pants, which are $88 (currently on sale for $66!) come in navy and black and are machine washable. They don't have many reviews yet, but the ones they do have are very positive — and they all mention how comfortable they pants are.
Sister brand Motherhood Maternity also offers their own Secret Fit Belly pants at a lower price point.
Another nice option that's almost the same price is from Seraphine — their tailored maternity pants (2–14) are $89 at Seraphine.com and are also available at Amazon.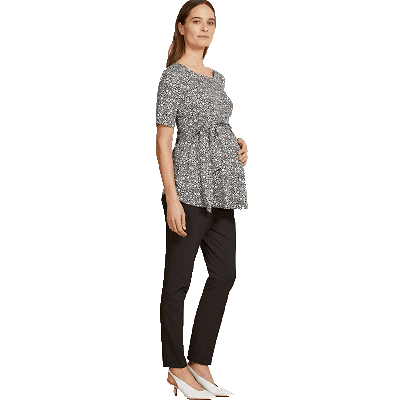 If you've decided to focus on a few higher-quality pieces (or more than a few!) and/or you know you'll have at least one more kid after your current pregnancy, this Josefina pant from reader-favorite brand Isabella Oliver is definitely one to consider. It's available at IsabellaOliver.com in sizes 2–14 (0–5) for $159.
Unlike most of the pants we're featuring here, the Josefina pant has a narrower, under-the-bump waistband. (Note that the pants are dry clean only.)
You may also want to check out our post on the best maternity jeans for work and play…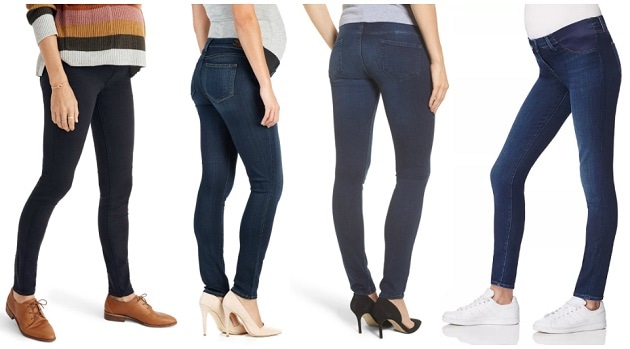 Pictured above, some of the best maternity jeans as of 2021… 1) Madewell 2) Paige 3) Isabella Oliver 4) J.Brand
Your turn, readers: What have you found to be the best maternity pants for the office? During your pregnancy, how long were you able to hold out on buying maternity pants (perhaps using a Bella Band, as mentioned above)?
Do you typically buy pants in similar styles to your regular pants, or do you prefer different sorts of pants when you're pregnant because they're more comfortable or more flattering, or both?