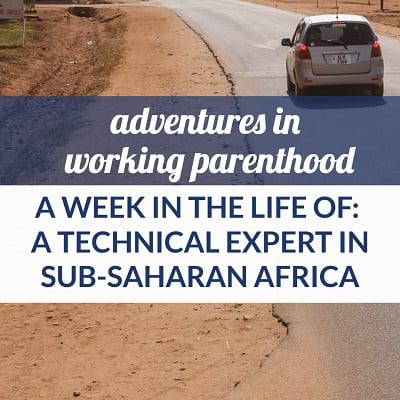 For this week's installment of our Week in the Life of a Working Mom series, I'm happy to introduce CorporetteMoms reader J, who lives in sub-Saharan Africa with her husband and son and was works as a technical expert for a large international institution. Our usual caveat applies: Please remember that this is is a real person who has feelings and isn't gaining anything from this, unlike your usual friendly (soul-deadened, thick-skinned, cold-hearted, money-grubbing) blogger — so please be kind with any comments. Thank you! — Kat
If you'd like to be featured (anonymously or otherwise), please fill out this form! You can see all posts in this series here.

First, Some Basics About This Working Mom…

Name: Reader J
Location: Capital city in sub-Saharan Africa
Job: technical expert for a large international institution
Age: 34
Home Situation:
My husband (39, works in government), my one-year old son, and I live in employer-provided housing in an expat neighborhood. We have a three-bedroom house with a small yard and a swimming pool in a walled compound.
Childcare Situation:
We have an amazing nanny who works about 45 hours/week as well as a full-time housekeeper who helps out with childcare. In total, we have childcare coverage from 7:00–5:30 on weekdays and a few hours on Saturday morning. I won't share how much we pay because it would make your U.S.-based readers keel over with jealousy, but we pay top-of-the-market salaries and benefits to both our nanny and housekeeper and it accounts for less than 5% of our take-home pay. (We both work professional jobs.)
A Week in My Life