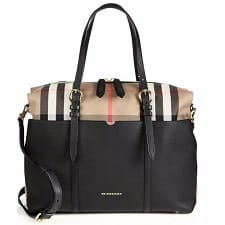 Here's a fun question for you guys: what would you tell new moms NOT to buy? What did you buy that was a waste of money or a mistake for your family? For me, the big answer to this question is a fancy diaper bag — I now advise all of my friends to NOT buy a fancy diaper bag when they find out they're pregnant.
(Pictured: a lovely $1400 Burberry diaper bag to consider if you don't want to listen to this advice!)
All of my friends and I made this mistake: the second we found out we were pregnant we started looking for fancy diaper bags.  Resist the urge to do this! At least until after the kiddo is born and you've been using a diaper bag for a little bit of time and have a better sense of your needs (and the level of grossness that often comes with babies).  For example, the one that I bought (a very nice Rebecca Minkoff one that's still available) I ended up hating, because I didn't want a two-handled tote bag — one handle would fall off my shoulders, and I felt like the whole thing threw my balance off further, particularly if I was babywearing.  It also didn't fit neatly over the stroller handles (or underneath in the basket) — in short, I used it about three times.