Ladies, what would be on your maternity work wardrobe checklist (for those of you already back in the office)? What were your best purchases for your maternity work wardrobe, and what were your worst? (What additional notes would you have for pregnant moms working at home right now?)
Maternity clothes are not cheap — even the items on this pretty bare-bones list will set you back around $1,000. You can of course rent maternity workwear, buy maternity lots on eBay or otherwise buy used maternity clothes, or borrow maternity clothes from friends and family to extend your wardrobe… but if you want to buy new, this is the main list to work from.
This post contains affiliate links and CorporetteMoms may earn commissions for purchases made through links in this post. For more details see here. Thank you so much for your support!
Maternity Work Wardrobe Checklist: What to Wear Everywhere
3–5 casual t-shirts and/or tanks
2 camisoles (demi-camisoles may also work well during this period)
2–4 dresses (work and weekend!)
1–2 pairs of jeans (more if you can wear jeans to work)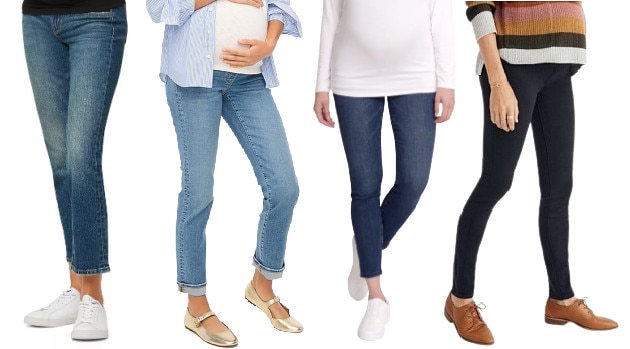 Wear to Work
2–4 pairs of pants
1 pencil skirt
1 blazer (But only really late in your pregnancy if you need one! I wore my regular blazers until week 38.)
1 "tailored"/nice dress; can be worn with a blazer
(Only if in court, or if you work in a Very Conservative office: look for 1–2 maternity suits.)
Special Occasions
1 special dress (baby showers, date nights)
1 going-out top (If your style is pretty minimal you may want to splurge for a great statement necklace here instead.)
Accessories
1–2 non-minimal necklaces — don't have to be statement necklaces, but color/size help draw the eye up.
1-2 scarves (You can use it to hide pregnancy cleavage or as a nursing cover later.)
comfortable shoes for pregnancy feet (particularly to support your arches!)
Pregnant in Winter
(This only really applies if lots of winter months fall in the 25–42 week timeline.)
1–3 pairs of maternity tights
1 maternity coat
1–2 cardigans or sweaters
1–2 sweater dresses
Lounging
1–3 maternity leggings, yoga pants, joggers
nice slippers or slipper socks for all those late-night trips to the baby's room
Undergarments
1–3 new bras (Wait until you need them, but budget for them.)
1–2 Bella Bands (especially for earlier in your pregnancy when your regular pants might fit… with just a little help)
Tips for Working From Home While Pregnant
My one big note here is advice from my podiatrist: WEAR SHOES, particularly if you're on wood floors while pregnant — your arches are going to fall. My podiatrist suggested Crocs (sexxy!) or a clean pair of Birks or other house shoes.
Readers, what would your maternity work wardrobe checklist look like? What would you advise your best friend to get — and what should she not buy until she needs it, or not buy at all?
Stock illustration via Shutterstock/alphabe.