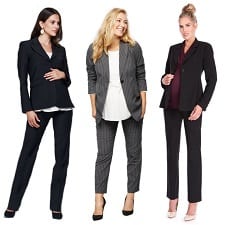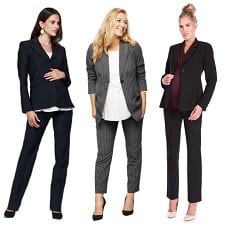 2019 Update: We still stand by this advice for where to find the best maternity suits for professional women, and have updated the links!
Have you found maternity suits to be essential at your office, conservative or otherwise? Not really necessary, no matter what your company's dress code? Hard to find, either way — and when you do, not exactly … stylish? Did you wear maternity suits, or did you avoid them entirely by layering a blazer over a maternity dress (or otherwise wearing separates), or getting a regular-sized suit that was too large and then having it tailored? Unfortunately, when we've previously talked about maternity suits, both here and at Corporette, there just hasn't been much to recommend (especially regarding plus-size maternity suits, not surprisingly). Still, it's time for an update to share what's out there if you're hunting for maternity suits for professional women!
For some reason, this time around, the maternity-suits situation seems worse than usual. Sadly, the British brand Eva Alexander is no more (Nordstrom does have one jacket, but without coordinating pants); brand Maternal America seems to have zero suiting options at the moment, and its site says, "We are Under Construction," which doesn't bode well; all of A Pea in the Pod's options currently only have very limited sizes in stock (both at their own site and at Macy's), and so on. It doesn't help that some brands that offer maternity workwear in addition to their regular offerings — like Loft and ASOS — just don't make maternity suits. (If this is your second or third pregnancy and you're yet again searching for maternity suits, have you found it tougher to find a good one this time around?) By the way, if you're looking for something from a brand that's gone out of business or is just hard to find (for example, Theory maternity suits, which we and readers have mentioned in the past), try sites like Poshmark, ThredUp, and eBay.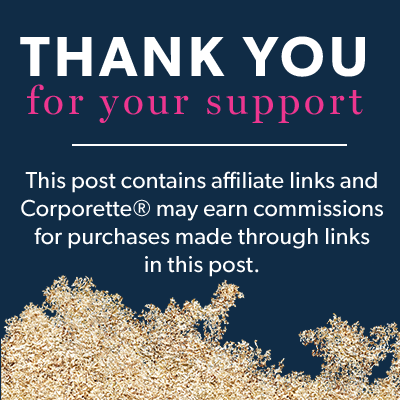 Readers, do tell: Where have you found maternity suits you've liked? What do you think are the best maternity suits for professional women? Have you decided to buy a few relatively inexpensive maternity suits or buy a single higher-end maternity suit? At what point in your pregnancy did you have to stop wearing your regular suits to the office? Or, if you're not on Team Maternity Suit, what are your favorite alternatives?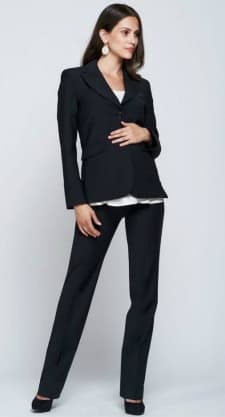 The British maternity brand Slacks & Co. (available at Figure 8 Maternity) sounds like it might sell polyester pants in the back of Parade magazine (I stole that joke from Tina Fey), but as maternity suits go, this classic, black, stretch-wool suit is definitely worth considering. It's about as far from Parade as it gets, actually — founder Claire Hoyos worked with a Savile Row tailor to launch the brand, the company's styles are all made and designed in Europe (this one was made in Portugal), and the company emphasizes its ethical standards. This suit's blazer has concealed side zips that can be unzipped as your belly gets bigger, as well as real pockets — and the pants are made with expandable side inserts and real pockets, as well. (There are no details online about the skirt, for some reason.) Figure 8 Maternity is offering a $75 discount if you buy all three pieces, which brings the original total of $450 down to $375. (The product page mentions the code 75offSlacksSuit, but you can ignore that, because it seems to get added automatically.) Just to make things more interesting, the size ranges for the three pieces are all different: 1–3 (jacket), 26–32 (pants), and 6–14 (skirt). Classic Maternity 3-pc. Suit Set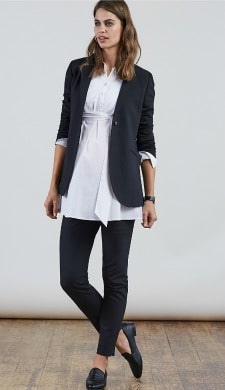 Isabella Oliver has several maternity blazers available right now, but this is the only blazer that seems to have matching pants currently available. (Did you know that "maternity waistcoats" are apparently a thing?) Both pieces are made from a cotton/polyester blend (with a bit of elastane for stretch), although the jacket is labeled dry clean only and the pants are machine washable. The part of the description that says the jacket "can be worn during pregnancy and beyond" made me pause because, of course, any blazer can be worn during pregnancy and beyond if you leave it open — but when I scrolled down to see the image that shows the blazer closed, I saw it has a single high button, which definitely makes it look like it's designed to be buttoned over a pregnant belly. The pants are meant to fit under rather than over your belly (but do note one reviewer took issue with that; in general, reviews are positive), and they have concealed zips along the bottom of the side seams — not exactly a typical feature with maternity pants.

The blazer is on sale for $183 (from $305), and the pants are $149.

Althea Tailored Maternity Blazer / Althea Cigarette Maternity Pants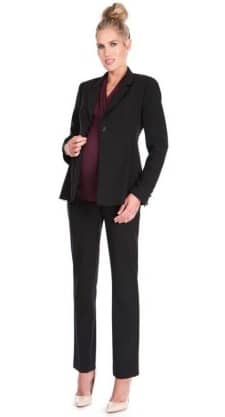 The brand Seraphine has been very popular among CorporetteMoms readers (as well as Kate Middleton, of course) for its stylish, work-appropriate maternity dresses — and it also offers maternity suits, like this black ponte one at Figure 8 Maternity. I've seen plenty of ponte blazers, pants, skirts, and dresses, but I don't think I've ever come across a suit that's made from ponte. Still, if there's any time to wear one, it's when you're pregnant. A few notes: The skirt has side button tabs to adjust as you get bigger, the jacket has a maternity-friendly empire waist (in case you can't tell from the image here), and the pants have real pockets (you know, for morning sickness candies and other fun pregnancy accoutrements). The site is offering a $50 discount if you buy all three pieces, which brings the original total of $333 down to $283. (The product page mentions the code 50offSeraphineSuit, but you can ignore that, because it seems to get added automatically.) The size range for both pieces is 2–12. Classic Ponte Maternity 3-pc. Suit Set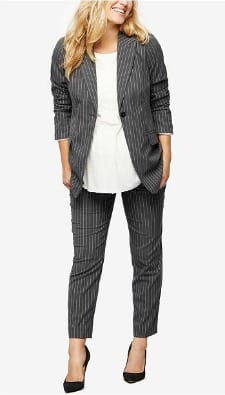 This gray pinstriped pantsuit, which is part of A Pea in the Pod's bi-stretch suiting line, is available both at the brand's own site and at Macy's, but sizes are selling quickly — especially because both stores are offering almost 50% off right now. I'm normally just fine with a pinstripe for suits, but I have to say that somehow this particular pattern makes it clear that this suit isn't a high-end one. (Part of it could be that the fabric is a polyester/rayon/spandex blend and doesn't exactly look luxurious when you zoom in?) Still, if you really need to buy a maternity suit and don't want to spend a lot of money (especially if you're planning to be "one and done"), this could be a great option at $130 total (marked down from $256).

(2019 Update: Unfortunately this exact suit is sold out now, but Pea in the Pod is still one of our top places to look for suiting separates.)
All right, ladies, let's hear from you — what did you do for suits when you were pregnant and had an interview, had to appear in court, or had otherwise big career days? What were your favorite maternity suits for professional women?
This post contains affiliate links and CorporetteMoms may earn commissions for purchases made through links in this post. For more details see here. Thank you so much for your support!