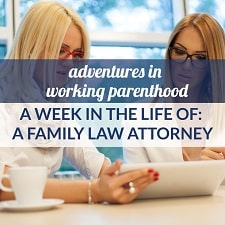 For this week's installment of our Week in the Life of a Working Mom series, I'm happy to introduce CorporetteMoms reader C, who lives in Minnesota with her husband and three kids and works as a family law attorney. Our usual caveat applies: Please remember that this is is a real person who has feelings and isn't gaining anything from this, unlike your usual friendly (soul-deadened, thick-skinned, cold-hearted, money-grubbing) blogger — so please be kind with any comments. Thank you! – Kat
If you'd like to be featured (anonymously or otherwise), please fill out this form! You can see all posts in this series here.

First, Some Basics About This Working Mom…

Name: C
Location: live and work in outer-ring Twin Cities suburb
Job: family law attorney for small town firm
Age: 34
Home Situation: 
My husband is a middle school guidance counselor in the town we live in, who just completed his administration license to become a principal and is currently writing his dissertation to complete his doctorate in educational leadership. We have three kids, a 5-year-old boy who is starting kindergarten in the fall, a 3-year-old girl who is starting preschool in the fall, and a 5-month-old boy. We live in the same neighborhood as my family — my mom and dad, sisters and their husbands and children, my brother and his children, two grandmothers, and many aunts, uncles, and cousins and their children. We are a very close family that support each other endlessly. My father has been an attorney in town for 36 years and my mom is a newly retired autism specialist for a local school district, who is now busier than ever consulting for school districts across the state.
Childcare Situation: 
During the summer, my children stay home with my husband (yay school hours!) and during the school year, I bring them to my older sister's house at 8:00 a.m. and my husband picks them up at 5:00 p.m. I work from home on Fridays year round and keep the kids home with me to save on childcare costs. We pay about $1,600 per month for four days of childcare a week, then another $150 per month for private preschool.
A Week in My Life