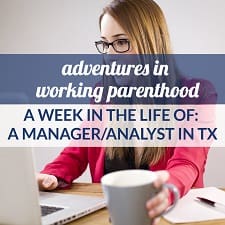 For this week's installment of our Week in the Life of a Working Mom series, I'm happy to introduce CorporetteMoms reader S, who lives in Texas with her husband and foster child and works as a project manager/data analyst. Our usual caveat applies: Please remember that this is is a real person who has feelings and isn't gaining anything from this, unlike your usual friendly (soul-deadened, thick-skinned, cold-hearted, money-grubbing) blogger — so please be kind with any comments. Thank you! – Kat
If you'd like to be featured (anonymously or otherwise), please fill out this form! You can see all posts in this series here.

First, Some Basics About This Working Mom…

Name: S
Location: Live in Houston but outside the loop, relatively short commute: 20–45 min. each way
Job: I'm a hybrid between a project manager and a data analyst. I work in the oil industry.
Age: 31
Home Situation: I live in a 1,500-square-foot house with my DH (financial analyst, 31), FB (foster baby, 14 weeks), and dog (retired, 9 years) [Here's an update from S, since it's been a while since she submitted her Week in the Life: "Foster baby is now 15 months, walking, testing boundaries, but is still very sweet."]
Childcare Situation: Daycare 40 hours per week, $850/month. DH and I have mostly flexible schedules. Our families live over 250 miles away. Friends babysit sometimes.
S added a little more about her experience fostering a child: 
The foster process has been a challenge; he is now 15 months and still no adoption date is in sight. The system is definitely broken, but our case has been unusually quiet and easy (if long) and foster baby is so sweet. We would do it all over again in a heartbeat.
A Week in My Life