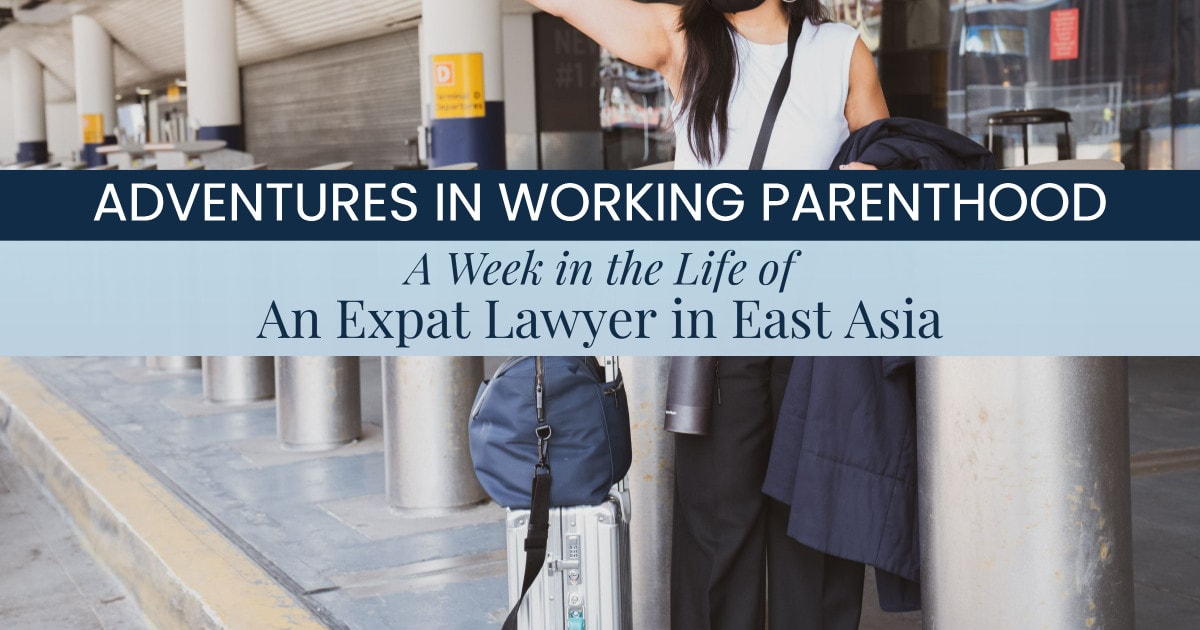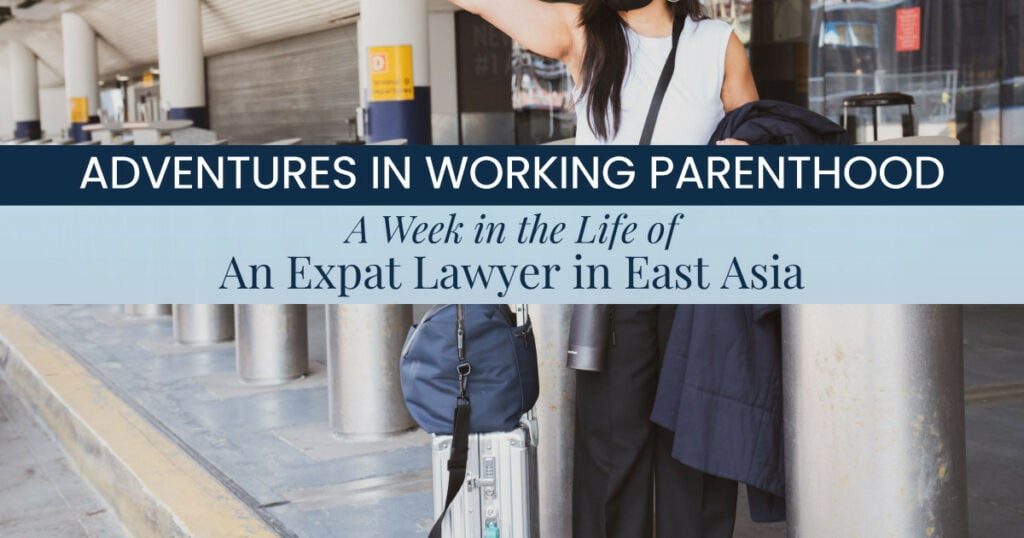 For this installment of our Week in the Life of a Working Mom series, we're happy to introduce CorporetteMoms reader Expat Mama, who is currently living in an East Asian country with her husband and two kids and works as an in-house counsel.
Our usual caveat applies: Please remember that this is is a real person who has feelings and isn't gaining anything from this, unlike your usual friendly (soul-deadened, thick-skinned, cold-hearted, money-grubbing) blogger — so please be kind with any comments. Thank you! — Kat
If you'd like to be featured (anonymously or otherwise), please fill out this form! You can see all posts in this series here.

First, Some Basics About This Working Mom…
Name: Expat Mama
Location: Medium-size city in East Asian country
Job: In-house counsel doing U.S. corporate work
Age: 45
Home Situation: I live in a 2,000-square-foot apartment with my husband and 5-year-old and 7-year-old boys. Kids share a room; one room is an office. My husband and I both work from home most of the time. We also have a den/playroom. We got lucky with all the space for our furniture when we moved.
Childcare Situation: Kids are in international schools all week + after-school activities 3–4 days a week plus Saturday mornings.
How is the work-life balance in your industry in general? What are common ways of juggling responsibilities that you see your colleagues and coworkers doing?
Work-life balance is very company-specific where I live. There isn't much of one, as the company is always busy and there's always an emergency or urgent fire to put out. I am always on in a way I never expected, i.e., checking my phone for emails constantly even if I am not in front of the computer. mornings, nights, and weekends. I missed an email on a Saturday once, and never again after the feedback I got.
The expectation here is you are always available, and I try to be present with my kids more often than not. Working remotely helps, as I only go into the office about once or twice a month but am on the same time zone for calls, etc. We live closer to school than to the office which allows me to be very involved in school. As an expat, we have a much smaller community so it's also easier to make friends with other foreigners.
How do you handle household chores, such as laundry, grocery shopping, housecleaning, etc.? Who does what, and when — and how often?
We have a housekeeper who comes in once or twice a week to help take care of our house. We grocery shop online and even fresh items are delivered in under 24 hours so we don't need to go grocery shopping much. As my schedule is much busier than my husbands (he works remotely with a U.S. team), he handles dinner planning most nights and therefore a lot of the grocery shopping.
We asked Expat Mama a follow-up question about what led her to the expat life (and where she's from originally), and she said the following:
I'm from the Midwest and a boring corporate lawyer. I got lucky that my current company had recruited from my industry and prior company in the past. The recruiter reached out via LinkedIn so there wasn't a personal connection or recommendation. I also know I wasn't the only candidate and we still do a lot of our U.S. hiring via LinkedIn.
A Week in My Life
Sunday
I try to keep Sundays free from commitments and mainly downtime for my family. That doesn't always work, and now the kids play soccer every Sunday morning, but otherwise, we stay close to home and maybe explore a nearby park. Get ready for the week.
This Sunday I planned a brunch to connect some of my expat working-mom friends. It's a small group as it's usually men who have trailing wives so there were lots of mimosas and discussions about balancing it all in this work-heavy culture.
My husband will make dinner most Sunday nights. We order in food a lot for delivery as that's the culture here and it's cheap and quick.
Monday
Kids are back to school. I get up at 6:45 a.m. to make sure they are dressed and have eaten breakfast. They wake up much earlier than us (usually by 6:00) so I leave out an easy breakfast for them. My husband takes them to the bus by 7:30 which is a three-minute walk from our house.
I turn on my laptop and check emails and then usually take a break by 8:00 a.m. to get ready and eat breakfast. Work till noon and then break for lunch with husband.
Work/emails/meetings till 4:00 pm. and then the kids get home. No after-school activities on Monday so I will either catch up on their day or work until 6:00 when we have an early dinner.
Monday is usually a delivery order but the kids eat a much wider variety of food than before we moved, so we can get ramen/pho/Chinese/Korean/Mexican all within 30 minutes if we order online.
Kids and their dad play indoor soccer or other games and are usually in bed by 7:30 p.m. I hang out on the couch and read a book till 10:00 all while being alert and checking emails. If it's the end of a quarter and we are really busy I am usually back online between 8:00 and 10:00 p.m.
I try to shut down by 10:00 for bed as I never sleep past 6:30 a.m. lately.
We asked Expat Mama for her advice for readers interested in working abroad, and she had this to say:
My LinkedIn profile is always open to work. I respond to most headhunters who reach out to me even if [it's] a quick "Not interested but keep me in mind for future roles in X location or X industry." It's good to build up all networks. I was also very open about my desire to be an expat at previous jobs so it wasn't a total surprise when I gave notice even though some people thought I was nuts to move to a foreign country I had never visited.
Tuesday
Similar start to the morning/lunch/work. Kids don't get home till closer to 5:00 p.m. today as they have after-school activities. The bus always brings them home whether or not they have activities so that really frees up our time.
It's a boring same day as the previous but I try to enjoy the kids more when they come home so close to dinnertime. We have always been an early-dinnertime family, which works for the kids because they come home starving and has also scheduled us parents as early eaters with room for dessert/snacks after they go to bed.
Wednesday
The kids get a bit more care this morning dressing up, as it's picture day so they have to wear the appropriate uniform. They wear uniforms to school, but they have a PE uniform and a non-PE uniform so today is the latter day and they have to look extra spiffy.
After they are off to school, I check email for a bit and then get ready to go to work. I leave for the office at about 8:45 a.m. and commute by train so it's a 15-minute walk to the train station and then a 20-minute train ride. I don't come in often, so whenever I do a lot of my time is spent being social catching up with people I don't see regularly outside of zoom.
I spend my first hour in office catching up with my clients in person, then another hour in meetings, then I go out for lunch with a colleague I really enjoy. It's interesting to find new places to eat around the office and also hear how other people came to live in this country and their expat experience.
I meet with my team to check in after lunch and then work until 4:00 p.m. I always leave early as I hate the commute rush and I am back home in time to hang out with the kids before dinner. Evening routine is my husband usually cooks on Wednesday so we don't have to spend 15 minutes deciding what to order for dinner.
Thursday
I rarely go into the office back-to-back days, so my morning starts the same and I'll usually have lunch with a friend in my neighborhood. I found it really easy to make friends here through my kids as their friends tended to be mainly other expats or locals who have lived abroad. There isn't a language barrier at school so much, but with work there sometimes could be. Although my team at the office speaks English, we have really good translators.
In addition, although the kids school is international, my youngest is in kindergarten so a few of his classmates may speak in the local language with their friends, which tends to exclude the English speakers. Kids at the schools are from all over the world so this experience has been fantastic towards molding them as thoroughly global kids.
The kids get back close to 5:00 p.m. after extracurriculars which today are bento box making for the youngest and coding games for the oldest. We will order in a broth-based meal on Thursday, so ramen or pho for dinner and then bedtime for kids, and reading and catching up with my husband for the evening. Even though we are both at home during the day, we are like ships passing if either of us is pretty busy at work, so this is our real downtime.
Friday
Fridays are usually lighter work days, so after the kids go to school and I get off my calls and catch up on important open items, I usually go out for lunch or an adventure to explore the city. Sometimes my husband and I will catch up and see a midday movie, but he is introverted so it's usually me catching up with a friend. If I don't do any lunches, I usually have a social event on Friday or Saturday evening.
Today we eat leftovers from our many dinners. The boys get home from extracurriculars — today is private swim for my youngest and soccer for my oldest — so they are both pretty tired. We sometimes eat earlier, but tonight the boys eat with their dad as I have a dinner for a friend's birthday at a Portuguese restaurant. My kids always quiz me about who I'm meeting when I head out to dinner so it's always fun to tell them whose mom I'm meeting, as most of my friends are their friends' parents. My social life looks more exciting than it really is, but this was a heavy social week for me. With COVID restrictions all gone [May 2023], everyone is really looking for connection.
Saturday
The kids are up early but my husband and I get up closer to 8:30 a.m. He drops them off at their Saturday sports activities and I have a leisurely morning. I then go to school at 10:30 a.m. to help my youngest transition from one activity to the next.
I then catch up with other friends while we wait for our kids to be done at noon. This Saturday after lunch we have a birthday party for one kid and a playdate at my house for the older kid. The birthday party is in walking distance from our house so that's great.
All activities are done by 5:00 p.m. and we have a nice quiet evening with the kids' dinner choice (McDonald's, a rare treat for them) and adults ordering sushi usually. The kids are tired from a long active day so they are asleep early and we have a nice long evening. We get a lot of comments about our kids going to bed so early, but we tried with later bedtimes and they still wake up early, so this seemed to be the best way to get them their sleep needs. And grown-ups get some quiet time before the end of the day.
We wondered if Expat Mama and her family have a specific plan for returning to the U.S., and she shared this:
My family has a general plan to return back to the U.S. within the next year, but I'm still exploring what that looks like career-wise for me, as this is driven by my husband's job and desire to move back. He doesn't love it as much as me and the kids, and when we planned the move we anticipated a year or two at the most, so it's fair for him to get his career back on track too.
Thanks so much to Expat Mama for sharing a bit of her life as a working mom! Readers, what's your biggest takeaway from her week of work abroad as an in-house counsel as well as her general work-life balance?
Stock photo via Stencil.