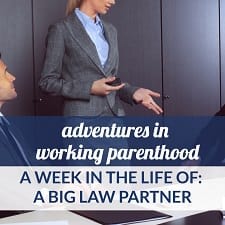 For this week's installment of our Week in the Life of a Working Mom series, I'm happy to introduce CorporetteMoms reader R, who lives in the Midwest with her husband and three kids and works as a partner in Biglaw. Our usual caveat applies: Please remember that this is is a real person who has feelings and isn't gaining anything from this, unlike your usual friendly (soul-deadened, thick-skinned, cold-hearted, money-grubbing) blogger — so please be kind with any comments. Thank you! – Kat
If you'd like to be featured (anonymously or otherwise), please fill out this form! You can see all posts in this series here.
First, Some Basics About This Working Mom…

Name: R
Location: Work in midsize city in Midwest; live in suburb of that city
Job: BigLaw litigation partner
Age: 40
Home Situation:
I live in a 3-bedroom house in the suburbs with my husband (41-year-old architect), our kids (9-year-old boy/girl twins and a 3-year-old girl), and our elderly dog. The older two share a room, but we are casually looking for a bigger house. (Note: R says that since she wrote her Week in the Life, things have changed a bit: "Our dog is no longer with us, my husband is going back to work full time and leaning in a bit more, and we are preparing for a move to another city.") 
Childcare Situation:
The older two are in school; husband works part time and gets them on and off the bus every day. The youngest is in daycare; I do drop-off and my husband does pickup. At this point, we are on the cheap end—$225/week for daycare. During the summers, it's more because we pay for camps and childcare for the older two as well.
A Week in My Life