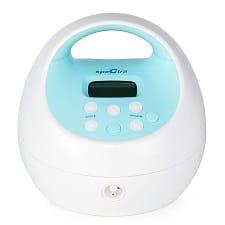 It can be tough to choose a breast pump when you've never used one before, so it really helps to get input directly from other moms — and that's why we're bringing you this Spectra review, courtesy of CorporetteMoms reader Emily. We're so glad she volunteered to share her experience with other readers!
Features of the Spectra S1 Breast Pump include:
Hospital performance
Adjustable suction and cycling in letdown and expression mode
Includes rechargeable battery, timer, and nightlight
Only weighs 4 lbs.
The Spectra S1 pump is available at Amazon ($189.99). This post contains affiliate links and CorporetteMoms may earn commissions for purchases made through links in this post. For more details see here. Thank you so much for your support!
When we shared Reader R's review of the Medela Sonata recently, Emily decided to contribute her own pump review and emailed us to say:
I wanted to offer to write a review of the Spectra S1 breast pump I just ordered, because so many readers seemed to enjoy the recent review of the Medela Symphony. (I know I did.) I just ordered the pump, paid out of my own pocket, because I wasn't happy with my current pump. … I turn to crowd sourcing (including CorporetteMoms) when I need a new product, and wanted to pay it back.
Thank you so much, Emily, for sharing your Spectra S1 breast pump review!
Emily's Spectra Review
Short and sweet: This pump promises a Hilton on the moon and delivers. Portable, very quiet, comfortable, and reasonably priced. I doubled the amount of milk I pumped in one week of use. If you want to know more, here's the full story: