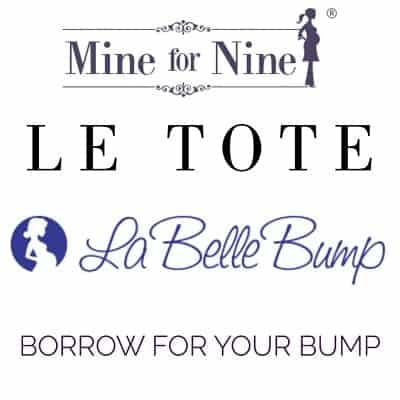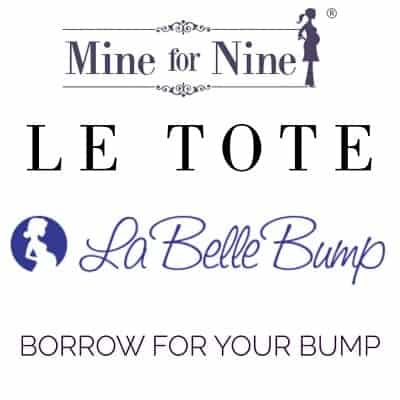 Have you ever rented maternity workwear? Have you ever wanted to? If you're a mom-to-be who doesn't really want to buy a lot of clothing for your pregnancy — especially if you're planning to only have one kid, or you haven't decided how many kids you'll have — many companies now give the option to rent maternity workwear. Of course, we've talked a lot about maternity clothing for work, including the best maternity dresses for work, budgeting for your maternity wardrobe, general advice for maternity shopping for work,  the best maternity suits for professional women, and plus-size maternity clothes for work. We've never discussed renting maternity workwear, however, so today we're rounding up several companies that provide the service.
I would have loved a service like this, because the majority of my maternity wardrobe was not-exactly-stylish, not-exactly-high-quality clothing from Motherhood Maternity and a kids'/maternity thrift shop — but I knew that would be my only pregnancy. (Fortunately, I was working at a business-casual office when I was pregnant.) I probably would have chosen fewer but better-quality pieces for my maternity wardrobe if I had known about this option. (I'm not sure if companies like this existed in 2010, actually!) Especially when you're not lucky enough to be one of those "glowing" pregnant women you hear about (which I was not — with hormonal acne, swollen ankles, and so on), it's nice to have something that makes you feel good when you wear it.
Here are four companies that rent maternity workwear: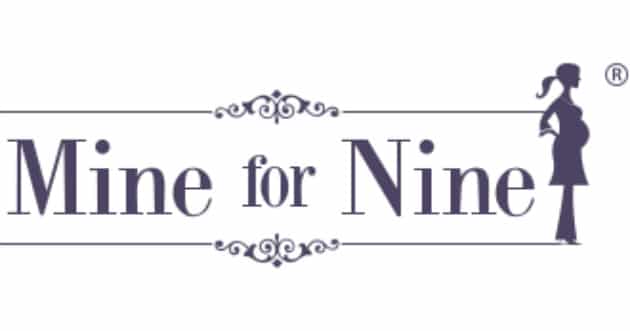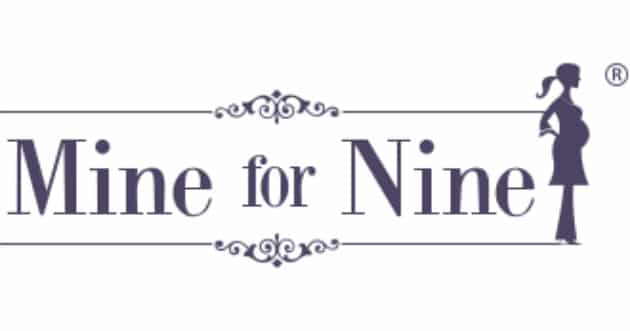 What they offer: The company specializes in maternity and nursing clothes for professional women and has new and "like new" pieces from Seraphine, Isabella Oliver, Maternal America, Leota, and others. You can rent workwear (including suits and blazers), denim, coats, and swimwear. Sizes on some items go up to 3XL.
Examples: Jolene Short Sleeve Knot Maternity Dress from Seraphine, $20 rental/$89 retail; and Gabby Stretch Tweed Maternity Pants from Everly Grey, $20 rental/$65 retail.
Cost: Rental prices vary. Shipping is $12.95  (unless your order is over $75), and optional insurance is $5 (for potential mishaps while wearing the clothes). Note: Right now you can get 20% off an order of $75+ with code THANKYOU20.
Details: You can borrow clothing by the month (28 days for most items, and 14 days for special-occasion dresses), and if you don't return something within a week of its due date, you'll be charged for another month. Measurements are provided for each piece of clothing, but if you want to get an additional size to make sure something will fit, the company charges a "nominal" fee. (If you only order one size and it doesn't fit, you can get store credit for next time.) When you're done with your picks, you print out a return label, use the provided bag or box, and then have the option to borrow some more. You can rent as many things as you like.
Option to buy: Brand-new clothing can be purchased for the full retail price, minus the rental fee you've paid.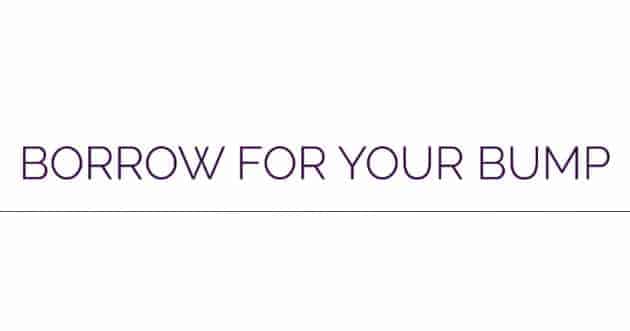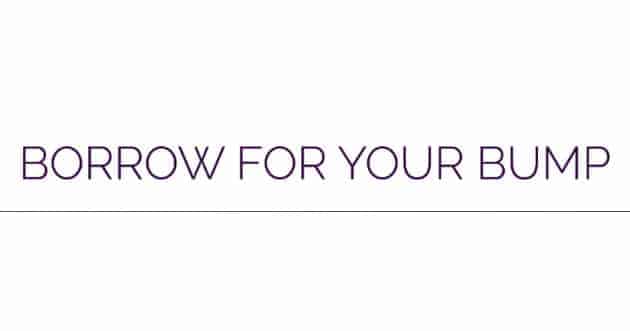 What they offer: Borrow for Your Bump has maternity and nursing clothing and provides one-time dress rentals for special events (from brands like BFYP, Seraphine, and Madeleine), as well as monthly subscription boxes (denim, dresses, trousers, blouses). Clothing is in "like new" condition.
Example: Emerald Silk Cocktail Dress from Seraphine, $82 to rent. Subscription box clothing is not featured on the site.
Cost: For subscription boxes, you pay $99 (and $10 shipping, which includes a return label) and get four items to keep as long as you want. Rental prices vary for dresses, and shipping is free for those. Items are insured for typical wear and tear.
Details: For special-occasion dress rentals, you can borrow a dress for one to four weeks. If you send back a dress late (or don't return it at all), you'll be charged a $50 late fee. (After 20 days, you'll be charged up to 200% of the item's retail value plus sales tax.) To receive a subscription box, you fill out a style profile (after paying the $99 — some companies let you do that first) and receive four items that you can keep as long as you want or exchange for others. (You can exchange one or all four garments to receive another shipment at any time.) Customers are billed monthly.
Option to buy: Sometimes. The site says, "You can email … to request to buy your rental if it is available."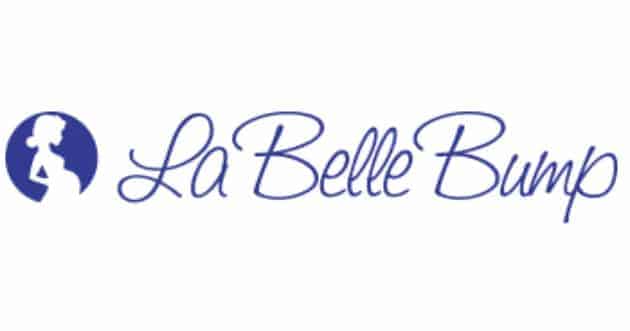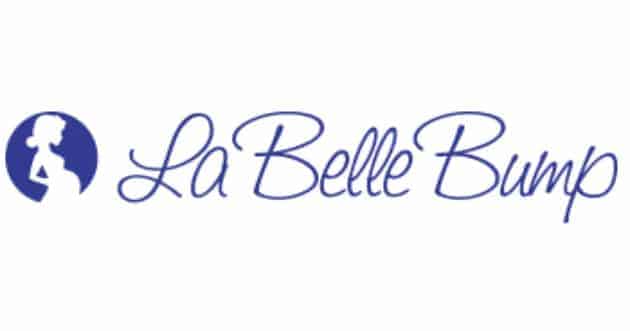 What they offer: The company has maternity and nursing clothing from Maternal America, Ripe, Olian, Loyal Hana, and others, and the size range is 0–14.
Example: A small selection of special-occasion dresses is shown on the site, including a black, cap-sleeve, floor-length gown that's $50 to rent, $139 retail (brand not indicated). Many subscription box selections are featured in photos on the site and on Instagram.
Cost: Dress rental prices vary. Three-item boxes are $69/month, and five-item boxes are $99/month. Shipping is free for boxes both ways, while dress rentals offer free return shipping.
Details: To order a box, fill out a short size and style questionnaire. To give the stylists a better idea of your preferences, there's an option to provide links to your Instagram and Pinterest. For specific requests, comment #mybumpbox on a particular item posted on the company's Facebook or Instagram and La Belle Bump will include it in a future box. Rentals for special-occasion dresses are seven days long, and for boxes, you can keep the items as long as you want or exchange them (one or more at a time) as often as you like. If one of the selections doesn't fit, send it back with the prepaid envelope (no refunds offered). If you happen to not return an item, you'll be charged up to 200% of the original retail value plus sales tax.
Option to buy: The company advises customers to contact them to find out an item's current retail value.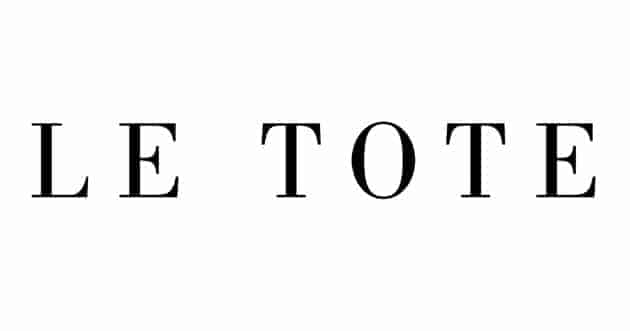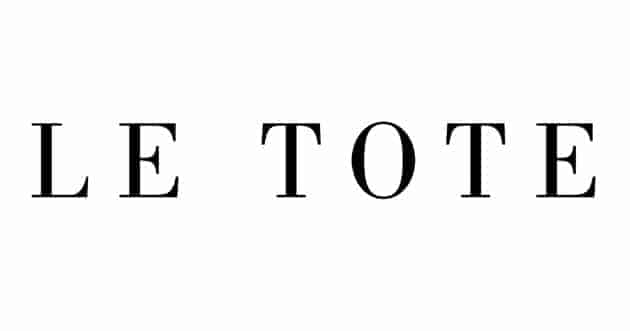 What they offer: Le Tote, which once only featured regular sizes, has ventured into maternity and nursing wear (and also has accessories to rent). The company offers business casual, professional, wedding, athleisure, and other clothing options, and maternity brands include Ripe, Olian, Seraphine, Leota, and more. When using the site, your size is your pre-pregnancy size, and the range is XS–XXL/0–16.
Examples: Ruffle Sleeve Dress from Octavia Maternity, $64 to rent; and Tie-Front Blazer from Noir Maternity, $78 to rent.
Cost: A monthly membership for maternity starts at $79/month. Shipping is free both ways, and you're given a prepaid label and return bag. Insurance for repairable damages is optional at $5/month.
Details: Founded in 2012, Le Tote began offering maternity options three years ago as a subscription service for a monthly membership fee. You fill out a profile to use the styling service (and you can also add items to your Favorites list), but you're able to preview your tote and use the "tote swap" feature to replace any items you don't want. You can keep the items as long as you like and then either return them or keep them for "up to 50% off retail." The company has a "universal sizing system" that's designed to help you get the right fit for each brand.
Option to buy: The retail price of each item you're sent is noted on the price card in the box you receive (and on the site and app).
Have you every rented maternity workwear or other maternity items? If not, would you consider it? How long were you able to wear your regular clothes during your pregnancy, and how much maternity wear did you end up buying? If you didn't want to spend a lot on your maternity wardrobe, did you get hand-me-downs from friends and family and/or go to thrift shops?
This post contains affiliate links and CorporetteMoms may earn commissions for purchases made through links in this post. For more details see here. Thank you so much for your support!
Stock photo via Stencil.