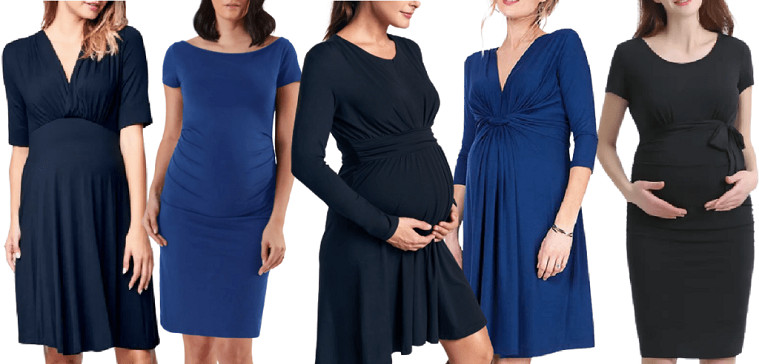 Some of our favorite, must-have maternity dresses for the office as of 2022: navy / royal / navy / royal / black (not pictured, but also) (also check this new indie maternity workwear brand)
If you're far enough along in your pregnancy that you've outgrown your regular-sized, old-standby work dresses and have realized you need to expand your maternity work wardrobe to actual maternity wear, fear not — today we're rounding up the best maternity sheath dresses for work, many of which we've included over the years in our regular maternity workwear recommendations.
We're featuring options from the more affordable end of the spectrum (a possible strategy if you're planning to be one-and-done) to higher-quality maternity dresses that will last you through two or three (or more) pregnancies.
What are your favorite maternity dresses for work? Do you ever choose double-duty styles that are meant for pregnancy and nursing? When you buy maternity dresses, do you tend to buy a few that are higher-quality or buy a bunch of less expensive ones?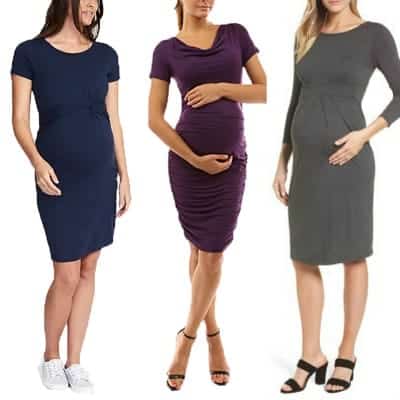 (Does it depend on how many kids you plan to have?) Which of your "regular" dresses have been particularly pregnancy-friendly? What do you think are the best maternity dresses for work?
Psst: here are our favorite maternity pants for work, also!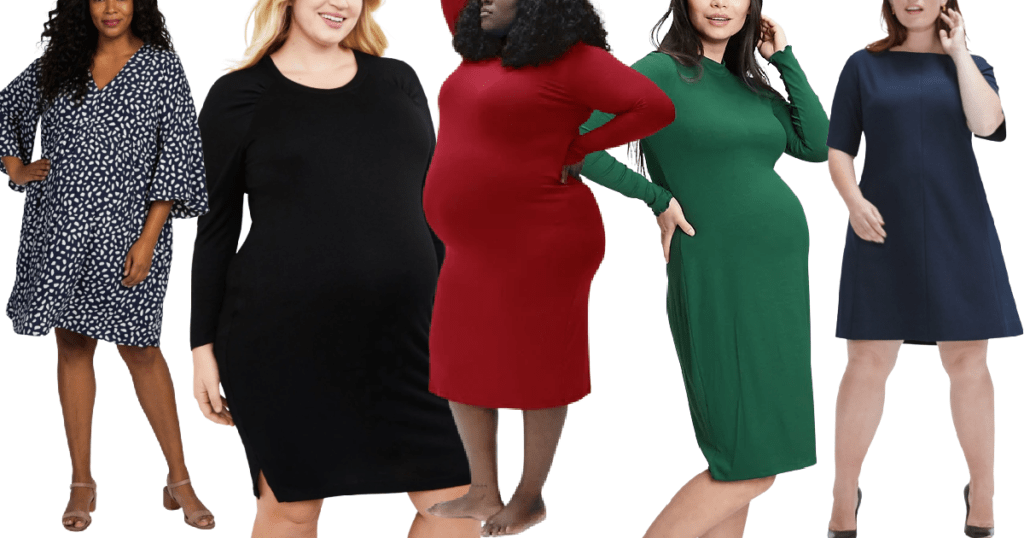 Hunting for where to buy the best plus-size maternity clothes for work?
Some of our favorite retailers include Pink Blush / Motherhood Maternity / Universal Standard / Gap / M.M.LaFleur
This post contains affiliate links and CorporetteMoms may earn commissions for purchases made through links in this post. For more details see here. Thank you so much for your support!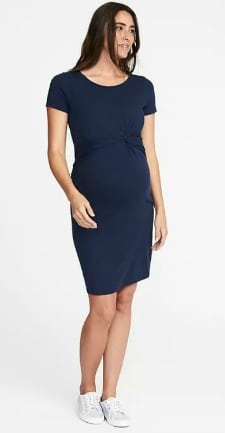 This simple and very affordable maternity dress — in a cotton blend with a bit of stretch — is from Old Navy. It would work for a more casual day at the office if you add the right accessories and would also be a good option for the weekend (say, for one of those pre-baby date nights that you should load up on right now). It's not entirely plain, though — it has a fun little twist at the front. The dress is a bestseller at Old Navy and has lots of positive reviews — and not surprisingly, it's machine washable. It's on sale for $26, down from $36.99, and it comes in navy, black, and "blaze of glory," which is (obviously, right?) sort of a dark coral.

2019 Update: This exact dress has unfortunately sold out, but Old Navy is still one of our favorite places to look for affordable and stylish maternity dresses for work!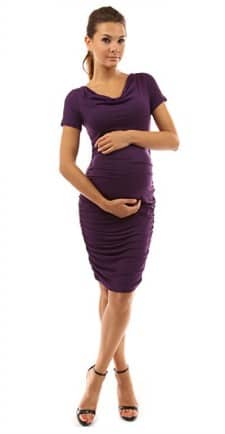 My various searches at Amazon always bring up a large number of Chinese brands that sell very affordable clothes in varying degrees of quality, and PattyBoutik seems to be one of the better ones. We once featured one of the brand's maternity/nursing tops, and a reader commented to second the rec (specifically, the dress version of the top). This rayon-blend dress is highly rated at Amazon, where reviewers say it's comfortable and flattering (80% of the reviews check out on Fakespot, which I recently wrote at Corporette as part of our discussion of when to trust online reviews), and I like how the ruching and cowl neck give it a bit more interest than the basic short-sleeved dress. It's machine washable, too. The dress is available in black, dark green, heather gray, purple, and cobalt blue; sizes are S–XL; and the price range is $28–$35. Cowl Neck Short Sleeve Maternity Dress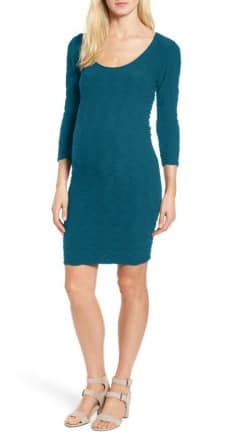 We featured a similar "crinkle" dress from Tees by Tina a few years ago — that one had a much higher neckline. On the model at least, the neckline on this one looks a bit low for the office, but, hey, with Nordstrom's free returns you might as well take a chance and see how work-appropriate it looks on your "enhanced" pregnancy body. (There's also a sleeveless version, although it dips pretty low in the back). As we wondered last time, we are a little wary of the brand's "one size fits women's sizes 2-10" claim, but again — free returns! — plus, the 8% spandex is a significant proportion of the fabric. Like the two dresses above, this one (which is nylon/spandex) is machine washable. The dress comes in 13 (!) colors, from the subdued (a grayish olive, a dark slate blue) to the not-so-much (turquoise, bright purple, sea green). When you're on the product page, zoom in, because the texture looks a lot better close up — although it seems thin enough that it will probably limit the sorts of fabrics you can layer over it). 2019 Update: The dress is still available at Amazon! Crinkle Maternity Sheath Dress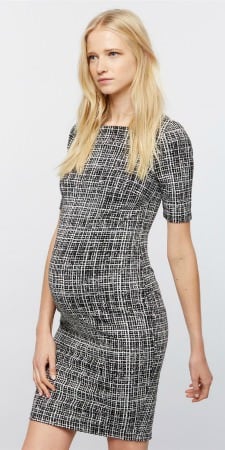 This dress from A Pea in the Pod definitely looks more professional and conservative than the options above, but it's still cute and stylish. As I read the description, it first seemed like the dress was also made from a nicer fabric, because it says jacquard, but it's actually not a true jacquard — the pattern is printed, not woven. (It's a nylon/spandex, like one of the others above.) I do like the print, though, as well as the boatneck, and I also like how the sleeve length is midway between a short sleeve and an elbow sleeve, partly because an elbow sleeve can cut your arm in half … figuratively, that is. (The site still calls it a short-sleeved dress.) The reviews are very positive, with one reviewer commenting, "Looks good with a blazer, cardigan or solo" and another stating she would buy every color and print if more options were available. The dress is $128 in sizes XS–L. Bodycon Maternity Sheath Dress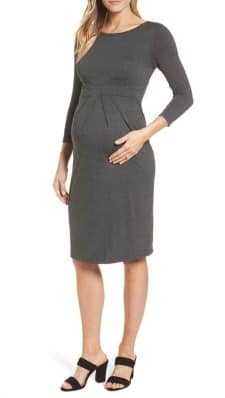 This dress from reader-favorite Isabella Oliver is kind of like a higher-priced, higher-quality version of the Old Navy dress at the top — a simple scoopneck dress with sleeves (although three-quarter in this case) that includes a little detail that elevates it over a basic dress. Here, it's really interesting (although symmetrical) pleating at the waist, which I really like. And like the Old Navy option, you can dress it up or down. It's made from stretch jersey and looks really soft and comfortable, as well as flattering, and it comes in both black and gray. A really pretty cobalt blue has just sold out, unfortunately, so if you like the other options you might want to grab one of the remaining choices now. The dress is machine washable. It's $149 at Nordstrom and Isabella Oliver, where it has several great reviews. Ivybridge Jersey Maternity Dress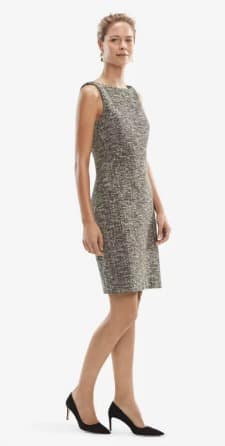 MM.LaFleur didn't specifically design this to be a maternity dress, but it's one of their pieces that's labeled "Maternity-Friendly" — the brand says that the dresses and other pieces can be worn before, during, and after pregnancy, thanks to "the power of stretch." The dress has flattering French darts (which are hard to see in the online images) and interesting twisted straps (which are also hard to spot in the photos). It also has lingerie straps (hooray) and a concealed back zip, and it's fully lined. Note that it's dry clean only. Yes, tweed isn't the first thing you'd reach for in May, but I think the color looks spring-y enough, and the dress is mostly cotton/nylon rather than wool. (Have you seen our Corporette post on summer/winter tweed?) The dress is $240. (Note that MM.LF competitor Of Mercer also has maternity-friendly dresses!) Pictured: The Lydia Dress
Psst: here are some of our favorite books for working mothers…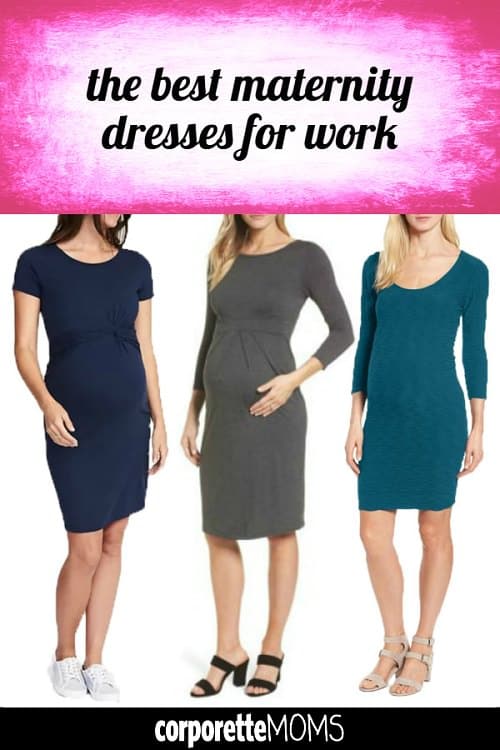 This post contains affiliate links and CorporetteMoms may earn commissions for purchases made through links in this post. For more details see here. Thank you so much for your support!
We are a participant in the Amazon Services LLC Associates Program, an affiliate advertising program designed to provide a means for us to earn fees by linking to Amazon.com and affiliated sites.
Sales of Note…
(See all of the latest workwear sales at Corporette!)
See some of our latest articles on CorporetteMoms:
Click here to see our top posts!
And — here are some of our latest threadjacks of interest – working mom questions asked by the commenters!