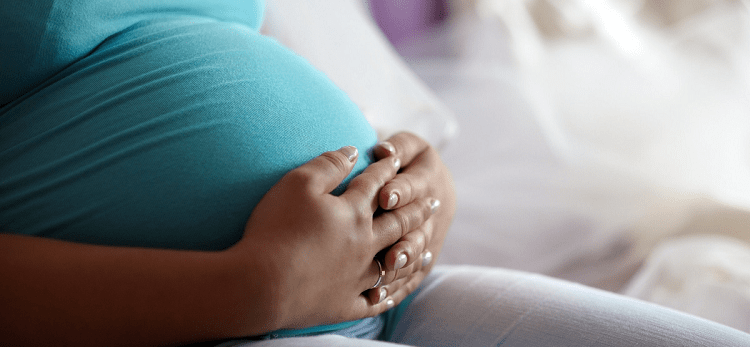 Wondering where to buy the best plus-size maternity clothes for work? It's been a while since we last recommended stores and brands offering plus-size maternity clothes for work, so it's definitely time for an update!
Unfortunately, there haven't been any major improvements to the availability of plus-size maternity clothes for work since our last update — and really, most of the brands below simply provide extended straight sizes, e.g., XL or XXL, rather than actual plus sizes such as 1X, 2X, and 3X. So if you have more suggestions, please share them in the comments!
Plus-size readers — where did you buy the best plus-size maternity clothes for work?
If you're not looking to spend a lot on a new maternity wardrobe — because of budget considerations or for other reasons — you should also check out our posts on where to get used maternity clothes, as well as four companies that rent maternity workwear. (And, of course, check eBay for general deals on plus-size maternity clothes, as well as plus-size maternity lots.)
And if you don't have a ton of time to hunt for size-inclusive maternity wear, you might want to try Stitch Fix, which offers maternity clothes in sizes 0–16 and XS–XXL as well as "bump-friendly" items in sizes 1X–3X and 14W–24W.
Looking for maternity clothes in regular or cusp sizes? Here are our roundups of the best maternity pants for the office, as well as the must-have maternity dresses for the office.
This post contains affiliate links and CorporetteMoms may earn commissions for purchases made through links in this post. For more details see here. Thank you so much for your support!
The Best Plus-Size Maternity Clothes for Work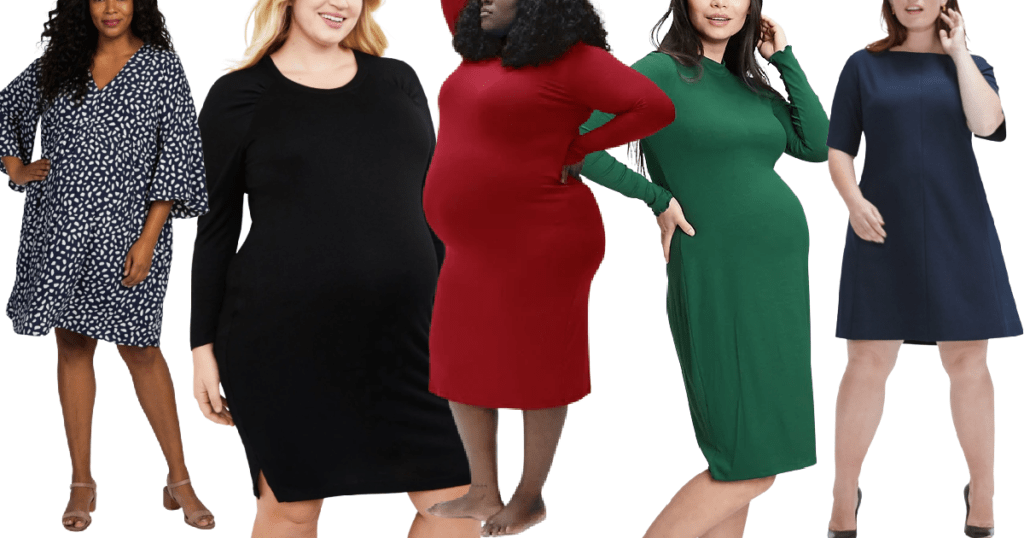 Hunting for where to buy the best plus-size maternity clothes for work?
Some of our favorite retailers include Pink Blush / Motherhood Maternity / Universal Standard / Gap / M.M.LaFleur
Readers' Recommendations for Plus-Size Maternity Clothes for Work
The last time we discussed plus-size maternity clothes for work, readers shared their own recommendations in the comments:
Gap: Their online offerings include a convenient "starter styles" section. Sizes go up to XXL.
H&M: You'll find a lot of basics and more. Sizes go up to XXL.
Oh Baby! by Motherhood: This line was once sold at Kohl's but is no longer available — you can still find it at thredUP and Poshmark. Sizes go up to 2X and are cut generously.
More Places to Buy Plus-Size Maternity Clothes for Work
Universal Standard: Their "Fit Liberty Mom" program allows you to keep exchanging sizes as you get bigger.
Of Mercer: This indie brand offers maternity-friendly clothing in sizes up to 2X.
Pink Blush Maternity has been a reliable source of plus-size maternity wear for years. In the time since we last featured the brand, though, they've added some variety to their styles, which is nice. (In the past, they seemed to specialize in fun, floral, but not-exactly-work-friendly maternity dresses.) Sizes go up to 3XL.
Old Navy: Old Navy offers a handy "maternity starter kit" (basic tops, layering tanks, dresses, pants, etc.), and you can also shop by trimester. I like that the site offers five styles of maternity tops — fitted, bump-skimming, shirting, relaxed, and nursing — and makes them easily filterable. Sizes go up to XXL.
Motherhood Maternity: While Motherhood Maternity recently brought back their plus-size styles, which are available in 1X–3X, there isn't exactly a huge selection, and sadly, very little is office-appropriate. If you're working from home right now and/or looking for loungewear, however, take a look.
Target: Target's maternity workwear page (labeled "professional attire") currently only has 10 pieces featured (out of the 300+ maternity items on the site, hmm), so you'll have to do some sorting through the rest yourself. Sizes go up to 18/XXL.
24/7 Comfort Apparel: This California company offers dresses, skirts, pants, tops, and cardigans — each in several colors. Some are available up to 3X, and others to 6X, making this the most size-inclusive maternity line I've seen. (They also make clothing in straight sizes and non-maternity plus sizes.) Many items could definitely become your maternity wardrobe staples. You can also find the brand at Amazon and Walmart.
JCPenney: Their website has a small selection from a few brands, mostly 24/7 Comfort Apparel — and some of it is work-appropriate. Some styles go up to 6X.
Walmart: Walmart's house brand Oh! Mamma has very affordable pieces, and many styles are office-friendly; sizes go up to 3X. (Note that various other brands, some apparently mis-sorted, also show up in the search results.)
Honorable Mentions for Plus-Size Maternity Wear for the Office
These brands specialize in plus-size fashions but offer very limited maternity selections — and even more limited selections for plus-size maternity clothes for work. Still! They're worth checking if you're on the hunt.
Previous Reader Advice on Plus-Size Maternity Clothes for Work
In our last post, we rounded up some reader comments on how to make it work when plus-size maternity clothes for work are so scarce…
Rely on dresses: "Honestly, I think you'll get more mileage out of dresses simply because they can be worn when you're a couple different sizes… The good news is that you'll get a lot more leeway on how business-formal your wardrobe needs to be the more pregnant you get."
Hack your tights (literally): "I've had really good luck cutting up the waistband on a few pairs of tights to get me through, so you can probably get away with that since you're still early. (Just cut a vertical slit down the front seam, and cut away extra from the sides in a V if it bothers you. I thought that they would just unravel, but they seem to hold up pretty well with that.)"
Or maybe skip those, too: "THIGH HIGHS will change your life. You can get some pretty warm ones. SO much better than dealing with tights + a pregnant belly."
Buy larger pants in regular sizes: "I'm plus sized as well, but always carried the most weight in my hips and thighs, not waist, so I was able to just go up 1-3 regular sizes in regular pants from the stores that I liked, sometimes using the elastic hairband trick on my pants at the end of a bloated day until 6 months. And I wound up using those pants postpartum for way longer than I care to admit to anyone in my real life (like 2+ years) as I have never really lost all the baby weight, and when I did lose my shape didn't go back to my pre-pregnancy size."
That goes for dresses, too: "I was solidly plus size before, during and after being pregnant, and the best things I had were Lands' End dresses a size or two bigger than I usually wore."
Try a tailor: "Don't be afraid of tailoring maternity clothes. I took those maternity suits (which looked terrible off the rack) to a good tailor, who made them workable. You could also take a regular skirt that you like to the tailor and have them add in an elastic panel to turn it into a maternity skirt."
Readers, do tell: What do you think are the best plus-size maternity clothes for work?
Stock photo via Deposit Photos / MNStudio.
We are a participant in the Amazon Services LLC Associates Program, an affiliate advertising program designed to provide a means for us to earn fees by linking to Amazon.com and affiliated sites.