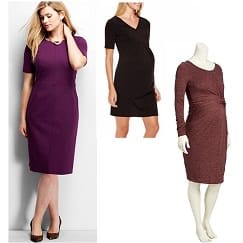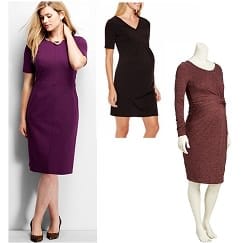 2020 Update: We've updated links below to reflect some new options for plus size maternity clothes for work. You may also want to sign up for CorporettePlus, our newsletter featuring plus size work fashion. 
It can be tough to find professional and stylish plus-size maternity clothes for work , so we've rounded up a bunch of tips that CorporetteMoms readers shared about plus-size maternity workwear. Ladies who are (or have been) plus size during a pregnancy, where did you shop for work-appropriate maternity plus sizes? Which were your favorite work outfits?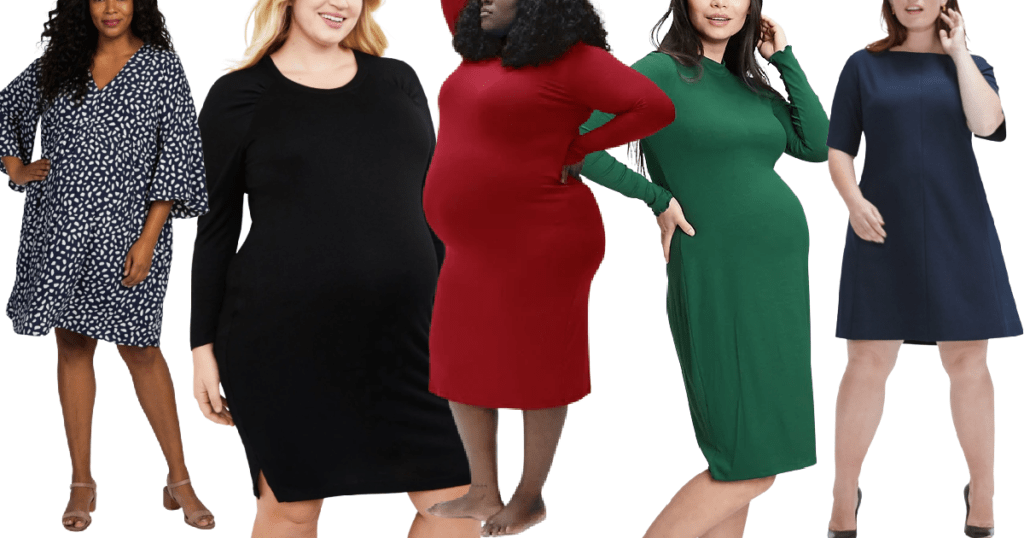 Hunting for where to buy the best plus-size maternity clothes for work?
Some of our favorite retailers include Pink Blush / Motherhood Maternity / Universal Standard / Gap / M.M.LaFleur
Brand Recommendations / Stores That Carry Plus Size Maternity Clothes for Work
Old Navy/Gap: Reader quote: "Old Navy maternity is BIG. I did just fine in Old Navy XXL Maternity sizes for almost everything — especially yoga pants, tops, etc." (Pictured above: reddish sweater knit maternity dress, available up to size XXL.)
Motherhood Maternity/Destination Maternity: Reader quote: "I had a few pairs of pants from Motherhood Maternity. They were not fabric I enjoyed, but they looked OK." (2019 Update: Destination Maternity is bringing back their plus-size line soon — stay tuned!)
JCPenney: Reader quote: "JCPenney carries good work clothes for plus size maternity. I was really happy with their stuff. (God bless JCPenney!) Their pants are way better than Destination Maternity pants." (Pictured above: black maternity dress in sizes 1X-3X.)
Target: Reader quote: "I'm surprised by how generous a lot of the XL and XXL maternity clothes are from Target & Old Navy/Gap."
PinkBlush Maternity: Many of the plus-size offerings from PinkBlush are too casual for work, but there are some styles that are office-friendly — and budget-friendly, too — like a $67 wrap dress. Sizes go up to 3X, and shipping within the U.S. is free.
Nordstrom: It doesn't carry a lot, but it does carry a few plus-size jeans.
2020 Update: These are some of our Hall of Famer heels that come in wide widths… see our latest roundup of the best black heels for business attire here!
pictured: 1) Sam Edelman 2) Naturalizer 3) Rockport 4) Vionic 5) Cole Haan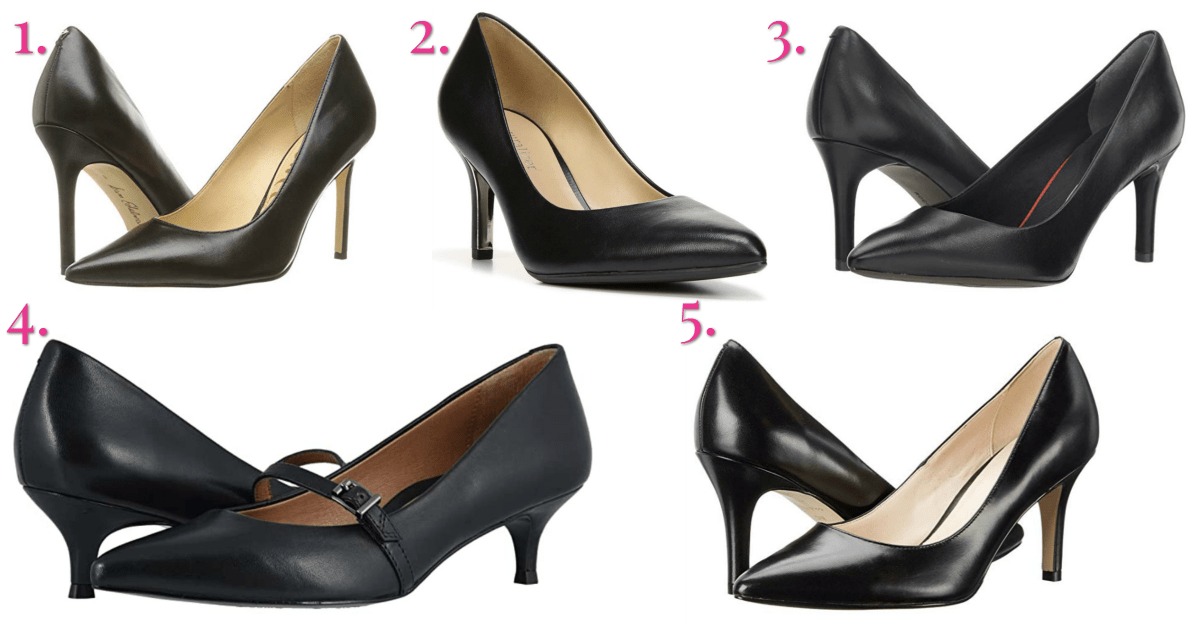 General Reader Advice on Plus Size Maternity Clothes for Work
Rely on dresses: "Honestly, I think you'll get more mileage out of dresses simply because they can be worn when you're a couple different sizes. With tights, could you wear dresses now? I was an 18 or so on the bottom before getting pregnant this last time, and I had some luck with Liz Lange and Merona dresses from Target. The good news is that you'll get a lot more leeway on how business-formal your wardrobe needs to be the more pregnant you get."
Hack your tights (literally): "I've had really good luck cutting up the waistband on a few pairs of tights to get me through, so you can probably get away with that since you're still early. (Just cut a vertical slit down the front seam, and cut away extra from the sides in a V if it bothers you. I thought that they would just unravel, but they seem to hold up pretty well with that.)"
Or maybe skip those, too: "THIGH HIGHS will change your life. You can get some pretty warm ones. SO much better than dealing with tights + a pregnant belly."
Buy larger pants in regular sizes: "I'm plus sized as well, but always carried the most weight in my hips and thighs, not waist, so I was able to just go up 1-3 regular sizes in regular pants from the stores that I liked, sometimes using the elastic hairband trick on my pants at the end of a bloated day until 6 months. And I wound up using those pants postpartum for way longer than I care to admit to anyone in my real life (like 2+ years) as I have never really lost all the baby weight, and when I did lose my shape didn't go back to my pre-pregnancy size."
That goes for dresses, too: "I was solidly plus size before, during and after being pregnant, and the best things I had were Lands' End dresses a size or two bigger than I usually wore." (Pictured above: purple plus-size ponte sheath, available in sizes 16W-26W). 
Try a tailor: "Don't be afraid of tailoring maternity clothes. I took those maternity suits (which looked terrible off the rack) to a good tailor, who made them workable. You could also take a regular skirt that you like to the tailor and have them add in an elastic panel to turn it into a maternity skirt."
Pictured at top: dress, dress, dress.
Pictured below: red top / green top / pants / dress / blouse