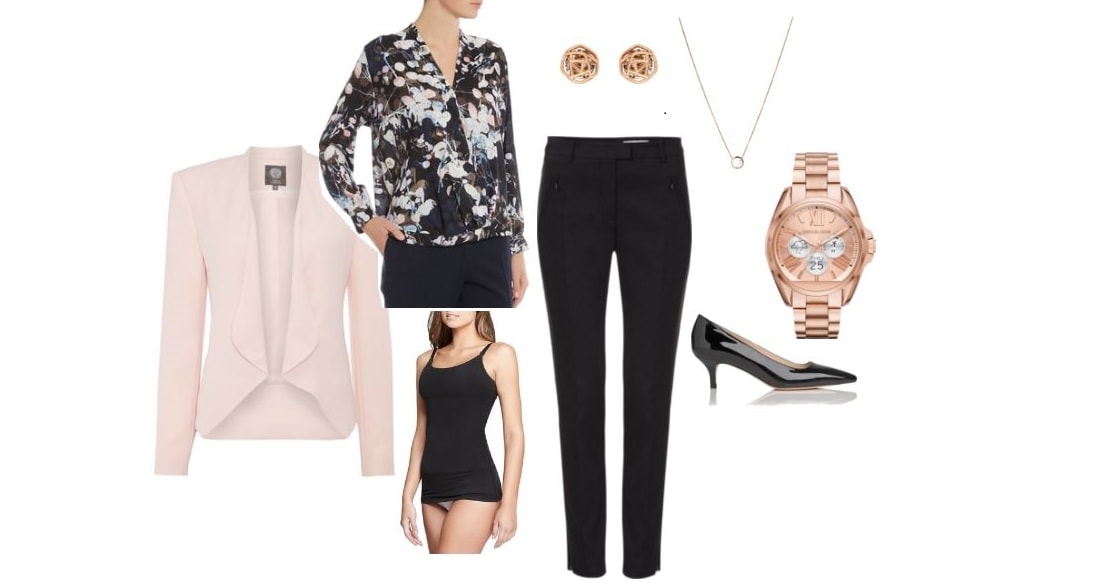 What should you wear to work after maternity leave? We got an email a while ago from a reader who posed this interesting question. What is the "safest" choice to make so you look like a rational person who is not a sleep-deprived emotional wreck? Which clothes are best if you're pumping at work? What will fit? These are my tips (and reasons) for what to wear to work after maternity leave, but I'm interested to hear what readers say also. (Psst: you may also want to check out the readers' and my general tips for returning to work after maternity leave!)
Go for prints, especially for blouses. They'll hide a multitude of sins, from leaks and spills that happen at work (whether from the joy that is pumping or from just being sleep deprived and getting salad dressing on your blouse) to the snot that babies always seem to wipe on your shoulder.
Raise the neckline higher than you think you need. I don't know about you, but after my first son I was completely desensitized and disconnected from my former standards of propriety surrounding my breasts. I remember joking that unless I was showing nipple I was cool with it (and even then, if the baby needed it, hey). So for the first few days at least, wear a nursing camisole (I looooved this nursing cami because it goes with everything).
Get as good a bra as you can. If you're not nursing, go buy a new bra — you want the fit to be amazing. If you ARE still nursing, differentiate a "house bra" from a "work bra." I liked this reader favorite underwire nursing bra a lot, even for pumping, but many readers just push their bra up or take it off entirely for pumping.
If you're pumping, know how your pumping system affects your clothes. Readers who used things like Freemies loved wrap dresses, whereas if you're in a nursing bustier with a Pump in Style kind of pump like I was, a simple t-shirt or blouse works better because a wrap dress would require you to get totally naked in the office.
Opt for washable clothes. As many moms will tell you, silk and other difficult-to-launder fabrics take the backseat while your kids are small. See our favorite brands for washable workwear, as well as some of our recent recommendations for washable clothes for work.
Go for a loose fit. In the unlikely event that you have your pre-baby body back, congratulations! If you're like the rest of us, don't worry too much about size — wear what fits. Wearing something that is too tight or doesn't fit properly looks frumpy or out of touch.
Add structure where you can. Even loose blouses are improved with a blazer!
Know which colors look best right now. If you're exhausted and sleep-deprived, is beige going to wash you out? Is red going to bring life to your face? This can apply to accessories or clothes, like choosing a blouse with a red print in it or wearing a red pendant necklace, but it can also mean making sure you throw a good blush on before you leave the house. (That may become your new beauty minimum!)
Add sophistication with your accessories. If you can, wear sleek pumps; I'm always in favor of a watch, and little details like earrings and other jewelry can pull a look together. (You may even want to keep an inexpensive pair of earrings and/or a necklace at the office in case in the mad dash to get out the door you forget.)
Finally, smooth your hair where possible. I had a bunch of ideas for how to deal with the postpartum wispies (whether from new hair growth or breakage); you may also want to check out our post on easy office updos. (The inverted bun is stupid easy!)
If you're going back to work but it's been a significant amount of time — such as three years or three decades later! — I'd go back to basics. Buy a new navy, black, or gray suit and wear it on your first day — even if you think something you used to wear is a classic there are little design trends that can make you look dated, whether it's a puff shoulder or a shawl lapel. If a suit isn't appropriate for your workplace, go for a sheath dress with sleek heels — the dresses and other clothes in our Workwear Hall of Fame category might be particularly safe bets.
Some deeper thoughts on the little work outfit I created at the top of the post… (you can click to enlarge it; also feel free to pin and share!)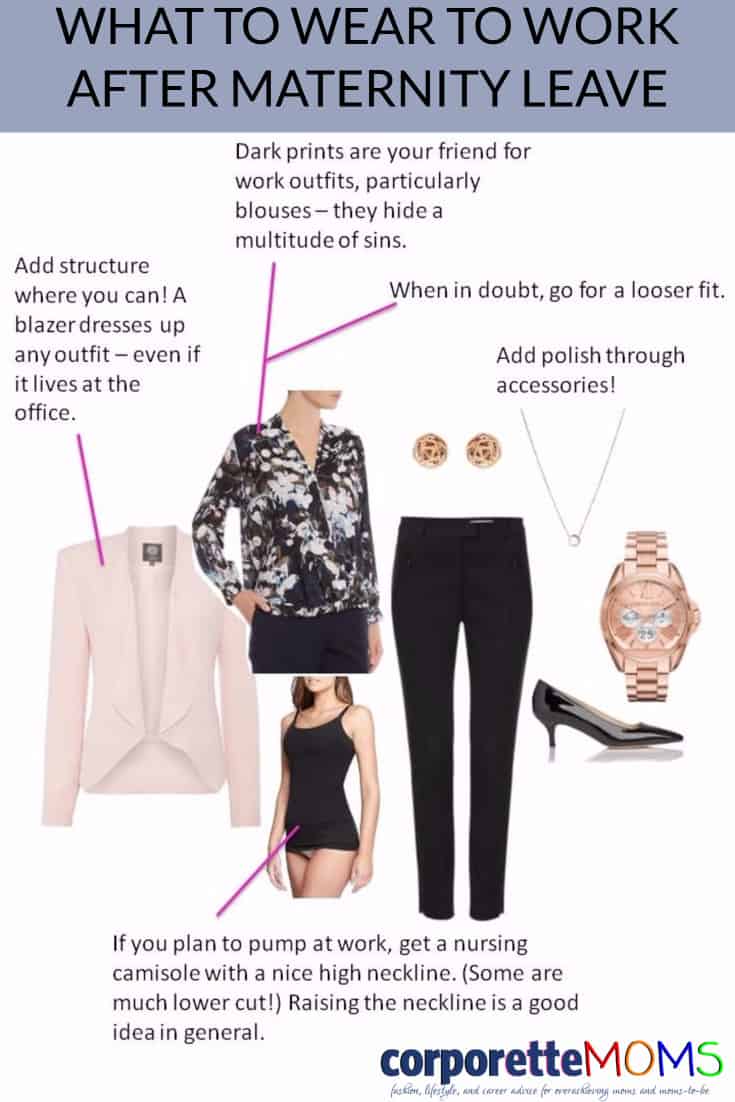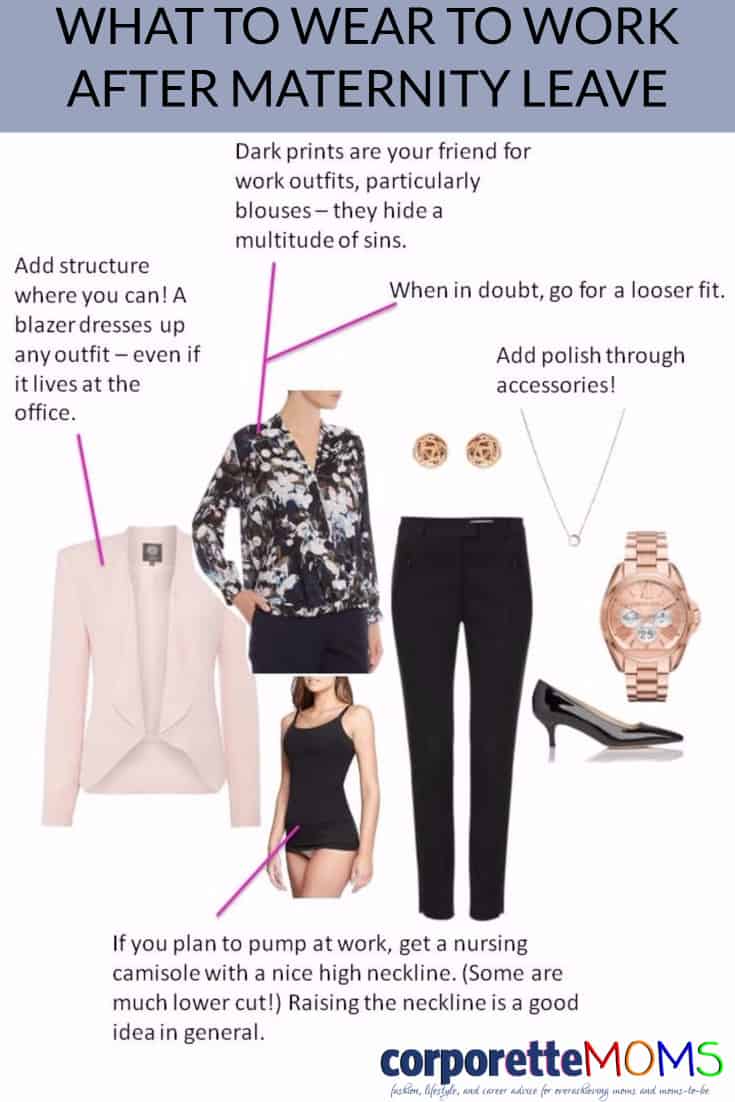 Ladies, what are your thoughts on the best things to wear to work after maternity leave? Which work outfits worked the best after maternity leave (or the worst) in your opinion? What nuggets of wisdom did you discover through trial and error, and what did friends and colleagues advise you?