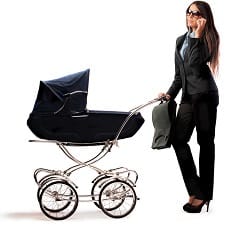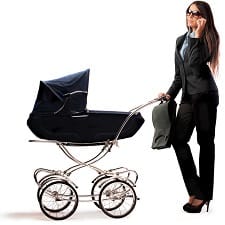 2017 update: We still stand by the advice below, but you may also want to check out our discussion on what to wear to work after maternity leave!
What are some of your best tips for adjusting upon returning to work after maternity leave? What do you wish you'd known, or what did you come to realize?
For my own $.02: Among my friends, the end of maternity leave has loomed large in all of our lives — but on a kind of sliding scale. Women who had to go back to work at 10 weeks (or even sooner) dreaded it terribly, while women with longer leaves — 6 months or more — typically felt much better about it and almost welcomed the end of their leave. A few bits of advice along those lines:
Get the very best childcare you can.
Feeling confident about your baby's caregivers will make your transition easier — as will sending him or her to childcare a week before you go back to work, if you can. Two notes on this: first, don't stress too much about the expense or long-term viability of childcare at this point, because a year-old baby (heck, even a 6-month old baby) is in a totally different ballpark from a newborn. If you can, plan for your spouse to take delayed paternity leave to be home for a bit after you go back to work. If you have a family member you trust who can take time off to be a caregiver for your newborn, that may reduce your stress as well. On the flip side, you may find yourself less stressed if you go with the fancy daycare where the teachers all have degrees in early childhood education and there are cameras in the classrooms.
Ask for flexibility at work after maternity leave.
A lot of the stress around returning to work is about nursing or pumping on that crazy schedule newborns need — ask your office about working from home, at least temporarily, or ask for other accommodations to make the transition feel better and go more smoothly.
Allow yourself to feel all the feelings.
You may be crying; you may be angry; you may be frustrated with your job or your life choices (even if your leave was ideal). Between the hormones, the lack of sleep, and the situation, it can be a perfect setup for drama. Be aware of this going in, accept that you may be overly emotional, and know that it gets much better, at least for most women. Focus on why you're there — whether it's because you love your job, believe in the work, or need a paycheck, you're there for a reason; let that loom large.
Ladies, what are your best tips for returning to work after maternity leave? Did you do anything in particular the first week (or day) back that helped, such as setting up lunch with a friend, or taking a break to visit your little one? For those of you second-timers (and beyond), did you feel better or worse when your second (or third, or fourth) maternity leave ended? Have you joined or started a working parents' group for support? 
Further reading:
Pictured: Shutterstock / Ollyy. I'm sure we allllll felt as sleek and put-together as this model when we returned to work, riiiiight?