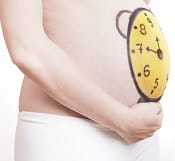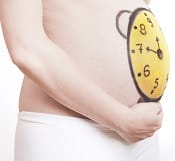 What would an ideal maternity leave look like?  If you could design your own maternity leave, how would you do it?  Reader E wonders:
I am currently 6 months pregnant. Anyways, next week I am having a meeting with my supervisor/team to plan out my leave. I luckily work for a very flexible company and will be getting 12 weeks fully paid right off the bat. Beyond that, it is pretty much entirely my choice on how much time I'd like to take off… I can take off up to 6 months total without anyone having any hesitation. Anyways, I don't know exactly what I want to do. It is my first child, I plan on breastfeeding, and I just don't know how much time to take off, do you know of any resources out there to help me with this? Also, I was curious if there is a post about navigating the process of discussing maternity leave with bosses. What should I be prepared with besides how much time off I plan on taking and also a plan for who will cover what work while I am done. Do I need anything else?
Great question, E (and congratulations!).  It's awesome that you have such flexibility with your job and your boss. We've talked a bit about what a family-friendly job truly is, pondered (over at Corporette) whether to negotiate future maternity leave at the job interview stage, and I've written before about how I planned my blogger maternity leave, but not this.  I'm curious what the readers will say, but here are some of my ideas right off the bat, sort of in chronological order:
A few months before you leave: plan office support for the transition.  Who will be taking over your active projects? Will he or she be taking them on in addition to their regular workload, or will this replace some of their regular work?  Will you have time, on the clock, to go over your projects with this person?  Will you have office support from your boss to devote the time you need to preparing the projects for transition?  What if one of your former (or quiet) projects becomes unexpectedly active — what then?
A week or two before your due date:  consider scaling down your hours, or starting maternity leave early.  I've noticed readers talking about this, and I definitely noticed this myself with my last pregnancy: from week 37 on or so, you will be EXHAUSTED.  Your physical discomfort will be at an all-time high, and you will be READY to get this kid out of you (but still a bit freaked out about all of the changes to come).  Your motivation to do work will be… well, lackluster. Oh, and you'll be going to a million doctor's appointments.  (With my last pregnancy, because I was over 35, I had to go to two different offices weekly to see my OB/GYN and get an ultrasound.  I also was seeing a physical therapist for some SPD pain, and at the very end, an acupuncturist, as well as some running around in there for some emergency tests.)  In my mind, scaling down to something like 50% of your regular hours for a week before your due date would be ideal.  (But note that this is really pie-in-the-sky thinking — to me this would be the first thing I would cut from the list, because a) due dates can be wildly inaccurate, particularly with first babies, and b) I'd rather spend the time away from work with my kiddo after he's born.)
Maternity leave: most offices will give you at least 6-8 weeks.  Keep in mind that if you're breastfeeding, you will be doing so for a total of 8-12 hours a day at this point (depending how "efficient" your child is), so it really is like a full-time job.  If you're having supply issues, you may also be pumping (possibly even around the clock).  It is rough. Let yourself be on leave.  (If you want to try to be "productive," you can try to pick slightly intelligent TV or other video-based maternity leave projects to learn something… but it's also totally OK if you just end up watching a lot of Property Brothers or Shark Tank, as I did with both!)
Maternity leave beyond 8 weeks: maybe yes, but maybe no.  How long an "ideal maternity leave" is will vary widely by woman, and you won't necessarily know how you'll feel until you're there.  Maybe you'll be eager to get back to work — maybe you'll dread it. Your hormones, the baby, what childcare options you've chosen, etc., will all be a factor in the decision.  So again, in my mind, an IDEAL maternity leave would be slightly open-ended.  It would be very cool to have a boss understand that you're hoping to come back at X date, but it may be 3 weeks earlier or 3 weeks later.  Communication with your boss, and a scheduled check-in at some point in the midst of your leave (maybe at the 6 week mark?) would be key.
Return from maternity leave slowly.  Most people I talk to do not like reduced hours in the long run — the common complaint I hear is that you have to do 100% of your job in 80% of the time, with 80% of the pay.  That said — an ideal maternity leave, to me, would end with going back to work slowly.  Again, this will vary by woman and by job, but a few ideas to consider:

Working exclusively from home a few days (or even a few hours) for the first week; if you have in-home childcare like a nanny or MIL, this lets you supervise the situation a bit
Work partly from home, partly from the office the second week
Work 50%-80% hours for the first month you're back

Save 2-4 sick days or vacation days to use AFTER maternity leave ends. Regardless of which childcare option you choose, you will end up needing a sick day here or there.  If your baby is in daycare or another group situation, he or she will get sick, and you'll end up scrambling at the last minute.  On the other hand, if you have one primary person with responsibility for your child (like a nanny), that person may also get sick and call out, sometimes at the last minute.  You can (and should) plan for this before it actually happens — but having a sick day or a vacation day to fall back on would be great.
Readers, what are your thoughts? What would an ideal maternity leave look like to you?
Pictured: Shutterstock /  oleandra.