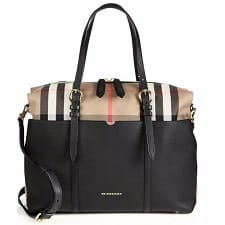 Here's a fun question for you guys: what would you tell new moms NOT to buy? What did you buy that was a waste of money or a mistake for your family? For me, the big answer to this question is a fancy diaper bag — I now advise all of my friends to NOT buy a fancy diaper bag when they find out they're pregnant.
(Pictured: a lovely $1400 Burberry diaper bag to consider if you don't want to listen to this advice!)
All of my friends and I made this mistake: the second we found out we were pregnant we started looking for fancy diaper bags. Resist the urge to do this! At least until after the kiddo is born and you've been using a diaper bag for a little bit of time and have a better sense of your needs (and the level of grossness that often comes with babies).
For example, the one that I bought (a very nice Rebecca Minkoff one that's still available) I ended up hating, because I didn't want a two-handled tote bag — one handle would fall off my shoulders, and I felt like the whole thing threw my balance off further, particularly if I was babywearing. It also didn't fit neatly over the stroller handles (or underneath in the basket) — in short, I used it about three times.
The truth of the matter is, you may not NEED a diaper bag, at least at first — I wound up just using an old Le SportSac Everyday bag (formerly my office gym bag!) for the first several months of my son's life; other women just use backpacks or totes (or keep supplies in your stroller or car). If you're breastfeeding, you don't need to cart any food or snacks for the first six months. When they're very little you don't need many toys, either.
So the main things that you need to bring with you are 1-2 outfit changes and your diapering supplies. If you're traveling with a breast pump (which is a whole other ball of wax), odds are good you'll just want to shove the diapering supplies and outfits into the same tote. I don't think I used an actual diaper bag until my son was about a year old, honestly.
(If you DO want to make a purchase, these are some of our favorite diaper bags for working moms:)

(Here's what I eventually saw as the best way to stock a diaper bag; the pics were taken when I had two kids under 4, both in diapers!)
Furthermore, your diaper bag isn't really going to be "yours," at least not in the sense of your other bags — your partner is (hopefully) going to carry it occasionally and will likely take it on outings. Your nann(ies) will probably do the same.
So, for my $.02, hold off on buying the diaper bag — at least until the kiddo is born, and just prep a regular tote bag, backpack, or messenger tote until you have a better idea of your needs.
Ladies, are you with me in being against fancy diaper bags? How much did you spend on the diaper bag you eventually loved? What else do you recommend newly pregnant mamas NOT buy?
Social media image credit: Pixabay.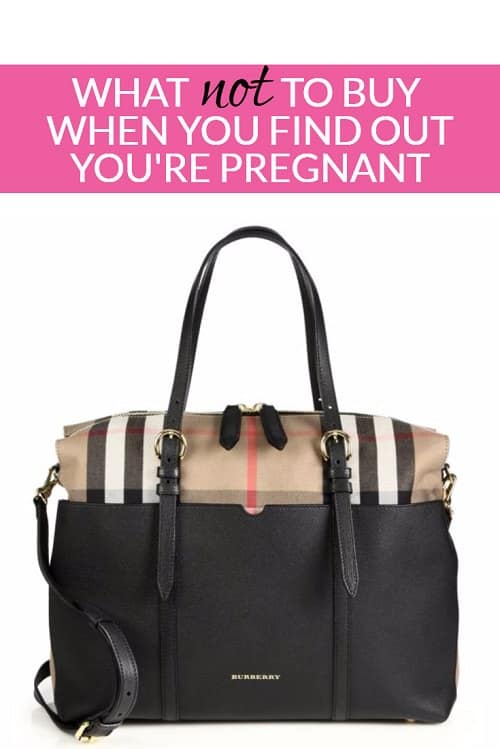 Sales of note for 11.30.23…
(See all of the latest workwear sales at Corporette!)
See some of our latest articles on CorporetteMoms:
Click here to see our top posts!
And — here are some of our latest threadjacks of interest – working mom questions asked by the commenters!