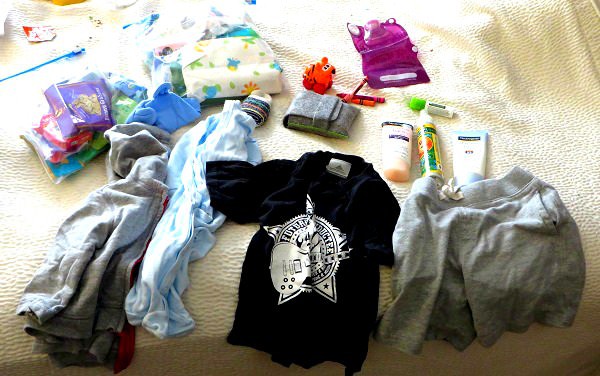 What's in your diaper bag? Who stocks it, and who usually carries it? I know a lot of people keep their cars and/or big strollers well-stocked — and some have the nanny in charge of the diaper bag — but I've always kept the bag stocked and ready for us to go out to eat, to a museum, or to the airport. (While our big City Select Baby Jogger has a nice big basket, we find it way too large for the subway, so that nice big basket is never of help to us while we're on the road!)
I actually planned to write this post a while ago, which is when these pictures were taken (last fall maybe?!). Because we had two kiddos in diapers at the time (thank GOD that isn't the case anymore), I thought I'd use these pictures to show you what I've always carried. (Our bag is much more pared down with just one in diapers now — although we still try to have a spare set of undies and pants in case of an accident or tempting mud puddle.)

Above, some of our favorite diaper bags for working moms as of 2021: one / two / three
This post contains affiliate links and CorporetteMoms may earn commissions for purchases made through links in this post. For more details see here. Thank you so much for your support!
So let's hear it, ladies: what's in your diaper bag? Perhaps more importantly: who uses your diaper bag (you, your partner, your nanny, grandparents-as-nannies)? Who restocks it when supplies run out? (Oh — and which diaper bag is your favorite?)
For my $.02: I'm a big fan of the "giant ziploc" system of organization, so at any given time we had one big ziploc filled with diapering stuff, one filled with snack stuff, and then some loose items like clothes and toys. All of this fit in our trusty Georgi diaper bag from Baby Cargo, which sadly looks like it's been discontinued; Amazon has a few left for $60ish.
I'll go into the whys below, but:
Diaper Ziploc Bag #1: The Diaper Bag
In this bag we have:
2 diapers for Jack (size 6 at the time)
A pull-up for Jack
A swim diaper for Jack
A little baggie of Pampers sensitive wipes. IMHO the "snack bag stuffed with wipes" works far better than anything else I've found in terms of having wet wipes in a condensed format. Note the label on the bag to keep it from getting confused with similar baggies filled with Wet Ones and Boogie Wipes (although here you see I have a little travel size case of Boogie Wipes).
Boogie Wipes: I've always found that when you have your kid horizontal on a changing pad, it's an excellent time to overpower him and wipe his nose. Yes, I'm horrible.
A tiny tube of Aquaphor: It's lip stuff! It's diaper rash stuff! Just make sure you don't cross contaminate anything.
A tiny tub of Vaseline (perhaps unnecessary in addition to the Aquaphor)
Munchkin plastic bags for disposing of diapers while out and about. I'd be curious to know if there are laws or anything on point, but as far as a "person in the world" etiquette tip, it's always best to put human waste into a sealed little baggie and then dispose of it. (Particularly if it's poop.)
A tiny laundry bag: in theory, for when you have wet/soiled clothes and nowhere to put them. A friend gifted us a whole set of nice Flight 101 laundry bags, including these teeny ones — I like that they are washable themselves.
L'Occitane's hand purifying gel (or any kind of Purell). It looks like this exact product has been discontinued, but when you're on the go you'll definitely want some kind antiseptic for your hands. (If your kiddo is too small to wash his own hands, it's also great to use after you exit the bathroom — god knows what's on the changing table).
Finally, not one but two diaper changing pads, just in case one gets dirty or lost. One was a disposable diaper changing pad (from Sesame Street, I think, but Munchkin also makes these), and another was a super-thin vinyl one that was easy to wipe down and fold up. My colorful blue paisley one is from Snug Bug, and I have no complaints. It isn't super padded, but it gets the job done as far as covering the surface, being easy to wipe down, and folding up into a small, condensed pack pretty easily.
Diaper Ziploc Bag #2: The Snack Bag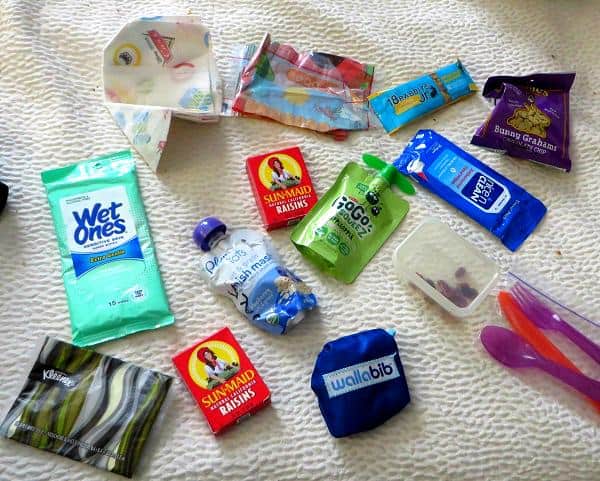 I believe strongly in always having snacks, either if you're dining out, traveling, or just on the verge of a meltdown. (Am I alone in thinking that my kids' meltdowns are all linked to low blood sugar?) The exact contents of the snack bag are a moving target, but some of the things we've included are (going clockwise):
Wet Ones. Again, I usually find the snack-baggie-full-of-wipes better than these little packs, but if you can find them they're great. We've used them for wiping down hands before and after meals, as well as wiping down tables before we sit at them. (See also: the Nice 'n' clean wipes, kind of duplicating the same thing.)
Disposable bib and disposable placemat. Because they barely take up any room, I figured they would be appreciated in case Stuff Happened and we really needed them. See also: the WallaBib, which I bought at a random trip to BuyBuyBaby — it's a super-thin nylon, washable bib that folds up into a tiny pocket.
Small shelf-stable snacks such as granola bars, Bunny Grahams, GoGo Squeez, raisins, Plum Tots Mish Mash (we buy them in bulk on Amazon), craisins — and a tiny snackbag full of eating utensils. (If we knew we were heading out for a while we always brought along fresh snacks as well such as string cheese, pre-cut grapes and apples, cooked broccoli and carrots…)
A pack of tissues
Loose, General Items in the Diaper Bag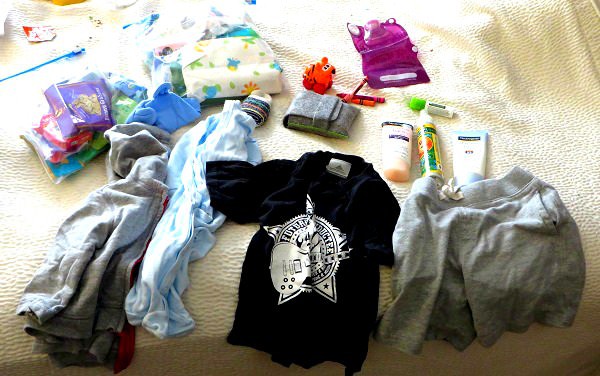 This is where the diaper bag gets really bloated: the clothes and other random toys. Starting from the top left-hand corner (where you see the snacks and diaper stuff), we move on to:
Toys: random tiger on wheels (of course), loose crayons, a small pack of Tegu magnetic blocks…
A collapsible water bottle. I'm not sure who loves this more, me or Jack. It also has a carabiner hook so you can hang it from the outside of the diaper bag. I think mine is a Vapur, but a lot of different companies sell them.
Baby sunscreen and regular sunscreen (looks like Neutrogena here, but we aren't terribly loyal to any one brand). For the longest time I kept a stick of baby sunscreen in my diaper bag, too.
Organic chapstick for the boys — we like Babyganics' Organic Balm.
Badger balm anti-bug spray (in case of buggy parks and whatnot)
Shorts and t-shirt for Jack and footed sleeper for Harry, as well as a hat and hoodie for cold weather.
In an outside zippered pocket I usually kept some tinted lip balm for myself, along with a grown-up snack (KIND bar, bag of nuts), and a photocopy of the boys' insurance cards (which permanently live in my wallet.)
How about you, ladies — what's in your diaper bag? How have you stocked it?
This post contains affiliate links and CorporetteMoms may earn commissions for purchases made through links in this post. For more details see here. Thank you so much for your support!
We are a participant in the Amazon Services LLC Associates Program, an affiliate advertising program designed to provide a means for us to earn fees by linking to Amazon.com and affiliated sites.
Sales of Note…
(See all of the latest workwear sales at Corporette!)
See some of our latest articles on CorporetteMoms:
Click here to see our top posts!
And — here are some of our latest threadjacks of interest – working mom questions asked by the commenters!