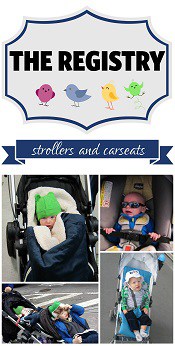 OK, guys, let's do this: the registry series. What should new moms register for baby gear and more? Which are your favorite pieces of baby gear — and have they changed through the months and years with kids? We're going to start with just two categories: the carseat and the stroller. (I was going to do a big post on all of these categories, but after an hour of writing just about strollers and carseats, I thought I'd break it into smaller posts!) I envision the entire series going through these categories:
Carseat — necessary from coming home from the hospital!
Stroller — how many have you tried? How many do you keep? (E.g., big stroller, umbrella stroller, jogging stroller)
Sleeping gear — crib and bassinet rocker, if necessary
Clothes — swaddles, sleeping clothes, daytime clothes, baby socks
Babywearing carrier — infant and 15-lb.+
Baby toys — swings, seats, and other Big Things to register for (Exersaucers, etc)
Essential books
Diaper bag
Nursing clothes
Breastfeeding pillow
And one final category: The Biggest Flops (stuff you hated).
My own $.02 on the first two categories (stroller and carseats) are below.
This post contains affiliate links and CorporetteMoms may earn commissions for purchases made through links in this post. For more details see here. Thank you so much for your support!
My Carseat Reviews
Carseats — We have an infant carseat, two convertible carseats, and a third booster we use now that J is 40 pounds.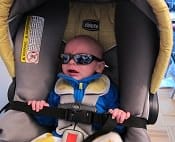 Infant Carseat: Chicco Keyfit 30. We were happy with it and, when we bought it, it was Consumer Reports' top recommended car seat. I do know that the Car Seat Lady does not think it's the best for taxis, but we never had a problem with it. (Pictured, J in his Chicco.)
Convertible Carseat #1: Once your kiddo outgrows the infant carseat (30 lbs or 30″, I believe) you need to go to the convertible carseat. We got the Combo Coccori for J's first convertible carseat because it's the one that installs easiest into taxis, and we used to travel with that to and from Ohio (using the same BabyTrend Universal EX Stroller Frame we used with the Keyfit).
Convertible Carseat #2: Once my second son, H, came along, we decided to stop bringing the Coccori with us on trips so we could focus on H's Keyfit. We bought a second convertible carseat to keep in Ohio (the main place that we travel to) — based on recent Consumer Reports' rankings we bought the Chicco Next Step.
Travel booster:  J weighs more than 40 lbs and is really tall for a 3.5 year old, so we've been using the BubbleBum Travel Booster for him for the short taxi ride to the airport.
You can often call a car service and ask for the car to include a car seat, but I got uncomfortable with the fact that the carseat was often kicking around the trunk, and because we were unfamiliar with the carseat model we had to totally rely on the driver for proper installation.
I decided I'd rather have a properly installed Travel Booster rather than an improperly (and possibly damaged) car seat, so… yeah.
My Stroller Reviews
I've found that most people tend to hate their strollers eventually, and that's true of ours. One of our friends has tried FIVE strollers, and her daughter only just turned one — she keeps buying and selling them on the local parents' listserv. We've stayed loyal to our four: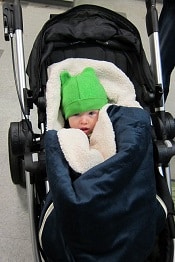 BabyJogger City Select (pictured with JJ Cole bunting and Zutani hat, with J) — This was recommended by the Baby Bargains book as a great competitor for the UppaBaby Vista (which costs about the same and is the one that most of our friends have; the Vista seems like it's always on sale on Gilt, too) and the Bugaboo (more expensive, and if memory serves it wasn't recommended by the Baby Bargains book).
When we went to the store to try the strollers we vastly preferred the steering on the City Select to the Uppa Baby, so this is the one we got.
Some thoughts: First, we loved this when it was just J — it was our main stroller until my second son, H, came along. It's a very solid, comfortable stroller — he preferred the seat, and it rolls over rocky ground SO much better than the umbrella stroller.
But, of course there are some negatives:  First, note that it isn't really collapsible unless you remove the seat, which always seemed like a pain to do. Second, note that you can't use the seat until the baby is six months old — you can either buy an attachment to use with your carseat (which we did; it was a super heavy stroller), or buy a bassinet (which we did for H, and then never used it because we wore him everywhere and put J in the stroller).
Third, the main reason we bought the City Select was for the option to add a second seat — and we HATE THE SECOND SEAT. Maybe if we had twins or something, where they were both the same size… but J is so tall at this point that the seat that's lowest to the ground is too low for him, and with both boys in it it's almost 85 lbs — almost impossible to steer around a corner, and the curb cuts are vital for crossing the street.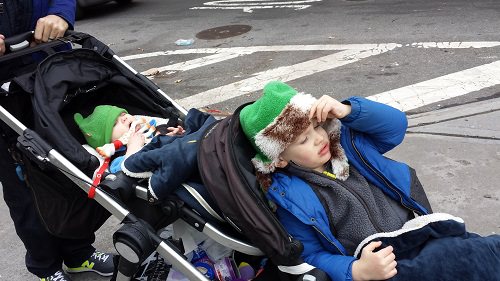 Our condo building has an elevator, but the hallways have little stairs here and there, so it's almost impossible to use in our current situation with two seats. A double stroller (side by side) is going to be impossible to use with the front door and back gate (we could barely get the City Select into and out of them) so we're not sure what our plan is except to keep wearing H and putting J in the stroller, and make J walk when that gets tiring.
(We have the Rollerboard for the City Select and it is also a PITA with our hallway situation.)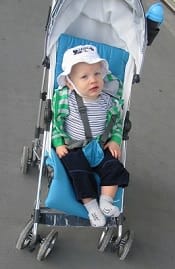 UppaBaby G-Luxe – We've had this umbrella stroller since J was about 18 months old. It has taken a LOT of use — it's collapsible so we used to take him to and from daycare in it; we also grab it if we're taking an extended trip into Manhattan (although, honestly, having J walk and wearing H is easier).
The main cons: it's broken a number of times (mostly covered under warranty), the seat needs adjustment every.single.time we un-collapse it, and it doesn't collapse if it has any stroller bunting on it.
BabyTrend Universal EX Stroller frame – We've used this in the airport with both the KeyFit and the Combo Cocorri. It seems to roll fine, has a nice big basket for shoving stuff, and has been gate checked a zillion times without damage. We always use this bag when we gate check it.
Random junky umbrella stroller – My parents bought a random junky umbrella stroller for $20 or so the drugstore for when we visit them in Ohio. We've taken J to the zoo and so forth in it — it seems fine for such limited use. It's far heavier than our G-Luxe, and is missing a lot of the nicer bells and whistles — the sun shade, the cup holder, the big wheels, the brakes, etc.
OK, ladies: I think this exhausts my thoughts on strollers and carseats for working moms. Which do YOU have? Which have you cast off? Which would you register for, if you could do it all over?
Social media image credit: Stencil.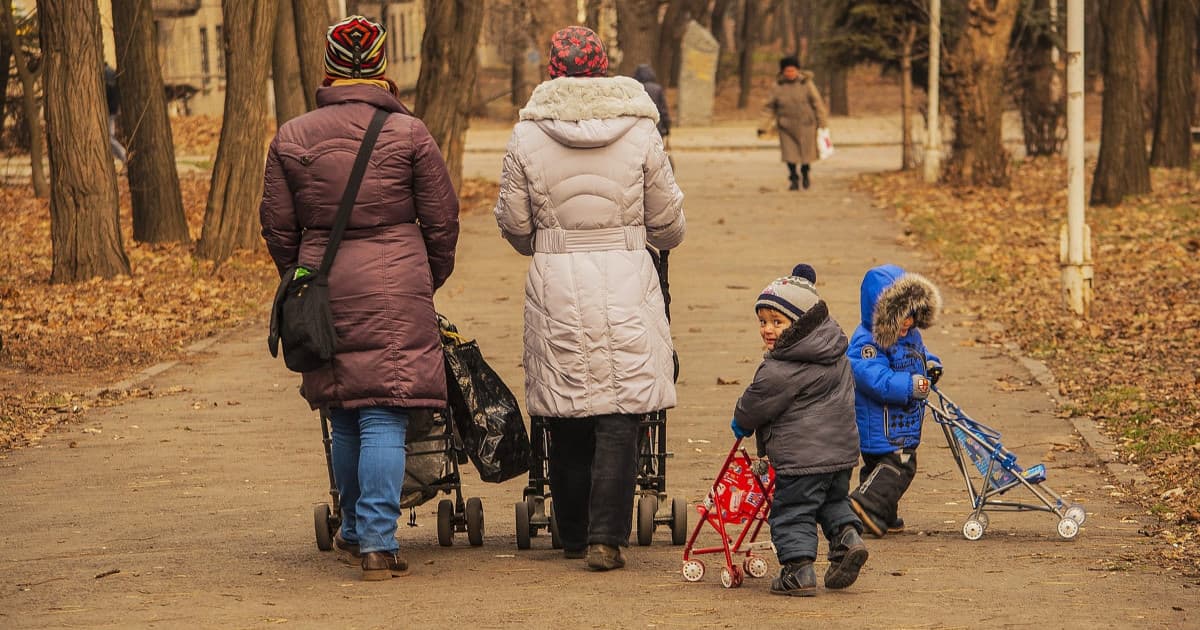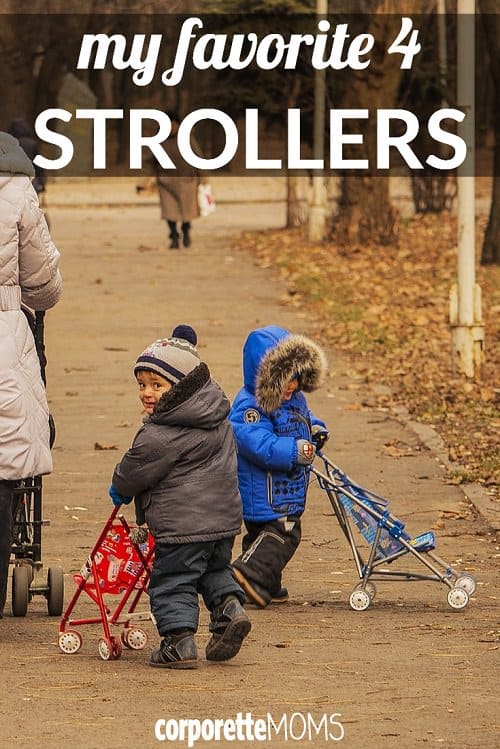 We are a participant in the Amazon Services LLC Associates Program, an affiliate advertising program designed to provide a means for us to earn fees by linking to Amazon.com and affiliated sites.