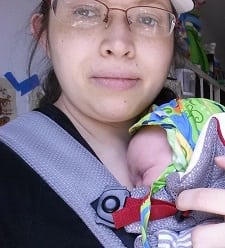 Welcome to installment five of our registry for working moms: baby wearing gear! Baby wearing is a must for urban moms and other moms who do a lot of walking — but which are the best? What accessories? And where should you find them? We've already talked about carseats and strollers, cribs and sleeping gear, and now: carriers for baby wearing. As I've mentioned before, I envision the entire series going through these categories (stay tuned!):
Carseat — necessary from coming home from the hospital!
Stroller — how many have you tried? How many do you keep? (e.g., big stroller, umbrella stroller, jogging stroller)
Cribs and sleeping gear — crib and bassinet rocker, if necessary
Baby clothes — daytime clothes, baby socks
Baby wearing carriers — infant and 15-lb.+ options
Baby toys — swings, seats, and other Big Things to register for (Exersaucers, etc)
Essential books
Diaper bag
Nursing clothes
Breastfeeding pillow
And one final category: The Biggest Flops (stuff you hated).
Some of our favorite soft carriers for baby wearing as of 2021…

This post contains affiliate links and CorporetteMoms may earn commissions for purchases made through links in this post. For more details see here. Thank you so much for your support!
We are a participant in the Amazon Services LLC Associates Program, an affiliate advertising program designed to provide a means for us to earn fees by linking to Amazon.com and affiliated sites.
As for baby wearing… I nearly included this with my roundup on baby clothes, because what your baby is wearing will definitely affect which carrier you want to use. For my $.02: We received a Boba 3G as a gift and really liked it for both boys once they were over 15 lbs. The newer version has an infant insert, I believe, but I have no experience with that. When the boys weighed less than that, we used a Bjørn Air, which was also a gift; I also used a Maya sling for a bit when Jack was younger. (There's a picture of me and Harry in the sling, below, but I'm not quite sure I had it on right that time — we just never got the hang of it this time.)  Almost all of my friends loved the Ergo carrier the best.
One of the best tips we got was from friends who told us we could take a baby wearing class — we even found a consultant who came to our home for $100, brought a number of different types of slings and carriers, showed us how to put them on appropriately, how to make fit adjustments, and even some tricks on how to make them more comfortable for the baby. (For example, with the sling, she suggested that if the baby passed out on you, you could roll up a washcloth and tuck it into the sling to make a mini pillow for the baby's head.) (In NYC ours came from a baby shop on the UWS that some friends recommended.) One thing she noted was that the Baby Bjørn is actually not the best for regular wear with babies — something about how it's bad for their spine? — so once the boys got to the minimum weight for the Boba (or another soft carrier) we switched them to that. (But this Skeptoid post ponders whether that's a myth.)
I never quite got the hang of breastfeeding in the carrier — I really believed I'd be doing it all the time with baby #2, and must have watched this YouTube video a million times trying to figure it out… but aside from one fairly memorable trip to the big Train Show where I walked around and fed Harry in the Boba (and realized afterward that using the hood would have been PERFECT for additional modesty), I never really did it. I was also never really comfortable cooking while wearing Harry — even prepwork like chopping seemed kind of precarious! — but at the end of the day I often did end up wearing him around the house while we got things ready for Jack. Harry liked the closeness, Jack liked that Mommy was more mobile…
Note that if you're baby wearing in the winter, your coat should cover you AND the baby — you never want to risk the possibility that you'll be all warm and snuggly while your kiddo is freezing. They do make blankets that go over the baby carrier like the Ergobaby Baby Carrier Winter Weather Cover – Black
Ergobaby Winter Weather Cover (which we used with our Boba 3G) or the Kowalli Fleece Baby Carrier Cover (Black)
Kowalli cover; you can also buy coats like the M-coat or Sweet Mommy coats that have baby pouches built in. For in-between weather where one minute you need a blanket and the next you don't, I've said it before, I'll say it again: I love the ROSK Woobee blanket. (You can use it with a baby carrier as well as a carseat or stroller.) I also would wear some of my husband's zip-up hoodies if it was slightly cool; they were large enough to zip up over the baby and me.
Allegedly the Boba 3G is good up to 45 pounds (and has an option to wear the baby like a backpack that I've never quite gotten the hang of); now that Harry is about 23 pounds we stick him in the stroller anytime we can. Three other points:  1) If your baby is teething and gnawing like crazy on everything, you can buy teething pads for the straps; you can wash them more easily than you can the carrier itself. 2) In terms of which diaper bags (or regular bags) to wear while baby wearing, I preferred a backpack (like the Mosey) with the Bjørn, but a crossbody (like the LeSportsac Everyday or our beloved BabyCargo diaper bag) with the Boba, due to the strap placement. 3) If you're traveling with a baby, please read up a bit on baby wearing in taxis — I know many moms who did it without a second thought, but The Car Seat Lady's admonitions against it were enough to scare me.
Finally: I like to illustrate these posts with pictures of my kids in the products I'm recommending, and I have a zillion pictures of me baby wearing, but they're all really poor… so here's a collage, below. (I'm not even wearing makeup in half of them, I don't think… fun…) Clockwise: 1) Harry in the Maya Sling. (I'm not sure I had it positioned correctly here!) 2) Harry in the Baby Bjørn. 3) Jack in the brown Boba, with the red fleece cover on top of him, with a sweatshirt zipped up on top of both of us for a walk. 4) Harry in the Baby Bjørn, with a silly but functional iPlay sun hat on. 5) Jack in the Boba, with the ROSK tied around the strap, with me wearing a regular winter coat (just worn open). 6) Harry in the Baby Bjørn. 7) Harry in the Boba, wearing a fleece jacket, with the red fleece cover on top of the Boba (me wearing another regular coat, just worn open).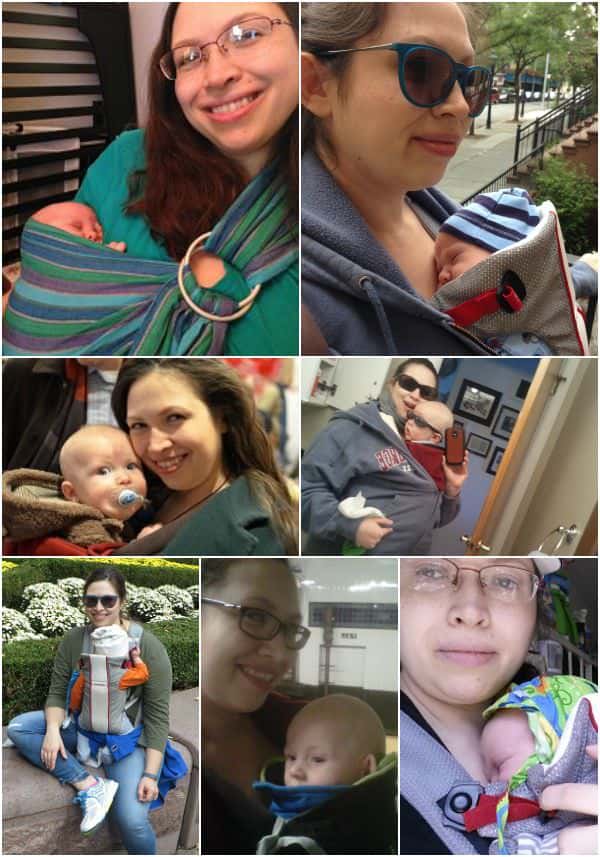 Further reading:
We are a participant in the Amazon Services LLC Associates Program, an affiliate advertising program designed to provide a means for us to earn fees by linking to Amazon.com and affiliated sites.