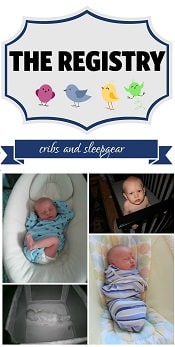 Welcome to installment two of our registry for working moms: the best cribs and other sleepgear. What should new moms register for baby gear and more? Which are your favorite pieces of baby gear — and have they changed through the months and years with kids? We've already talked about carseats and strollers, and now we're going to talk about sleeping gear — from cribs to swaddles. As I mentioned last time, I envision the entire series going through these categories (stay tuned!):
Carseat — necessary from coming home from the hospital!
Stroller — how many have you tried? How many do you keep? (e.g., big stroller, umbrella stroller, jogging stroller)
Sleeping gear — crib and bassinet rocker, if necessary
Clothes — daytime clothes, baby socks
Babywearing carrier — infant and 15-lb.+
Baby toys — swings, seats, and other Big Things to register for (Exersaucers, etc)
Essential books
Diaper bag
Nursing clothes
Breastfeeding pillow
And one final category: The Biggest Flops (stuff you hated).
Without further ado, here is my own $.02 on baby sleep:
First, a quick note on what NOT to buy: anything for the crib other than a mattress and a fitted sheet. It really amazed me when I was pregnant with Jack that I had read so many things about crib bumpers and crib blankets not being safe — and yet every major company displayed them proudly as part of the nursery decor. Here's a great Consumer Reports piece about it.
If you're worried about your cold baby (because there is no blanket), here are some other thoughts: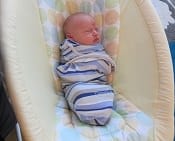 Swaddles. I'll admit it: I'm a failure at blanket swaddling. The baby burrito just escapes me! Not only would Jack break free, he invariably wound up sleeping with the blanket on his face, which really freaked me out. We tried a lot of different swaddle products (a pre-made swaddle for you) and really liked SwaddleMe — we kept my second son, Harry, in it almost exclusively until he started rolling over. I also really liked the Aden and Anais Easy Swaddle, but my husband didn't like it; the Woombie Air was also great for the hotter days and nights before we hacked our thermostat (below). We probably had about 8 SwaddleMes that we rotated for Harry plus a few extras. (Pictured: Harry, 6 days old and napping with a swaddle and our Rock n Play (see below).)
Sleepsacks. When you stop swaddling, you can go for a sleepsack, which is a wearable blanket. We particularly love the Halo Sleepsacks, which come in fleece and jersey — if you want a lighter layer, the muslin Aden and Anais sleepsack is great. You need at least 2 in case of a blowout or other, er, incident. We usually layer them with a onesie or stretchie beneath. Jack slept in his Halo Sleepsacks until he was about 2 (the bigger sizes have feet).
Thermostat. Another thing they suggest to lower your SIDS risk is to keep the infant's room at an optimal temperature. If you're living, say, in an apartment where the radiator is either ON and blasting at 95 degrees or OFF, making the room feel like it's 60 degrees, and you want to get really fancy, you can hack your radiator to include a thermostat — we've done this now to two of the three radiators in our apartment. We've used this Honeywell Suitepro thermostat (model #TB6575B1000, specifically) and this 20K temperature sensor wall module. (They make various products to monitor the temperature — eggs that glow colors if it's too hot in the room, for example — but we haven't had any success with those.) My dad is super helpful at this kind of home maintenance-plus-tech stuff, but here's a video on it from This Old House that may be helpful (although our radiators look a bit different/more modern(?), with a "low/medium/high" switch at the top).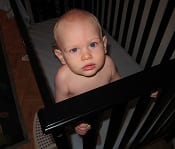 As far as where the boys actually sleep, we've had three main sleep situations for the boys. Note that one of the AAP recommendations for preventing SIDS includes room-sharing with the parents — I've always heard until the baby is at least 6 months old. Most parents I know have a smaller bassinet (or for us the PnP or RnP) for the parents' bedroom during this time period, and use the crib for napping. (Pictured: Jack in his crib, around 10 months old.)
Fisher Price Rock n Play. This will probably be controversial, but if I had to say one thing that was absolutely essential for all first- and second-time moms, this is it. There is a lot of stuff in the Amazon comments about how their kids get a flat head in it — with Harry we noticed that he would turn his head towards our bed every night, so we reversed the direction the RnP pointed every day; I was also pretty vigilant about checking his head daily for flat spots. He slept in it until he started trying to roll over in it, but we kept it around as a regular seat until he was about 7 months old — it was great because he could see his brother, it was easily movable/collapsible, and you could give him a few toys on his lap to play with. (That said: Jack slept in this thing from month 4 through month 7, when we finally moved him to his crib because he was about to outgrow it.) Note that ours is a bit older — the newer models on the market have a vibrating component and are easier to wash, I believe.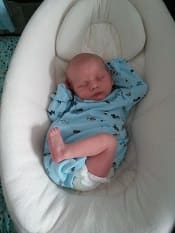 Graco Pack n Play. This comes with various attachments, such as the "Newborn Napper." Jack LOVED the Newborn Napper (pictured in it — note that this is when we thought we shouldn't swaddle Jack because "Jack hates being swaddled." I think most babies hate it, at least at first — we persevered with Harry and he slept wonderfully.) I suspect there are cribs that are better for travel, so you may want a lighter weight one if you plan to fly — I've always heard good things about the Bjørn travel crib, but haven't tried it myself. With Harry, however, he's been sleeping in the PnP at night since he outgrew the RnP.
Graco Lauren Crib. This has been an OK crib — if I had it to do over I would make two changes. First, I'd buy a plain wood crib with no paint, perhaps like this one — while Jack was teething he totally ate the crib; it looks like wild animals attacked. I tried a few products (including a gummy strip you put along the edge of the crib) but nothing really worked well with the Lauren crib. (There are a TON of thoughts on nontoxic cribs out there — note that most of them are very pricey, which may only make sense to you if you know you want to try for several children.) We have no complaints about the crib mattress, though — Moonlight Slumber Little Dreamer Dual Firmness All Foam Crib Mattress, which I still remember that my grandmother (RIP) got off the registry for us because, she said, "sleep is very important!"
Arm's Reach Co-Sleeper. We borrowed this from a friend when we were having peak sleeping problems with Jack (he outgrew the Newborn Napper, but hated the crib, and we hadn't yet found the RnP). My $.02: it was safe and cozy for the baby, but it really depends on your child. Jack has never been a snuggler and hated it, so we returned it to my friend. (I also think Jack needed a bit of an incline, like he got from the RnP.) Harry has always been more of a snuggler, so I suspect he would have loved it.
Swinging Cribs.  I'm not necessarily proud of this fact, but I will say that our Fisher-Price Snugabunny Cradle n' Swing was a godsend with both of the boys — they both took a lot of (supervised!) naps, usually as a last resort when they couldn't be soothed otherwise.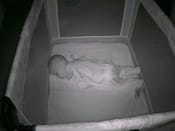 Other sleep gear:
Baby monitors. We bought these with Jack, but considering our apartment is very small (1000 square feet), they seemed silly, so they've been collecting dust.
Baby cameras. There are fancy baby cameras out there — we've always just bought these Foscam cameras, and used them with the CamViewer app. Conspiracy theorists will tell you that baby cameras are a big concern in general — people can see inside your house! — but for some reason this has never bothered me; it's pretty boring inside our house. (You can also just unplug them if you leave on vacation or whatnot.) (Ladies — have you been bothered by security concerns with your baby camera?)
The baby camera, IMHO, is much more useful than a baby monitor — you can see if/when the baby is sleeping, and if there's prolonged crying in the middle of the night you can visually check the baby — after a while you start to recognize signs of when the kiddo is not going back to sleep on his own and needs intervention.
(For our guys, if they were still lying down but crying, we let them cry. Once they were sitting or standing up, though, some parental intervention was usually needed, if only to check their diaper, etc.)
Am I the only weirdo who takes screencaps and then puts them in the family photo albums? Pictured: Jack around 9 months, sleeping in the Pack n Play (probably at Grandma's house).
White noise. You don't have to get fancy with this. Harry sleeps with an old, loud fan turned on for white noise, while Jack slept with an iPod mix of white noise — iTunes has a million options. It does help, though, particularly if there's a lot of outside noise.
Pacifiers. Pacifiers supposedly lower the SIDS risk, so I encouraged them with both boys for sleep — Jack preferred the NUK brand; with Harry we had to try a few before we decided he liked the MAM brand.
Humidifier. I hate humidifiers. They're a PITA to clean, and they gross me out after one day of use. Still: sometimes your kiddo needs them. We just use this non-baby humidifier (bought based on Consumer Reports recommendations from several years ago), but there are others that are far more attractive for a nursery.
Baby Vapo Rub. Nothing is worse than a sick baby, and nothing interrupts their sleep more. I've always noticed a big improvement on sleeping-while-sick if I put some Vapo Rub on their chest — it really helps with their breathing. There are organic versions of this as well. (Note that there are also vapor bubble baths for babies, which we also love for a bath before bed.)
Some of our favorite products to help deal with a baby head cold include…

Nighttime diapers and boosters.  Both of our guys could not make it through the night with a single diaper. In order to maximize sleep for both we've used Huggies Overnites Diapers; with Jack for a long time we also bought boosters for the nighttime diapers.
Introducing a stuffed animal/security blanket. Opinions vary on when to introduce a stuffed animal or security blanket to be in your baby's crib — we just gave Harry a little Aden and Anais Issie blanket when he turned 9 months recently, since I read somewhere that separation anxiety starts around now. He, of course, likes to sleep with it on his face, but considering that it's a 16×16 square of muslin, I'm not overly worried…
Finally, a note on books. There are a MILLION OF THEM out there for baby sleep. We've always followed Healthy Sleep Habits, Happy Child, but I'm the first to admit that something about the way the book is structured is less than helpful for a sleep-deprived parent — chapters are peppered with real stories from parents (which may or may not be 100% relevant to the other stuff in the chapter), and a lot of it is a bit scientific (I seem to remember things like, "40% of babies like to nap for X hours, while 35% nap for X.5 hours, while the …") I thought the Lucie's List newsletter on daytime sleep ("respect thy intervals" — so true!) was really helpful, even as a second-time mom. Which were your favorite sources of advice?

Pictured above, great books for new working moms: pink / white / white/ green
Readers, what crib, bassinet, sleepsacks other sleep-related products do you love? What was your biggest splurge — and what's your biggest regret (i.e. waste of money)?
We are a participant in the Amazon Services LLC Associates Program, an affiliate advertising program designed to provide a means for us to earn fees by linking to Amazon.com and affiliated sites.