Welcome to installment six of our registry for working moms: essential books for new moms. So far in the registry series, we've rounded up the best carseats and strollers, cribs and sleeping gear, baby clothes, baby carriers, and big toys and gear — stay tuned for more!
We've talked about my favorite pregnancy books for working moms, as well as some of the best maternity blogs and other free resources  — but what books, if any, should be on your baby registry?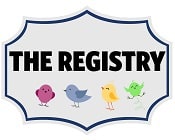 What books do you think were the most useful to you as a working mom, either in terms of parenting, juggling work and life, getting medical help, watching milestones, or other issues? What books do you like to gift friends with new babies? What books were essential to you in those early postpartum days?
Some of my favorites, below…
Books for New Moms: for Your Pregnancy
We've actually done an entirely separate post on the best pregnancy books for future working moms…
This post contains affiliate links and CorporetteMoms may earn commissions for purchases made through links in this post. For more details see here. Thank you so much for your support!
We are a participant in the Amazon Services LLC Associates Program, an affiliate advertising program designed to provide a means for us to earn fees by linking to Amazon.com and affiliated sites.
Books For New Working Moms on Baby Parenting
Balance is a Crock, Sleep is For the Weak. I often cite this book here, and it's one of my favorites for prepping you to be a working mom.
Baby 411. I didn't use this one a lot, but I'm glad I had it as a new mom — and it's from the same folks behind Baby Bargains, which is an amazing book that every pregnant mama should just go out and buy without waiting for her shower or registry.
The Happiest Baby on the Block; Fully Revised and Updated Second Edition: The New Way to Calm Crying and Help Your Newborn Baby Sleep Longer. Admittedly, I read the first edition (or possibly even just watched the excellent DVD with my husband) — but every new parent needs to read this book. We are still doing loud shushing noises years later!
Wonder Weeks. Pro tip: I much preferred the iTunes app to the book, but if you (or a soon-to-be mama you know) is super interested in babies' learning leaps, you should check it out.
Request for the readers: what was your favorite nursing book, and your favorite sleep book? The two most-recommended books, at least as far as I've found, were never truly that helpful for me — and for some reason I own at least one, or even two physical copies of each, AS WELL AS the Kindle version, and still I could never quite find what I was looking for, and my sleep-addled mind could never make sense of the advice I did find. (Here's a link to the sleep book and to the nursing book if you're curious which books I didn't particularly like.)
Honorable mention: you may want to register for one new-mom cookbook, as well, especially for one with homemade baby food (particularly if getting cookbooks out of the library grosses you out — I know some people draw the line there!). I can't say I've cooked a ton from them, but then we all know I'm family-dinner-challenged. Some of the ones I'd recommend include Weelicious: 140 Fast, Fresh, and Easy Recipes, Top 100 Finger Foods: 100 Recipes for a Healthy, Happy Child, and if you're British, River Cottage Baby and Toddler Cookbook. I'm also a fan of this guide to Baby Led Weaning.
(If parenting books are more your speed, this list from one of the authors of Minimalist Parenting looks amazing — I stink at reading parenting books, though (including Minimalist Parenting, which I bought many moons ago and still sits unopened), so, ah, there's that.
Books for New Moms To Read to Baby
We just talked about some of my sons' favorite books recently, but these are the books I think new moms should consider registering for:

Finger puppet books, like In My Nest. Not only do babies love these for a long time (H only just moved on recently-ish and he's almost 2 years old), they're the kind of thing it's hard to get out of the library because they get grubby pretty quickly.
Indestructibles. Admittedly these are better for when the baby is 8-30 months or so — in chief slobber/teething mode but also showing interest in books. They're easily washed, and I liked to keep these in my diaper bag for my kiddo to peruse at restaurants and while waiting in lines. You can sometimes find deals on a group of the books (I think we got ours through Baby Steals); our favorite was Baby Babble. (The age range listed on Amazon for these things is 2-5, which seems… unrealistic. But maybe that's me?)
Who Loves Baby? Fill this puffy photo book with pictures to show your baby all the people who love him or her — you can even update the pictures through the years. (J still loves his little book and he's almost 5!)
Pop-Up Books. Keep your baby away from these, because as every parent to a toddler knows, these things fall apart (or get ripped apart) far too quickly. But I'm going to put them on the list because they are so danged expensive, next to impossible to get out of your library, and often one of the first things babies show interest in.
(Right now it is the only thing H will read as he approaches his 2-year birthday. Yaaaay.) 
Plus: they look really nice sitting on your nursery shelf. Some of our favorites: Maisy's Book of Things that Go: A Maisy First Science Book and Guess How Much I Love You: Pop-Up.
Other plush books, with different textures for the baby to feel, and sometimes squeaking components. Again, these are expensive, so they're excellent to stick on your registry. Some of our favorites include: Peekaboo Kisses, Animal Kisses, and Pat the Bunny.
Sound books.  Same as above — they're expensive, and they're hard to find in your local library. Some of our favorites include Noisy Orchestra and Simple First Words Let's Talk.
Psst: we've also rounded up great books for working mothers (more on a focus of actually working as a parent):
Ladies, what books did you put on your registry? What were you gifted as a new mom that you loved, what books did you buy as a new mom that you loved, and what do you give to new moms you know? What do you think the most essential books for new working moms are?
We are a participant in the Amazon Services LLC Associates Program, an affiliate advertising program designed to provide a means for us to earn fees by linking to Amazon.com and affiliated sites.