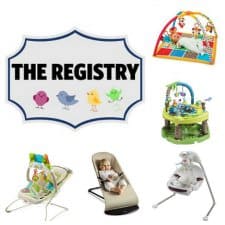 Welcome to installment six of our registry for working moms: big toys and gear, all of which can be helpful to put on your baby registry so you don't have to spend several hundred dollars on toys your kids only play with for a few months. (These also tend to make great gifts for family members who may want to get you one or two "memorable" gifts versus a slew of smaller items — I still remember who got us most of the toys I mention here.) Thus far in the registry series, we've talked about carseats and strollers, cribs and sleeping gear, baby clothes, and baby carriers. Today we discuss swings, crib toys, play mats, bouncers, and play centers. Our baby registry series will include these categories (stay tuned!):

Carseat — necessary from coming home from the hospital!
Stroller — how many have you tried, and how many do you keep? (e.g., big stroller, umbrella stroller, jogging stroller)
Cribs and sleeping gear — places to sleep, sleep gear, sleepwear
Baby clothes — daytime clothes, swaddling gear, PJs, baby socks
Babywearing carriers — infant and 15-lb.+ options
Big toys and gear for babies — swings, crib toys, play mats, bouncers, and play centers
Essential books
Diaper bags
Nursing clothes
Breastfeeding gear
And one final category: The Biggest Flops (stuff you hated)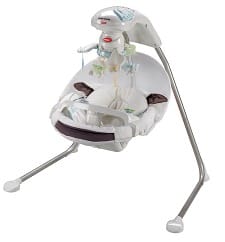 The Swing. This swing is amazing, and absolutely something I would recommend to other moms who are just registering. When we were having sleep problems, this was the only way to get them to sleep… with Jack I can't tell you how much writing I got done while he slept in this thing. It's worth the floor space and the investment. You'll thank me later. It's available at Amazon in five models — My Little Lamb (pictured), My Little Snugakitty, My Little Snugapuppy, Rainforest, and Luv U Zoo — for $108 to $299. Fisher-Price My Little Lamb Cradle 'n Swing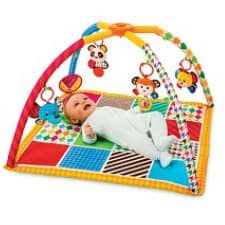 The Mat. It's odd that the company pictures the baby on his back, because I always thought the real usefulness for the playmat was for tummy time. The bottom of the mat has sensory things (colors, different fabrics, crinkly puffy things, one of ours had singing lit-up flowers) and of course there's a mirror, all of which made tummy time that much more tolerable for both my boys. Harry never cared for lying on his back looking at the danglies, but Jack spent a lot of naked time on a towel on the playmat, airing out whichever diaper rash he had at the time. (I suppose I shouldn't be surprised that he has eczema and sensitive skin now. Anyway.) We liked the mat and were happy we had it, but do note that you can also just get a floor mirror for a mere $15. The playmat comes in six styles — Safari Fun, Baby Animals, Lil Gems, Pond Pals, Vintage Boy, and Sweet Safari — whose prices range from $35 to $84. Infantino Safari Fun Twist and Fold Activity Gym and Play Mat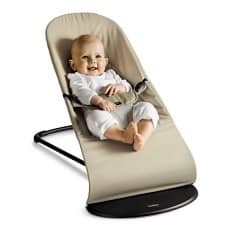 The Chill Baby Bouncer. We were lucky enough to borrow this from a friend for Harry, and he loved it. It's certainly less involved (and more stylish to look at) than the Rainforest Friends bouncer, which both boys also had and loved (see below). Particularly for the second child, though, this bouncer seat was great for hanging out and watching his big brother (we also used the Rock n Play for that, too). The bouncer comes in nine color combinations (black/brown, black/dark gray, black/gray, brown/black, brown/chestnut, dark gray/rust, khaki/beige, rust/orange, and silver/white) and three material choices (cotton, mesh, and "organic"). Prices range from $132 to $175. BABYBJÖRN Bouncer Balance Soft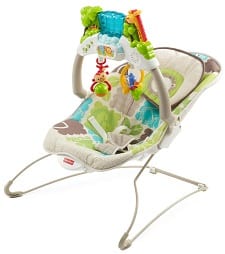 The Crazy Baby Bouncer. This was one of the first baby toys we tried to use with Jack — and in the beginning, it almost seemed like too much stimulation. Lights! Sounds! Dangly toys RIGHT IN YOUR FACE! And a vibrating seat! It was like the Vegas of baby toys, and it was a bit much for him in the beginning. I didn't yet know about the Babybjörn bouncer, so we just put him in the seat without the top attachment, and he seemed to like that. After a while we started putting on the attachment too, and eventually we turned it on. At the end Jack loooooved this thing and would happily play for 20 minutes at a time. Harry had both bouncers, and loved and used both — we used the Babybjörn one more for hanging out or before bed, whereas the rainforest one was more of an activity in itself that absorbed each baby. (We also had the Bumbo floor seat, which I wouldn't really recommend; it seemed like neither of my babies were particularly comfy in it, even though they weren't really chubby babies. It's also a bit controversial as a baby seat.) The bouncer is available in Rainforest Friends ($59) and My Little Snugabunny ($44) at Amazon. Fisher-Price Deluxe Bouncer, Rainforest Friends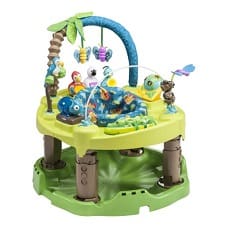 The Exersaucer. Finally, we come to the Exersaucer. We registered for this on the advice of Baby Bargains, which if I recall correctly said it was safer than jumparoos and morphed into several different "stages" to grow with your baby. Stage 1 is a baby mat for tummy time; stage 2 (pictured) is an enclosed place to sit your baby so they can swing around, bounce, and play with the whole 360 degrees' worth of toys; and for stage 3 it opens up to allow a standing/walking baby to have more of an activity table. All three stages involve lights, music, and lots of sensory things — crinkly, puffy items, etc. Stage 2 is a godsend, because by then your baby has likely outgrown the swing, and finding a place to happily confine your crawling, curious child for 10 minutes so you can hop in the shower is a bit difficult. I'd say that stage 3 was useful and appreciated by both boys, although they also liked their activity table; stage 1 seemed so inferior to the playmat that we barely used it at all. But Stage 2 makes it worth every penny. :) It's $89 at Amazon. Evenflo Exersaucer Triple Fun Active Learning Center, Life in the Amazon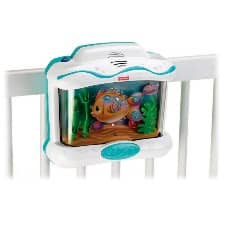 Honorable mention #1 (nice if you can get it, but not necessary): Side-of-Crib Toys. There are many toys like this one that attach to the side of the crib — the idea is that since you're not supposed to put anything in the crib with the baby, you can put music/lights/etc. on the side of the crib for the baby to play with. We had a different one for Jack, but we just got this for Harry, who at 19 months just had his binky taken away. He's probably too advanced for it (he can work the buttons better than I can!), and it might be better for a younger baby who needs something to focus on while falling asleep. It's $79 at Amazon. Fisher-Price Ocean Wonders Aquarium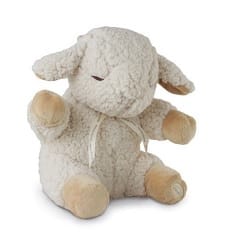 Honorable mention #2: Sound Machine Toys. If you want a friendly version of a sound machine, this sheep is nice and soft — it also attaches to the outside of the crib. Amazon has it in five options — Sleep Sheep, Blue Owl, Frankie the Fox, Marvin the Monkey, and Giraffe — that range from $22 to $78. I'd say this product is superior to the other plush toys that sing and then turn off, like this singing seahorse or Scout, both because a) you're not supposed to put anything in the crib with baby, and b) if you DO and then the baby unintentionally touches the plush toys, they may start singing and wake the baby up. (SCOUT, I'M LOOKING AT YOU.) Pictured: Cloud b Sound Machine Soother
Things I Wouldn't Register For In This Category:
I'll be honest — you're already going to need a lot of storage space just for the swing and exersaucer. They come in huge boxes! But they're so expensive, and you can use them so quickly with a baby, I think they're worth putting on your registry. Things I wouldn't put on your registry:
This chair was super hot last Christmas. Harry still can't figure out how to play with it and he's 19 months!
Any sort of play yard other than a portable crib like Graco (which is confusing because they sometimes call the Pack n Play a play yard too!) — you just won't need it until the baby is mobile, which is many months away.
Activity table — we had one, but I would say that a) you don't really get to that stage until the baby is older, and b) if you have the Exersaucer you don't need one.
Any huge play house or play set — it'll be a while before the baby will be excited about this.
Ladies, what other big baby toys did your little ones appreciate and use — and which did you appreciate the most? What items did you get from your baby registry and were happy you did, and what was unnecessary, looking back? Any hot new toys I'm missing?
(L-all)