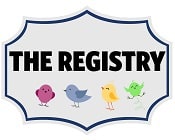 2017 Update:
We still stand by this advice on what should moms register for baby clothes— links have also been updated below.
Welcome to installment three of our
registry for working moms
: general baby clothes.
What should new moms register for clothes for their baby? Which are your favorite brands and types of baby clothing — and have they changed through the months and years with kids? We've already talked about carseats and strollers, cribs and sleeping gear, and now: baby clothes for the registry.
 As I mentioned last time, I envision the entire series going through these categories (stay tuned!):
Carseat — necessary from coming home from the hospital!
Stroller — how many have you tried? How many do you keep? (e.g., big stroller, umbrella stroller, jogging stroller)
Cribs and sleeping gear — crib and bassinet rocker, if necessary
Clothes — daytime clothes, baby socks
Babywearing carrier — infant and 15-lb.+
Baby toys — swings, seats, and other Big Things to register for (Exersaucers, etc)
Essential books
Diaper bag
Nursing clothes
Breastfeeding pillow
And one final category: The Biggest Flops (stuff you hated).
First, some general tips on baby clothes:
If you can, register for things like onesies and footed sleepers in multiple sizes — that first year you end up needing a ton of different sizes, and it's nice to just have them on hand. Note that for season-specific clothes it's hard to do this in advance because you don't totally know how big your kiddo will be when born, or how he or she will grow.
Don't get too crazy registering for baby clothes, though — you may end up hating some things (for me it was sleeping gowns); you might end up loving others. It really is a matter of taste — as well as what time of year your baby was born in. For Harry (born in May), for example, we kept him in a diaper and swaddle for pretty much the first 3 months — mostly SwaddleMe, but we also had a Woombie Air and an Aden + Anais Easy Swaddle we liked. After that, to be honest, we've kept him in footed sleepers for most of his first year.
Try a few brands of clothes — but in general I found it easiest to pick a few brands I like and stick with those for all of the boys' clothes. Things fit differently (length, width), wear differently, and so forth — right now I pretty much exclusively buy Carter's, Old Navy, and Gap for the boys. For round #2 these have held up… fine, I suppose. I've heard that some people who know they want a lot of kids think the fancier clothes (Splendid, Petit Bateau, etc.) hold up better for various rounds of hand-me-downs — so you get more for your money. As they say, your mileage may vary.
Randomly: try a few brands of diapers for your little one too — they're a bit like pants. Each brand fits a bit differently in the rise, the leg holes, etc., etc. We were big fans of Huggies for both boys. (I have no experience with cloth diapering — if anyone would like to write a guest post on your experiences with it, please contact me!)
Specific Recommendations
Swaddles:
I like the
SwaddleMe
; the
Woombie Air
and
Aden + Anais
muslin ones were both nice alternatives for a summer baby. (Again, for H, this is pretty much all he wore for the first few months of his life. We would stick him in a onesie or footed sleeper if we were wearing him.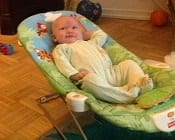 Pajamas:
I'm a big fan of
the footed sleeper
, at least after the swaddling months — bonus if it has a zipper instead of snaps. Sleepers without feet don't make any sense to me (babies do NOT do socks) and pajamas as separates, while adorable, just seem like they ride up and get all bunchy while the kiddo sleeps. Once the kiddo is out of swaddles, the sleepsack (a wearable blanket) is a must. We've always liked the
Halo sleepsacks
in jersey and fleece; we've also had a few
Aden + Anais sleepsacks
for summer.
(Pictured: Harry in one of his zip-up footed sleepers.) 
Socks and Shoes:
Do not underestimate the ability of a baby to kick off every sock you try to get on their feet — this goes double for shoes. So for my $.02, for the first year I'm more a fan of footed pants or
footed sleepers
 to keep their little toesies warm, at least until the baby is crawling and needs the traction of bare feet. For the rare outing where we wanted booties, we loved the
Zutano baby booties
for the first year, which the boys wore as "shoes" — they were super warm and, amazingly, kickproof. (I've
read
that it's better, developmentally, to let them be in bare feet rather than shoes, so there's that.) In general, I would not consider any socks without grippers on the bottom for traction until the kiddo is 3 or 4.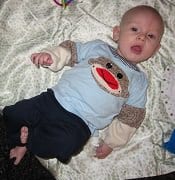 Other clothes (onesies, pants):  
We rarely used these (really just for babywearing and parties) until the boys were older, like 6 months. My big tip with onesies: if you can, register for ones that have a VERY wide opening at the neck, if not a V-neck or
kimono
-like folds and snaps. My boys' heads were both so wobbly and soft that it freaked me out to put clothes on over their heads. (We loved our
Kate Quinn Organics kimono/wraps
. The designs aren't my favorite, but I liked the functionality of the
Petunia Picklebottom onesies
we were gifted by friends.) We haven't tried them, but these
Zutano wraps
look good. As a second-time mom I was ok with the boatneck openings on
Carter's onesies
, but when I was a first-time mom they freaked me out. We got a TON of denim for baby gifts from friends — denim jackets! denim overalls! jeans! — and I will say that these were some of the least-used things in our boys' wardrobes — they were just so stiff it felt cruel to make the boys wear them.
(Pictured: a rare photo of Jack in clothes!)
Summer clothes for babies
: I always get freaked out at the possibility of either boy getting a tan, so I make them wear rash guards whenever we go to a sprayground or pool, and a hat (with a chin strap) pretty much all the time.
Amazon
has a million rash guards; Land's End and Old Navy both do sometimes as well. I like this blanket with UV protection (
ROSK Sun Cover
) for chilly but sunny weather.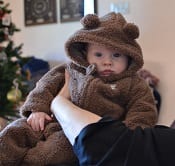 Winter clothes for babies:
 Be very careful with a puffy jacket — you never want it to
interfere with a tight seatbelt
in your carseat or stroller. (The CarSeat Lady has a very thorough
tutorial
!) It depends on your situation, but a lot of times a
stroller/carseat cover
like
JJ Cole
or
7 A.M.® Enfant
 will be better for the baby because he can be fastened in tightly but warm and snuggly under his stroller cover. In general, for our boys we would just add a
fleece bunting/coverall
 on top of their footed PJs and then either put them in the stroller/carseat with
bunting
or the carrier. (To be extra careful, bring the cover with you
when you get your carseat-installation checked
to make sure it's safe to use in the car.) We loved the
Zutano fleece hat
, and have used a million
mitten clips
to keep their mittens attached to the coat. 
(Pictured: Jack in his monkey/sherpa coverall from Carters.) 
Boy-specific items:
 I don't think you really need anything specific for boys. A friend gifted us
Peepee Teepees
, which were cute, but honestly we just kept a washcloth near the changing pad for this purpose.
What are your favorite baby clothing brands? We'd love to hear your thoughts on: 
swaddles and blankets
PJs
socks and shoes
general clothes
spring/summer clothes
fall/winter clothes
boy/girl specific items
—————
N.B. These substantive posts are intended to be a source of community comment on a particular topic, which readers can browse through without having to sift out a lot of unrelated comments. And so, although of course we highly value all comments by our readers, we're going to ask you to please keep your comments on topic;
threadjacks will be deleted at our sole discretion and convenience.
Thank you for your understanding!
Picture below via Stencil.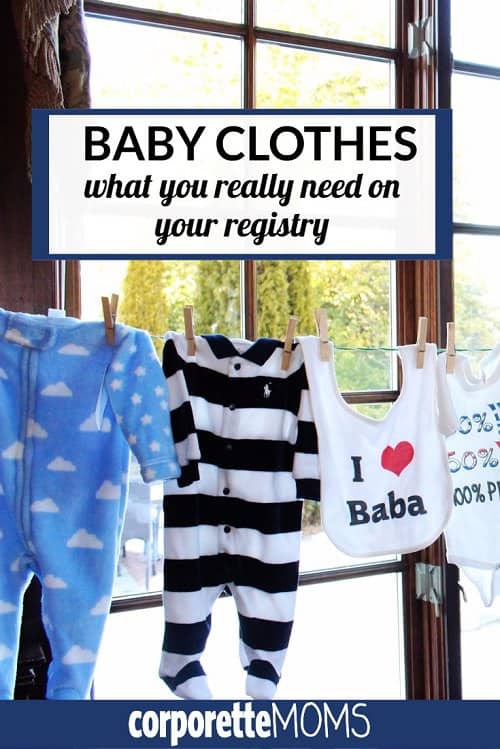 This post contains affiliate links and CorporetteMoms may earn commissions for purchases made through links in this post. For more details see here. Thank you so much for your support!
We are a participant in the Amazon Services LLC Associates Program, an affiliate advertising program designed to provide a means for us to earn fees by linking to Amazon.com and affiliated sites.
We are a participant in the Amazon Services LLC Associates Program, an affiliate advertising program designed to provide a means for us to earn fees by linking to Amazon.com and affiliated sites.
Sales of Note…
(See all of the latest workwear sales at Corporette!)
See some of our latest articles on CorporetteMoms:
Click here to see our top posts!
And — here are some of our latest threadjacks of interest – working mom questions asked by the commenters!