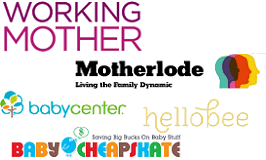 This post is from the early days of CorporetteMoms, when most of the content was in the form of email newsletters. We're sharing this one again so that more moms and moms-to-be can weigh in and share tips!
I've already rounded up some of my favorite pregnancy books — but it took me longer to find blogs, newsletters, and other resources to help me with the lifestyle changes that were coming. These are some of my favorite, must-read resources — some for maternity/mom fashion, some for registry prep, and some for just general working-mom-lifestyle thoughts. Readers, which resources have you found to help you through this life transition?
Readers, which favorite blogs, newsletters, and more have you found to help you through your early motherhood planning?
—————
N.B. PLEASE KEEP YOUR COMMENTS ON TOPIC; threadjacks will be deleted at our sole discretion and convenience. These substantive posts are intended to be a source of community comment on a particular topic, which readers can browse through without having to sift out a lot of unrelated comments. And so, although of course I highly value all comments by my readers, I'm going ask you to please respect some boundaries on substantive posts like this one. Thank you for your understanding!