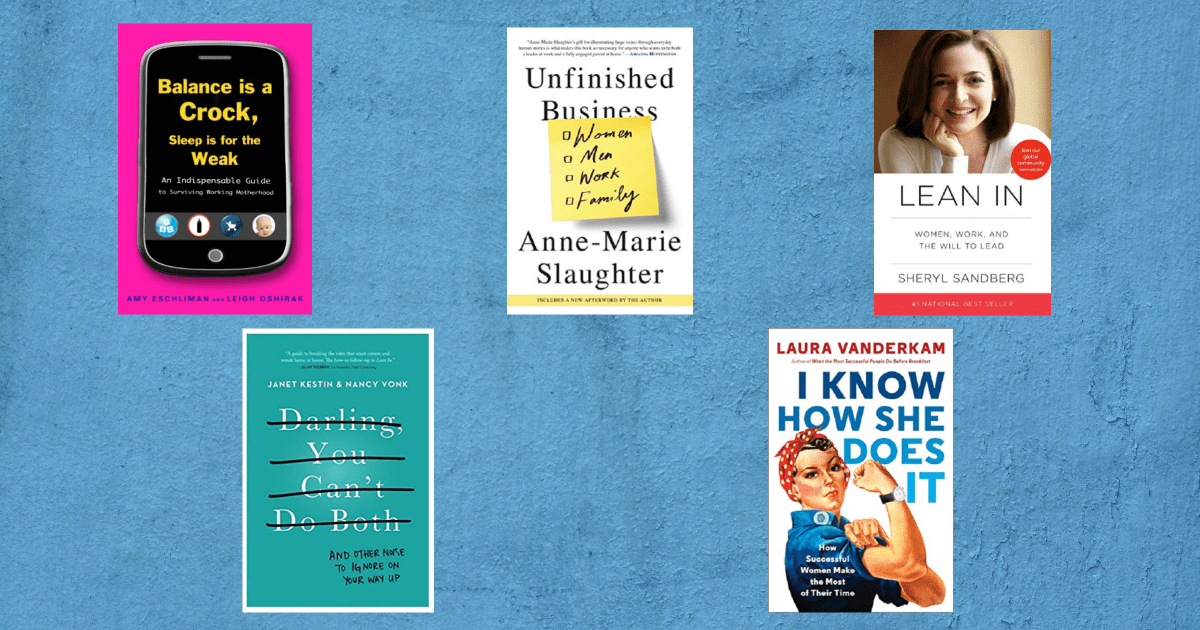 While we've rounded up the best pregnancy books and essential books for new moms in past posts, we haven't offered any recommended reading for moms who have moved beyond those stages of parenthood, so today we're featuring 5 great books for working mothers. Please share your own picks! What are your favorite books for working moms?
This post contains affiliate links and CorporetteMoms may earn commissions for purchases made through links in this post. For more details see here. Thank you so much for your support!
Here are…
5 Great Books for Working Mothers:
Balance Is a Crock, Sleep Is for the Weak: An Indispensable Guide to Surviving Working Motherhood by Amy Eschliman and Leigh Oshirak (2010)
Balance Is a Crock, as you can probably tell from the title, isn't a self-help book with a serious tone, but a snarky, funny take on working motherhood. The publisher calls it a "wickedly funny, girlfriend-to-girlfriend survival guide." (One example of the tongue-in-cheek chapter titles is "Maternity Leave: Vacation or Hell?")
In addition to drawing from their own experiences as working moms, the authors give advice that's based on the experiences of hundreds of moms they interviewed and surveyed. The tips in Balance Is a Crock are realistic and straightforward — because, as Eschliman says in a promo video for the book, "30-minute meals are 25 minutes too long."
Sample blurb: "Like a bracing, affectionate talking to from a (funnier and more experienced) dear friend, Balance is a Crock, Sleep is for the Weak is the perfect irreverent self-help manifesto for any working mom who struggles to keep it together. That is: just about all of us." — Kristin van Ogtrop, former Real Simple editor

Unfinished Business: Women Men Work Family by Anne-Marie Slaughter (2015)
You may recognize Anne-Marie Slaughter's name from her very popular Atlantic piece from 2012, "Why Women Still Can't Have It All." The title is an oversimplification, really — it concluded, in part, "I still strongly believe that women can 'have it all' (and that men can too). … But not today, not with the way America's economy and society are currently structured."
A few years later, Slaughter wrote Unfinished Business, which details her vision for a future where men and women are truly equal. She lays out her thoughts in three parts: "Moving Beyond Our Mantras," "Changing Lenses," and "Getting to Equal." 
Sample blurb: "I'm confident that you will be left with Anne-Marie's hope and optimism that we can change our points of view and policies so that both men and women can fully participate in their families and use their full talents on the job." — Hillary Rodham Clinton
Lean In: Women, Work, and the Will to Lead by Sheryl Sandberg (2013)
While the messages of Lean In have generated a ton of debate since 2013 (and in fact, after the death of her husband, Sheryl Sandberg explained she didn't understand the life of a single mom until she became one), this classic book of working motherhood can still be worth a read.
Sandberg shares her advice on negotiation, mentorship, taking risks, and aggressively pursuing your goals. Even if you agree with some of the book's critics, you can always pick and choose the strategies that you think will work for you and also use the book to explore your own viewpoints about life as a working mom.
Sample blurb: "Fifty years after The Feminine Mystique … Sandberg addresses 21st-century issues that never entered Betty Friedan's wildest dreams … Lean In will be an influential book. It will open the eyes of women who grew up thinking that feminism was ancient history. …" — New York Times review
Darling, You Can't Do Both: And Other Noise to Ignore on Your Way Up by Janet Kestin and Nancy Vonk (2014)
Speaking of Lean In and its impact, here's how the publisher of Darling, You Can't Do Both describes this book: a "smart, relatable guide for all of the women who embraced the spirit of Lean In but were left wondering where to start — how could they, in all industries and at all levels, really start to change the institutions they work in from the ground up."
Janet Kestin and Nancy Vonk encourage working women to think differently — to break the rules, to understand how motherhood can make you a better leader, and more. (By the way, the book title is from a quote from Vonk's former boss, who told her that having kids would hurt her career aspirations.)
Sample blurb: "A guide to breaking the rules that stunt careers and wreak havoc at home. The how-to follow-up to Lean In." — Alan Weber, co-founder of Fast Company
I Know How She Does It: How Successful Women Make The Most of Their Time by Laura Vanderkam (2015)
The foundation of I Know How She Does It, which tackles the idea of "having it all," is the collection of hourly time logs (1,001 days' worth!) that Laura Vanderkam collected from women who make at least $100,000 a year — supplemented by case studies and interviews.
(By the way, you might want to also watch her very popular TED Talk on gaining control of your free time.) Vanderkam gives advice for working moms on how to protect your free time, reclaim your commute, lower your standards for household chores, be creative about the meaning of family time, and more.
Sample blurb: "The most positive take on work and family I've read in a long time." — KJ Dell'Antonia, formerly of Motherlode
Bonus mentions: What Happy Working Mothers Know: How New Findings in Positive Psychology Can Lead to a Healthy and Happy Work/Life Balance by Cathy L. Greenberg, Ph.D, and Barrett S. Avigdor, J.D., and Tilt: 7 Solutions to Be a Guilt-Free Working Mom by Marci Fair.
What do you think are great books for working mothers? Which ones have resonated with you the most, and which ones did you disagree with?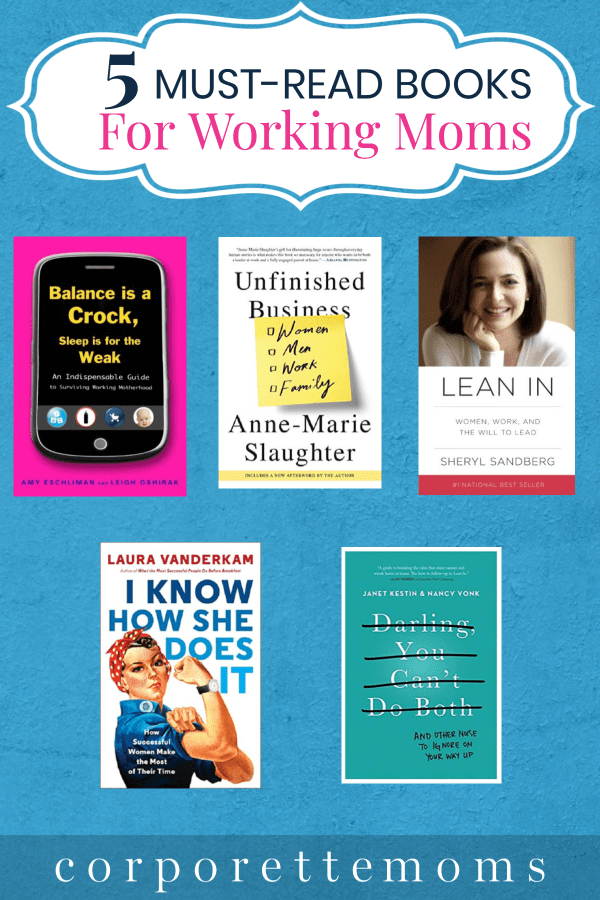 We are a participant in the Amazon Services LLC Associates Program, an affiliate advertising program designed to provide a means for us to earn fees by linking to Amazon.com and affiliated sites.