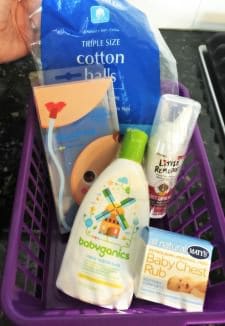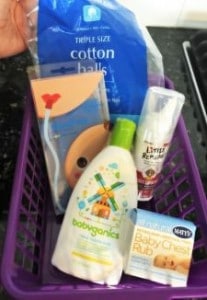 When my first son, J, was a baby and toddler, his colds were the worst. I remember hanging out on the floor of our little bathroom with the shower on full-blast. Steam filled the air as I tried to keep him entertained — and sweated like a fiend in my sweater. (Since I worried his little body might get overheated before mine did, I tried to add a layer.) But somewhere between the time that J was a baby and my second, H, was born, I guess I got my baby-with-a-cold routine down, because I don't remember H's colds being bad at all.
I included a write-up of my routine in a little themed gift basket I just put together for a pregnant friend — so I thought I'd share my tips here as well in case they're helpful. Ladies, what were some of your biggest lessons for how to take care of sick babies? What products and techniques do you swear by? 
The snot. Oh, there is nothing worse than the snot. The NoseFrida Snot Sucker is, hands down, amazing — don't even bother with the bulbs the hospital gives you. Things to know about the Snot Sucker: Babies HATE IT, so you or your partner may need to hold them down. I've heard the Snot Sucker can trigger a baby's gag reflex, so you want to do it right when he gets up from his nap or right before his nap — try not to do it 15-30 minutes after feeding a baby.

If his snot is really thick, or if there's a combination of crusted and runny mucus, saline mist can help. (This is something else that babies HATE, so you have to be quick about it.)
Boogie Wipes are good, but cotton balls are also wonderful for wiping little noses. They're great because they're super soft, and they hold a lot of water, meaning you can squirt some up the baby's nose while "wiping." It's great to wipe their noses with a cotton ball, then pull out the Snot Sucker. (These are also great bathtime staples — I used one almost every day for H's bath when he was really small, both to wash his face and clear out some snot.)
Vapor baths. We've always used Johnson's Vapor Bath, but I just realized Babyganics has a vapor bath as well, so we'll give that a try. Both are really helpful for opening the sinuses (along with a vapor rub for sleep; see below).
Steam. If you can stand to be in a steam-filled bathroom with your baby, it can be also helpful, but less so than the other things, I've found. With H I used to run the shower for a few minutes with the door closed so it would get nice and steamy in there, then pop in to draw his lukewarm baby bath, keeping the door closed as he played on the floor behind me.

Fever. Maybe I'm insane here, but I feel like every thermometer we have gives us a different wrong reading. There are stickers you can put on a baby's forehead to gauge the temperature; we've used the Exergen forehead thermometer, and there are your standard-issue drugstore thermometers. In my 4.5 years as a mother, though, there's only one time that one of my boys had a serious fever, and I knew it the second I picked him up — his little body was so hot. At the doctor's office he clocked in at barely over 100 (I would have guessed 104 or something!), and after that I haven't really worried about using thermometers. If you've got a strict daycare or preschool fever cutoff it matters a lot more, but from a health perspective I trust my gut as a mom.
Promoting sleep. One of the worst things about a sick baby is that they get lousy sleep. We swear by chest rub to help keep their sinuses open (either Baby Vicks or Maty's); there are also wall plug-ins from Vicks that almost act like diffusers. Humidifiers are also great — we just got this one (recommended by The Sweethome as the easiest to clean, and they were right); we've used this one in the past as well. Note that now is not the time to sleep train or try to stick to anything else overly strict — I always saw my goal as promoting sleep however I needed to, even if that meant letting my son fall asleep on my shoulder, or with me rubbing his back, and so forth.
Otherwise: settle in for a few days of a very cranky baby, try to keep their sinuses clear and keep feeding them (even if they refuse). I have memories of using a medicine dropper for both boys for water and milk, although I don't remember the exact circumstances — fluids are important, though. A pacifier or bottle can also help with their sinuses, I believe, the same way they help regulate air pressure on a flight.
Ladies, what are your best tips for dealing with a baby with a head cold?