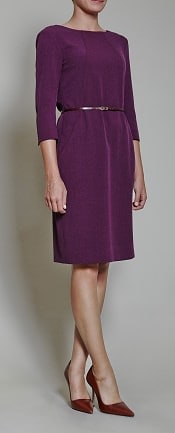 As I noted 
yesterday on Corporette
: I was really excited to work with the brand MM.LaFleur, in part because they make a TON of machine-washable workwear — and it's apparent from the shopping pages, not just the product pages. It baffles me why stores don't adopt a "machine wash" filter, since I think there is a strong preference for a lot of people one way or the other. In any event: I loved all of the MM.LaFleur dresses I tried on, but I thought this plum Etsuko dress was particularly lovely. The pockets were unobtrusive, the fabric felt polished and luxurious, and I was ultimately really surprised to find that it was machine washable. It's available in three colors for $195.
MM.LaFleur Etsuko Dress
Sales of note for 12.5.23…
(See all of the latest workwear sales at Corporette!)
See some of our latest articles on CorporetteMoms:
Click here to see our top posts!
And — here are some of our latest threadjacks of interest – working mom questions asked by the commenters!