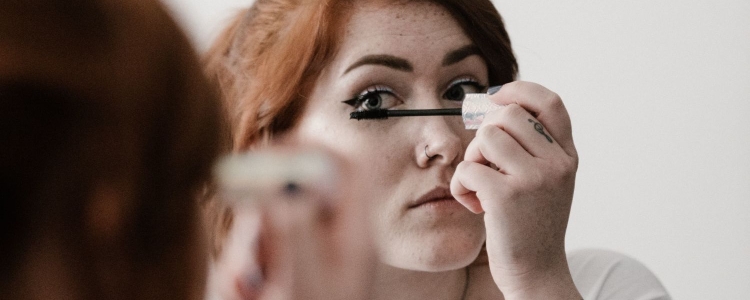 Here's another fun question for the mamas out there — do you have a new "beauty minimum"? Most women I know have different levels of beauty maintenance — there's the "big interview" look, the "going out to a nice restaurant" look, the "regular workday" look, the "lying around the house" look, etc. For most women I know, several, if not all of those levels, changed a bit after their children were born. Maybe you only wear eyeliner if it's a big day (and not a regular day) now; maybe you only get a bikini wax before vacation instead of once every few months. (Or, maybe you haven't changed a thing!)
For me, I suspect it's partly a matter of priorities (if I have an extra 20 minutes to myself in the morning, I'm sleeping instead of doing my makeup), partly a matter of practicality (why spend a long time on my hair if I'm going to put it into a bun immediately so my toddler doesn't grab it with sticky hands), and partly a matter of… this may sound odd, but feeling uncomfortable with vanity after having kids.
Maybe I'm alone here with the "vanity" thing. I have always known that it was OK to think about myself and my appearance, to want to look and feel good, both for myself and the people around me… but for a long time after my first was born (almost two years, I'd say), thinking about anything beyond what was required for daily maintenance felt really… vain. It feels much easier to devote time to myself now that I've been a mom for almost three years, but it was surprising how simple things — like the minute it takes to apply mascara — seemed frivolous and unnecessary when I was new to this mom thing.
The thing is, my eyes look SO MUCH BETTER with mascara! My whole face does! And yet… I just can't be bothered with it almost 50% of the time. Most often it's because I'm hoping to get in a workout and/or a shower before the end of the day, so I figure I'll apply the mascara later… and then none of it ever happens, or when I get out of the shower I'm running to pick up the baby or running out the door, mascara-less. (I'm still kinda-sorta on maternity leave, so I'm not too hard on myself if I don't get to it daily, but when I do, I'm liking the new Miss Manga mascara for the Voluminous line, which I've loved for about ten years at least.)
Until last weekend, I hadn't had a chance to have my eyebrows threaded since Harry was born in May. I suppose I could have popped into the salon with my son strapped to me, but that seemed less than ideal for what can sometimes be a painful procedure. But on Saturday I was running a quick errand sans baby and saw that the local salon was still open, and my favorite stylist, Esther, was free — and I remembered her saying that she would thread eyebrows. Score! I was thrilled, ten minutes later, to walk out with neat, groomed eyebrows, and I realized I'd been neglecting part of my "beauty minimum." Bottom line: I feel better knowing (and respecting) my beauty minimum, and I'm ok that it's changed a bit since having kids.
But maybe I'm crazy — ladies, what do you think? Did your "beauty minimum" change after having kids? On a bigger sense, did your perception of your own vanity change after having kids — did makeup seem more frivolous, not worth the time?  Did you go back to your old routine after you went back to work — or did it take a few years for you to get back to your old beauty standards?
Stock photo via Stencil.