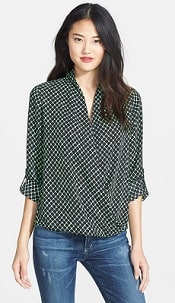 Update: We still stand by this advice on the best work clothes for pumping milk, but you may also want to check out our new page on tips for pumping at the office. This threadjack also includes a lot of great advice from working moms about which clothes they wore to pump at the office. 
Ladies, let's take a poll today on pumping habits, and the best clothes for pumping. How do YOU pump? Bra on, bra off? Shirt pushed up, shirt opened?
For my $.02, I have always found it easiest to pump with a nursing bra and a nursing bustier — so for me just pushing a simple shirt (t-shirt, sweater, whatever) up around my neck is easiest.
This post contains affiliate links and CorporetteMoms may earn commissions for purchases made through links in this post. For more details see here. Thank you so much for your support!
However, I know a lot of readers have commented that they just wear regular bras and will get undressed all the way (even pumping in sheath dresses!), and others love wrap blouses and dresses (I'm guessing you guys are omitting the hands-free bustier?). Do you feel less naked with your shoulders covered? So let's discuss: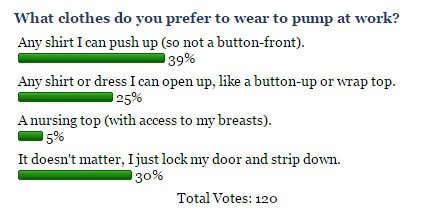 Psst: we rounded up a ton of great bras for pumping and nursing:
Above, some of the best bras for nursing and pumping as of 2022: 1) Bravado 2) Cake 3) Natori 4) Wacoal (not pictured but also: Elomi and Kindred Bravely!)
(Pictured: There's a great sale on this Pleione faux wrap blouse, one of the reader favorites for pumping — some colors are up to 70% off, marked as low as $20. This black and white is higher at $40, but I love the versatile pattern — great for hiding a host of stains, leaks, and more. The blouse was $68, but is now marked to $19-$40 at Nordstrom.) Pleione Faux Wrap Blouse