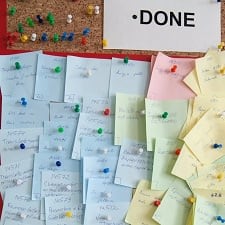 Are you always the parent who makes sure the kids' homework is done every night? Schedules/attends/follows up on all the kids' doctor's appointments? Referees the sibling rivalries? Buys holiday gifts for teachers? We've talked before about being the default parent, sharing parenting duties with your husband, as well as mommying your husband, but we thought we'd have a discussion focused on ways to share emotional labor as parents — AKA, how to get your partner to care about all the little stuff that keeps you up at night (and take on some of it). Do you find yourself performing a lot of emotional labor and noticing that your partner doesn't do their share? What are you doing about it, if anything? Has anyone set up a family kanban board or some other method?
If you need a good definition of emotional labor, try this one from Everyday Feminism:
Emotional labor is the exertion of energy for the purpose of addressing people's feelings, making people comfortable, or living up to social expectations. It's called "emotional labor" because it ends up using — and often draining — our emotional resources.
It's also helpful to read the now-classic essay by Jess Zimmerman that was published at The Toast: "'Where's My Cut?': On Unpaid Emotional Labor." Here's a sample line: "Housework is not work. Sex work is not work. Emotional work is not work. Why? Because they don't take effort? No, because women are supposed to provide them uncompensated, out of the goodness of our hearts."
One more bit of media to share with you to start a conversation: Jonathan Mann's YouTube video, "Marriage and Feminism," in which he admits that he wasn't pulling his weight at home when his son was a baby (while his wife was breastfeeding all the time), wasn't prioritizing his wife's job, and was generally acting like a "shitty, shitty feminist." (Just do yourself a favor and do not read the YouTube comments. Sigh.)
Here are the tips for couples that Mann shares in the video:
Talk about what's not working, and listen to your partner.
Divide up household chores together.
Have a weekly date night.
It's not groundbreaking, but it worked well for the couple, who set up a kanban board on the wall (Mann calls this method "extreme") that lists each of their household responsibilities and their to-dos for the week. (Another way to do this would be to use Trello, which, like a kanban board, helps you see everything at once to more easily make a plan to share emotional labor as parents.) You can hear more about how they worked through their issues by listening to their (short-term) podcast. (Or, ooh, an entire blog called KanbanKid about using a kanban board to manage kid/house stuff.)
How do you share emotional labor as parents? How specifically do you divide up chores and kid-related responsibilities? Have you let go of any optional tasks because neither of you have the time to (or want to) do them? Does the issue of emotional labor lead to arguments in your relationship?
Further Reading:
Social media image credits: Fotolia/liubomirt and Fotolia/iconimage.