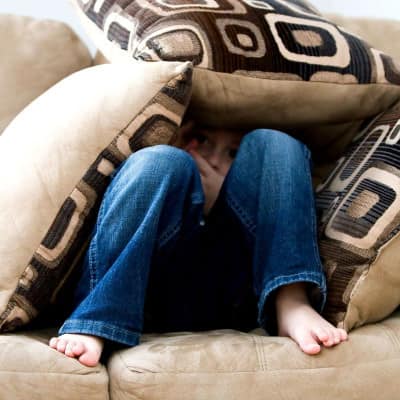 Readers, when purchasing new furniture, do you choose family-friendly furniture, or grown-up furniture that better fits your design aesthetics? (Does anyone have suggestions for which brands or companies fit the rare third category, family-friendly furniture that also fits your design aesthetics?) What are your best general tips on how to pick kid-friendly furniture?
A while ago, my husband and I had to make a Very Major Decision: We needed a new couch, as my old post-law school Ikea couch was (amazingly, finally) flagging. We wondered whether we should opt for "grown-up furniture" and get something fancyish from Room & Board, or buy something more comfortable and so affordable that we wouldn't cry if we only got a few years of wear out of it.
We wound up going with a sofa from JCPenney (Fabric Possibilities!) [affiliate link] that had been recommended by a friend of mine (I think it cost $600 when new, on sale?), and it's typical for us — with little boys who spill, jump, crash, and so forth, we just haven't wanted to put the karmic energy (or even the research) into a couch or other "nice" furniture. It's kind of exactly the opposite of where I expected to be at this point in my life — instead of being surrounded by Grown-Up Furniture Like a Classy Lady, I'm surrounded by Budget Furniture for Messy Kids. Couches, chairs, kitchen tables, side tables… I'm not sure if rugs count as "furniture" (probably not) but I'd include those in the mix. Let's just say I'm saving the Aubussons for the second half of my life.
In terms of my own tips for picking kid-friendly furniture, to me the choices come down to finding something that 1) isn't toxic to my kid, 2) doesn't shed or chip or otherwise create stuff that is toxic to my kid, 3) isn't super hard to clean, 4) doesn't need to be cleaned the instant it gets dirty (have I told my "smiley face drawn on the white couch… in poop" story on this blog?), and 5) isn't so near or dear to me that I consider it irreplaceable or a true bummer or financial hardship to replace. Strangely enough for all of these counts we've had better luck with discount stores for grownups than we have had luck with kid-related stores. The reading lamp I bought from a well-known schmancy kids store became a fire hazard pretty quickly… the (top-rated but admittedly Wal-mart quality) crib we bought that both boys gnawed to pieces made me cringe with worry over the toxicity… the robot rug we got for the baby's nursery shed like mad for weeks, and thank goodness we didn't have a crawling baby then.
How about you? What kind of home decorating decisions have you made? Do you choose kid-friendly fabrics (pet-friendly fabrics) or do you splurge on nice furniture and then clean it immediately or train your kids to stay away? (Does anyone have white upholstered furniture?)
Stock photo via Stencil.