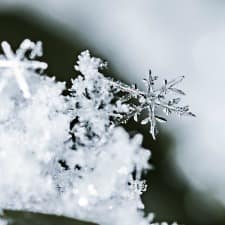 Here's something we haven't discussed: snow days… and working parents. In the midst of this week's "bombcyclone" winter storm (hmm, how does that compare to "Snowmageddon" or "Snowpocalypse"?), we thought we'd share some tips on how to deal with a snow day as a working parent.
All along the East Coast today, flights are being canceled, power outages are striking, and… schools are closing. Sure, it can be nice to spend a surprise day with your kids, but more often than not for working parents, that 5:00 a.m. school notification prompts more of a "Damn!" than a "Yay!" What about that important meeting or presentation or project (or all of the above) that was on your schedule? What about those errands you were going to run on your lunch break, gloriously sans kids?
Perhaps your nanny or other backup childcare caregiver can make it to your house despite the snow, or maybe a grandparent can help out — or your partner can take one for the team. But when your nanny's stuck at home because the plow company is nowhere to be found, or your mother-in-law doesn't want to drive in a blizzard, or it was your spouse's turn last time and now you're up … what do you do?
Here are a few ways to (try to) be more productive when your kids are home unexpectedly — and to generally cope with a snow day as a working mom:
1. Make a plan with your partner about who will stay home for snow days — whether you'll take them all, or they will, or if you'll alternate, or if you'll just decide that morning. This issue is definitely better to discuss ahead of time rather than end up bickering about it at 6:00 a.m. and inadvertently launching an ill-timed discussion on how the two of you should divide parenting duties.
2. Structure your day to conserve your energy and focus. Focus on your morning tasks first, and make sure to save enough energy to tackle work later on that has to be finished by the end of the day. Also, choose the time of day when screentime will be your savior — during your unavoidable conference call, for example (so that this doesn't happen to you). If you can, schedule times to, say, play a board game with your kids or have hot chocolate together, and that way if they won't leave you alone during your crunch time, you can remind them, "Don't forget, we're all going to play together in an hour, but I need to work right now."
3. Have some tricks up your sleeve. If you have avid readers, keep a couple of new books on hand that you can surprise them with and hopefully get rewarded with a peaceful half-hour or hour … or if you're lucky and have an older kid, maybe even hours, plural. (Harry Potter and the Deathly Hallows, anyone?) If your kids aren't old enough to read, or tend to prefer other activities, this is a great to break out new coloring books or one of those 1,000-piece Lego sets (only if your kid is old enough to put them together all by herself; otherwise you'll soon find yourself in a world of pain). Go wild and rent a not-included-with-Amazon-Prime movie (like Wall-E) for $3.99, download a new educational (or mindless!) app for your kid, or schedule a time for him to FaceTime with Grandma and Grandpa.
4. Don't become a victim of Mom Guilt if you're not exactly in your finest hour as a parent. Your kids may end up eating too much candy and not enough fruit; maybe your one-hour-a-day screentime rule gets obliterated. It's often unavoidable when your kid has a snow day or a sick day. Rest assured that when you go back to work, you can compare notes with the other parents in the office: Maybe your kid watched three Disney movies in a row, but maybe someone else's kid watched YouTube all day, so you can let yourself feel superior for a moment — just for a moment, until you remember that your daughter had Froot Loops and Oreos for lunch. (Mmm, anyone else suddenly craving high fructose corn syrup?)
5. If your kid is old enough for unsupervised time with a friend, set up a spontaneous playdate. It may not be safe to drive, but if your kid has neighborhood friends, they can walk right over and make a snowman or play inside. Or even better, send your kid to a neighbor-kid's house instead (jackpot!).
Further Reading:
So, tell us, readers: What are your thoughts on snow days and working parents? What's your backup plan when snow days or other surprise cancellations strike? Do you use any of the strategies above? How do you make sure your critical work gets done during the day? When you can, do you simply take the snow day off to spend with your kids? And … are your kids' schools closed tomorrow?
Picture via Stencil.