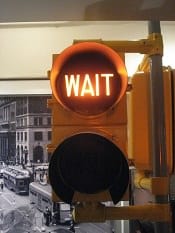 How insane are the waitlists for daycares in your area — and how many layers of backup plans did you have in case you didn't get in on time? What was your best resource for finding a good daycare worth waiting for — friends, parents' listserv, neighbors, mommy friends, etc? When did you really start to get anxious about it, and how did you manage the anxiety? We've talked broadly about other childcare arrangements, but not specifically about daycares yet.
I'll admit that I did little to no research on daycares in our area, relying almost entirely on the recommendation of one of my brother's friends. Anyway, they recommended one specific daycare, which I toured when I was five months pregnant (around April 2011), and we were added to the waiting list for part time attendance.
After Jack was born and I figured out that I couldn't do this "SAHM while blogging" thing, we notified the school that we'd accept a full-time position as well.
We got the call that there was finally a part-time spot for us in March 2013. TWO YEARS LATER — and bam, we were finally in daycare. Yeouch. (We found childcare in the interim through sitters and amazing family, and when we finally got into daycare we added it to the mix instead of substituting it for something else.)
How about you ladies — did you have to wait a really long time to get into your preferred daycare? When did you first sign up for daycare or start thinking about it generally? (If you'd include your general location and/or city, that would probably greatly help the discussion!)
(Pictured: WAIT, originally uploaded to Flickr by JBrazito.)
—————
N.B. These substantive posts are intended to be a source of community comment on a particular topic, which readers can browse through without having to sift out a lot of unrelated comments. And so, although of course we highly value all comments by our readers, we're going to ask you to please keep your comments on topic; threadjacks will be deleted at our sole discretion and convenience. Thank you for your understanding!