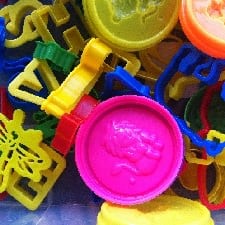 Is the best daycare near home — or work? We've talked in broad strokes about the pros and cons of different childcare options, but not specifically this. A reader wrote in pondering this question a while ago, so let's discuss. First, here's her question:
Kat, I've searched the site but I can't see that you've addressed this question before. Is it better to have a daycare near home or near work? Near work sounds attractive because I could visit the baby during the day or at lunch, and we could spend time in the car together on the way to and from. But near home is attractive, too, for times when my husband or mother will have the workday off and can drop off/pick up the baby, or if she gets sent home sick, etc. Plus, to make friends close by.
Interesting question! There are definitely some pros to having daycare near home:
The BIGGEST pro I see is that you and your partner can much more easily share drop off/pickup duty if it's near your home — unless you both work at the same company or in the same area, you're going to end up doing everything
It's definitely a pro to have friends nearby your house — whether they're mom friends for you or playmates for your child
If you forget something kid-related you can run home quickly
A short commute for your child (whether by walk or by car), which reduces the risk of him or her falling asleep in the car at a time other than naptime
Your own commute is unencumbered by kiddo, which may mean you can start focusing on the workday ahead of you — or that you get a bit of personal time to listen to a podcast or some music — also, if you run errands on your way home you don't have to worry about bringing your kids in with you
If your work situation changes you don't have to worry about moving your daycare as well
On the flip side, there are some pros to having a daycare near the office:
If your daycare is through your work, there may be significant cost savings
If you're still nursing, you can pop in to see your baby during the workday (but — note that a lot of kids may be more upset to see mommy for a short visit that doesn't end in their going home)
If there's some emergency at daycare you can be there quickly
Depending on where you live versus where you work, you may be more interested in networking with the parents at the daycare closer to your office
Ladies, what are your thoughts? I think after going through the pros of both, I think my vote goes to the daycare near home — it's just easier all around. Ladies, what are your thoughts? Does your answer change if you're considering daycare for a little baby versus a toddler?
Pictured: Pixabay.