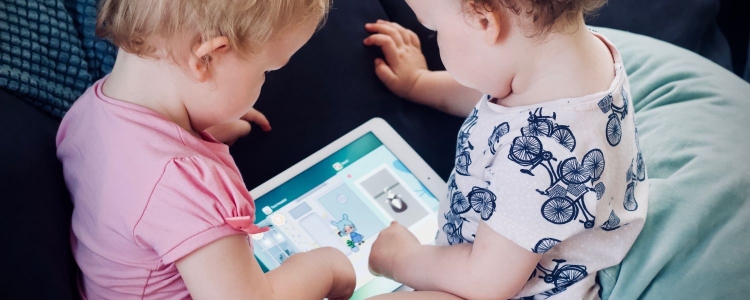 Readers had a great threadjack a while ago about the logistics of the nanny share — and I thought it was a great topic to amplify further! Readers who have had a nanny share — how did it work for you? Did you ultimately like it for your family?
What to Know About the Logistics of the Nanny Share
Things readers noted about the logistics of the nanny share:
One version of the nanny share: the part-time nanny share. This can be great for a working mom who is part-time — if you're only looking for MWF, your nanny or you can look for a second mom who needs coverage T and Th.
(For what it's worth, when my family did this we didn't really think of it as a "share" because we weren't in contact with the other family — we just viewed it as a part-time job for the nanny, and advertised it as such on the local parents' board. Some of our nannies were in school or creative arts like theater or dance; some had been a nanny to an older child who needed less childcare at that moment.)
Another version of the nanny share: two(+) families, one nanny. Readers had a lot of great suggestions about this one, noting that there are a few big things to decide up front:
who interviews the nanny
who hosts the nanny and kids
who feeds the nanny and kids
who provides the supplies like diapers, medicine, and more
what the backup plan was in case the nanny was sick
what would happen if one of the kids was sick
who pays the nanny, and how
whether you and the other family should draw up an agreement so it's clear what the shared expectations and guidelines are
One working mom who had researched the nanny share laid out her findings clearly, noting:
"Taking from this and the people I know who have had a better nanny share experience (note that I don't have one but looked into it extensively at one point):

– Clear, simple lines were best. The people I know who have liked it best either did one week at one house, the next week at the other or M/W at one house and T/Th at the other (4 day a week share there).

– Basic assumptions like, 'If it's at my house, I provide food.' should be clearly lined out.

– One key thing that made it work for these families is that they had similar attitudes about parenting/what the kids should be doing/what kind of food they should be eating."
Working mom #1 noted that she basically had this arrangement, alternating hosting and paying separately:
We are alternating hosting weeks (with flexibility if one family is on vacation etc), and decided to just have the host family provide food (which the nanny prepares, makes suggestions for, etc). I think this is the best of both worlds for now, because the kids get to play with different toys and take different walks, and each family gets a week of quiet at home, then a week of the ease of not having to deal with transportation. I was worried since we had never planned on having a nanny, but it is working well and our kiddo loves having a friend to play with.
We each pay separately; we are paying over the table using a service that helps with taxes etc.
Working mom #2 noted that her family hosted exclusively, and increased their supply of diapers and other things accordingly so the other parents didn't have to schlep stuff.
We did a nannyshare and hosted exclusively. We decided between the families the approximate cost of hosting, including diapers (so they didn't have to be carried back and forth), wipes, food, etc. As hosts we got a small discount on our payments to the nanny, with the other family picking up a bit more. Both families were happy not to deal with lugging and storing stuff. We just upped our Amazon shipment for diapers and wipes to keep our house stocked.

As for backup care, both families in our share agreed that parents would take turns being backup if the nanny was out. The meant that each parent would be responsible for about 25% of any vacancy. We also had local grandparents on both sides who were eager to help, so it really became less than that in the end.
That same mom noted that they interviewed nannies together, and wrote a joint nanny contract to set expectations. That mom loved it:
In the end, having a nanny share really felt like having an extended family who was available to help. We all got along and had similar expectations. If was fun to watch the kids go through milestones together and comforting to share woes of sleepless nights and difficult bosses.
Working mom #3 had a similar arrangement for her nanny share — she found the other family first and then the nanny; they also had a paper agreement. She noted:
– We found the other family first, then we each vetted a few nanny candidates and interviewed them together.
– Pay separately, but the same rate. I recommend using the same nanny tax company as the other family if you are paying on the books, it just simplifies things. Keep in mind wage & hour laws (overtime for over 40 hrs, etc.)
– We split hosting duties by day of the week, e.g., M-W at one house, Th-F at the other. It's convenient to host since you don't have to take your kid anywhere, but it can be hard to work at home when two kids are over with a nanny, and your house will be messier. Splitting worked really well for us so that we had some days where if we were working from home, we could spread out on the dining room table rather than having to hide in the bedroom. Our nanny did kid laundry once a week on a day that we were hosting (and same for the other family).
She also stressed the importance of a paper agreement between the families to make sure everyone shared the same expectations.
One working mom (#4) noted that she ultimately did not like the nanny share, commenting, "it often felt like I had the worst of both worlds. I had the single point of childcare failure of a nanny, but would have to pack up my kid and his stuff and schlep him to the other house sometimes like daycare."
Readers who shared a nanny: how did the logistics of the nanny share work for you? Did you like it for your family?
Stock photo via Stencil.