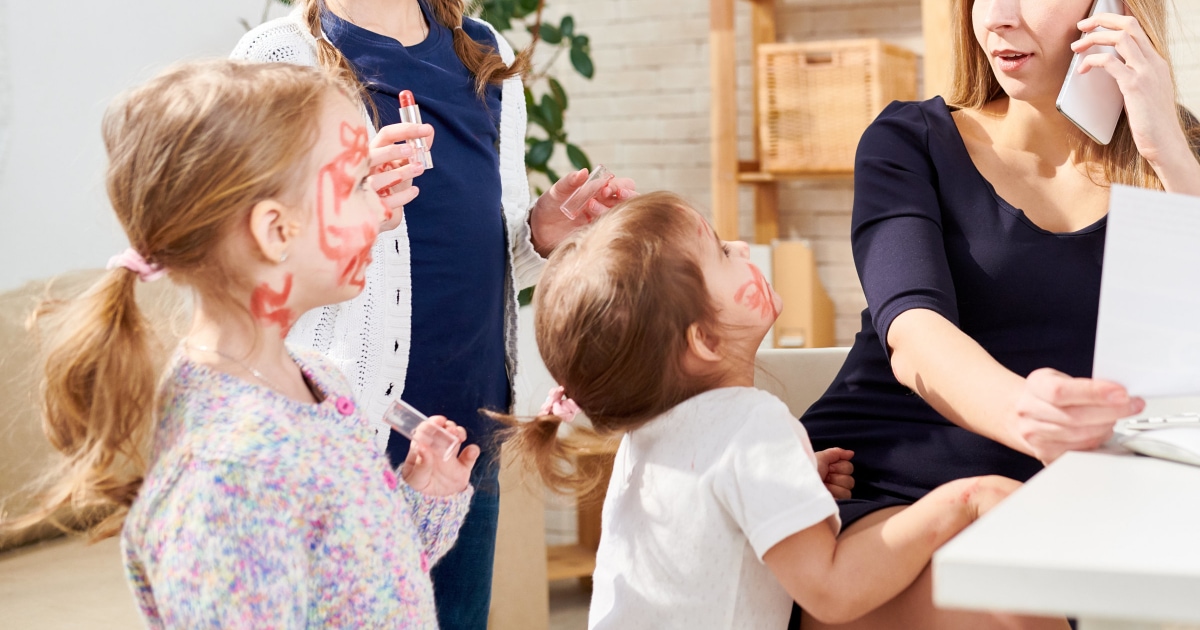 For those of us sheltering in place without outside childcare like a nanny, au pair, or babysitter, this whole Coronaexperience has become an interesting lesson in how you and your partner "share" time, as well as communication issues, personality issues, different work styles, and more. So let's discuss — how are you sharing "work time" with your partner? Have you found any good systems? Care to share any rants with us? (You're in a safe space, ladies…)
Here at Casa Griffin, my husband and I definitely have different work styles. My ideal work time is 11:00 a.m.–3:00 p.m. or so, with lots of midday afternoon time to get into the flow of writing or editing. I prefer to don my "Teacher Mom" hat in the mornings with my younger son, both because we're still fresh and the space is generally quiet because my older son is diligently working. But I've noticed that a lot of times if I show up at 3:00 to allow my husband to tap out, my husband then… doesn't work, and instead will start washing the dishes or continue playing with the kids. By the time I realize he doesn't plan on working, it's too late for me to get back into the flow, so the afternoon is shot for both of us. Then in the evening he's grumpy because he "didn't get any time" and will often log many hours after the kids go to bed.
So I've been trying to communicate as well as possible — asking him what his work needs are for the day, does he have calls, etc., etc. And while we HAVE been communicating better about it, I'm also noticing that I should just… kind of… take the time that I find, and let him come tell me if he needs to tap out. This feels fantastically selfish to me, and inequitable, and so forth… but by the same token, the longevity of both of our incomes feels like it's a bit in doubt (the side of the business that he works on the most has virtually ground to a halt with the state closures, and as for me, let's just say it's not a super great time to have a blog focusing on workwear!), so it feels like in order to support the family, I have to take the time. (I also spend an inordinate amount of time on some current issues regarding my youngest son, including IEP stuff, and all of that needs quality, awake braintime, not after-the-kids-go-to-bed, half-dead braintime. (I am forever in awe of those of you who can work after your kids go to bed!)
So. Yes. Going well here! No issues at all! Team Griffin!
How are you guys doing sharing "work time" with your partner? Are you finding that communication is vital now, or do you have a set schedule that works for you? Are you logging anywhere close to eight hours a day, or are you closer to my current time of two to four? Are you able to work during your "preferred time" given your productivity, energy, and focus as a working mom, and in your preferred work space — or are we all just grabbing time wherever we can, huddling in closets taking Zoom calls for a quiet space we won't be disturbed?
Stock photo via Deposit Photos / SeventyFour.