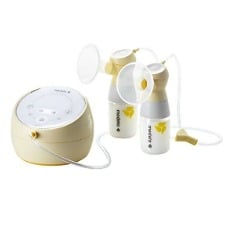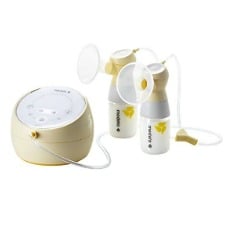 For those readers who are pregnant and weighing the pros and cons of the various breast pumps out there, we hope today's Medela Sonata breast pump review will help you decide. When Kat and I became moms, many considered the Medela Pump In Style Advanced to be the be-all and end-all of breast pumps, but that's changed — so we were thrilled when Reader R offered to review the Sonata. 2018 Update: Another mom wrote in to share her Spectra review — click here for all of our breast pump reviews.
Some of the Sonata's features are:
2-Phase Expression Technology with one-touch letdown button
Connects with Smart Solution to the MyMedela app
Medela's quietest personal-use breast pump
Hospital performance
Touch screen display and control illumination
Rechargeable Lithium-ion battery
The Sonata is available at Amazon, Target, and Buy Buy Baby for $359. This post contains affiliate links and CorporetteMoms may earn commissions for purchases made through links in this post. For more details see here. Thank you so much for your support!
We're able to bring you today's Sonata breast pump review thanks to Reader R, who emailed us to say:
Someone suggested on your recent survey that you have reviews for some of the new pumps on the market. I just want to offer my services in reviewing the Medela Sonata pump. I love it so far in comparison to the PISA [Pump In Style Advanced] and Symphony I used with my first baby.
We wrote back and said YES PLEASE, and so she wrote down more of her thoughts — HUGE THANKS to Reader R for this Sonata review (after the jump)…
Reader R's Sonata Breast Pump Review
Late into my pregnancy with kid #2, I looked into buying one of the new, "higher-tech" pumps that just came onto the market. I looked for reviews of the technology online, but there were almost no personal reviews out there about these newer pumps. I turned to CorporetteMoms readers for help, but no one had tried them either. So I took the plunge blindly and wanted to pay it forward a little bit by sharing with the community my experiences with one of these pumps—the Medela Sonata [affiliate link].
With kid #1, I started off with the Medela Pump In Style Advanced [affiliate link]. It was perfectly fine. I got milk from it, but very slowly. While breastfeeding always went well enough, pumping a decent amount was always a struggle. But that's mostly just me and not the particular pump. When I went back to work, I splurged and rented a Medela Symphony. This was an improvement over the Pump In Style. It felt vaguely more comfortable, was quieter, and maybe it was just my imagination but I think I got a little bit more milk in a little bit less time. Even so, my milk supply gradually dropped after I returned to work and by the time my kid was eight months, my supply was gone completely.
So when I went to get a pump for kid #2, I was all too aware of the difficulties I had pumping and of the fact that I might not be pumping all that long in the end. I only heard bad things about the pump provided by my insurance company, so I decided it would be worth the investment to buy a good pump and maybe to spend a little more in the hopes of a better breastfeeding experience.
I ended up buying the Medela Sonata, which Medela advertises as its "Smart" breast pump. The technology is apparently inspired by the Symphony pump but at a much lower price, so I figured I'd give it a go. Overall, I really liked the pump and felt it was worth spending the extra $100 over the Pump In Style. (Of note, some of the other new pumps on the market cost hundreds of dollars more, and that was a factor in my decision).
What I Loved
This is a great pump for the office. The best feature is that it runs on a rechargeable battery, so you can give it a good charge and then pump nowhere near an outlet. Turns out there are no convenient outlets to my desk, so this works out really well. It also worked well when I was home because it allowed me to get up  and take care of baby or get something from the kitchen, all while pumping. It also has a useful carrying handle.
The pump is super quiet.
I also felt like I got more milk out—and faster—than with any of my prior pumps, but I am starting to think this depends so much on your individual body that it is hard to say it will work for everyone. In the early days I could pump 4 ounces in 12 minutes, which is half as long as it ever took me with the pumps I used for kid #2. Nonetheless, it did not make my milk supply last any longer than the first time.
What I Liked
The "smart" technology was pretty neat, but I didn't use it a lot. The pump connects via Bluetooth to an app to track your pumping. It will track the length of your pumping sessions, but you still need to enter the amounts. I rarely took the time to enter the data, so I didn't get a lot out of the analysis, but it could be cool if you wanted to do it.
It's bigger and slightly heavier than the Pump In Style but still pretty portable. I didn't love carrying it every day, but it didn't really weigh me down.
The bottles and flanges are interchangeable with other Medela pumps, but the rest of the parts were not. However, I felt that the Sonata parts were easier to clean—none of those tiny little membranes you somehow need to scrub behind.
What I Didn't Like
The tubing is poorly designed and quickly began to fold over itself where it connects to the pump, compressing the airway and eventually cracking the membrane. However, when I complained to Medela, they quickly replaced it.
The Verdict
I think that the Sonata is not currently covered by insurance companies. If your insurance gives you a pump you like, I don't know that it's worth spending the significant extra money for the Sonata. But if you are looking at having to buy one
out of pocket, it's a very good portable option.
Which pump do you use, or which ones are you considering if you haven't bought one yet? What will your insurance cover? If you've tried any of the pumps above, what was your experience with it, and would you recommend it to other moms? (And again, HUGE thanks to Reader R for this excellent Medela Sonata Breast Pump review!)
For more information on pumping breast milk, check out our post, Tips for Pumping at the Office: A Working Mom's Primer, where we've gathered all of our best advice and resources on pumping at work, including Pumping at Work 101, How to Pump When You're Traveling for Work, Breastfeeding and Type A Women, Where to Pump When You Need to Pump in Public Places, The Best Clothes for Pumping: A Poll, and How to Pump in a Different Office (on Corporette).
Social media images via Stencil.