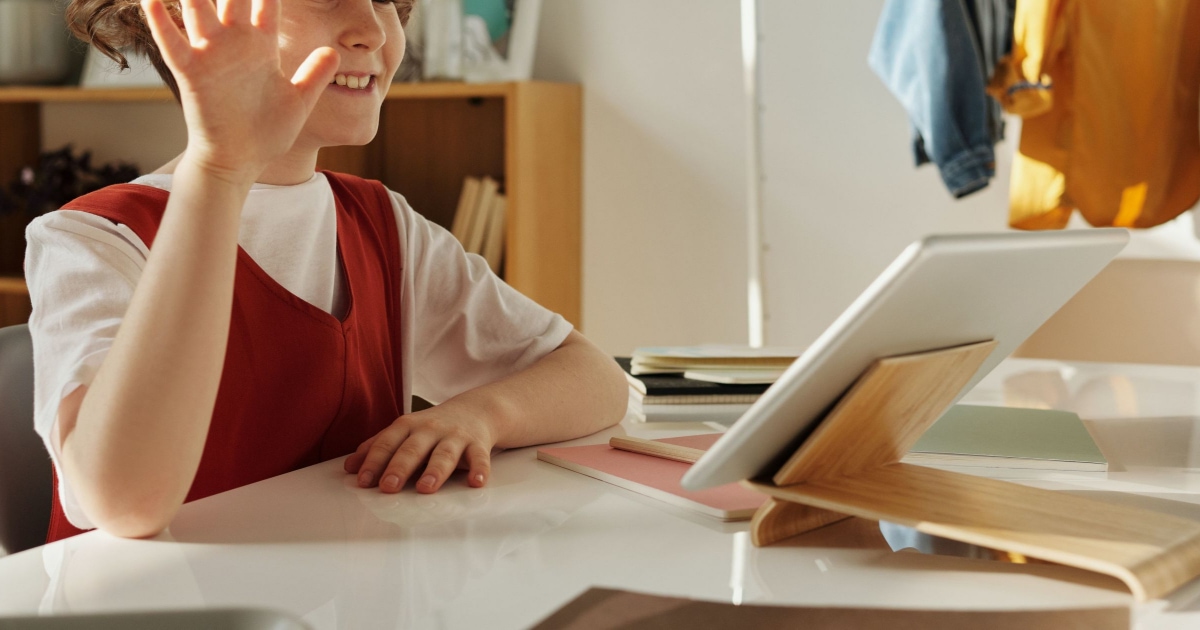 Have on-site camp programs gotten the go-ahead where you live, or do virtual summer camps seem to be the only option? Or are things still up in the air? In my area, some camps already made the decision a couple of months ago to go virtual this year, while others only recently announced that they'll have in-person programming available. We all know that virtual camps aren't ideal, of course (as recent articles have pointed out), but for most families, they're better than nothing — especially because a lot of places that provide kids' extracurricular activities still haven't reopened in some parts of the U.S.
In pre-pandemic times, we talked about school break camps and summer camps and working parents, but for obvious reasons we never discussed virtual camps — so today we're bringing you a list of seven virtual summer camps for 2020. (Make sure to also check out our posts on how to keep kids occupied during the pandemic, virtual travel with kids, and low-supervision activities to keep your kids busy while you're working.) Have you decided whether to send your kids to virtual or on-site camps this year, or are your kids attending both? Have you found any online programs that look promising? For in-person camps, have you received a list of coronavirus-related policies, such as mask-wearing?
1. Outschool
Age: 3–18
Topics: Everything!
Cost: $10 and up
Outschool offers classes and camps via video chat in a ton of categories: arts, English, life skills, music, social studies, coding & tech, health & wellness, math, science & nature, world languages, and "learner favorites" (which includes Minecraft, D&D, Fortnite, Lego, etc.). Each instructor has an online profile with parent reviews, and classes have reviews posted, too. Some camps have specific schedules, while others are designated as "ongoing." A few examples are Fun with Chinese: Level 1A ($97, ages 4–7, meets 2 times a week for 4 weeks), Crochet Camp ($50, ages 11–16, meets 3 times for 1 week), and Project-Based Python for Kids ($269, ages 9–14, meets 3 times a week for 4 weeks).
2. Bronx Zoo
Age: Pre-K to 8th grade
Topics: Animals/wildlife, careers with animals
Cost: For members, $250 for first child; $75 for each sibling; for non-members, $275 for first child; $100 for siblings
A silver lining of virtual camps is that your kids can choose from interesting programs around the country that they wouldn't normally have had access to. For example, many zoos and aquariums are putting on virtual camps this summer (I googled "zoo virtual camp" and found a lot), including Bronx Zoo, whose camp includes a behind-the-scenes look at animals and exhibits, time spent with animal keepers and scientists, science projects, and more. Some activities are at set times, while others are self-directed.
3. Project Scientist
Age: Girls aged 4–12
Topics: STEM (robotics/AI, health, aerospace engineering, climate change, etc.)
Cost: $325 for 6 weeks (25% off for each additional sibling)
Project Scientist's Virtual Lab looks amazing! Each girl receives a science kit every week to accompany daily programming from 9 a.m. to noon: hands-on science, "lunch with a scientist," career information, "live virtual expeditions" at companies that are addressing COVID-19, yoga/P.E., and more. Each evening, girls take part in a nationwide family trivia game based on what they've been learning. Class size is limited to 25, and the offerings are tailored for three age groups: ages 4–6, 7–9, and 10–12.
4. iD Tech
Age: 7–19
Topic: Coding/computer science: Python, JavaScript, Minecraft, 3D modeling, etc.
Cost: $399/week
iD Tech's virtual camps are each a week long, and each day includes two hours of live instruction and work with peers plus two hours of self-paced projects. The company notes that their limit of five students per instructor allows for social time and individualized learning. (My son did a one-time Code Ninjas virtual coding class this spring, and that class size worked really well — especially for a kid like him, who usually hates Zoom.) If your kid is seriously into coding like mine, you can buy a season pass — a 5- or 10-week pass saves up to 40%. (Note: Some camps start next week!)
5. Wide Open School
Age: Preschool to 12th grade
Topics: Art, music, science, reading, writing, etc.
Cost: Free
Wide Open School's virtual camps for preschool to 5th grade and 6th to 12th grade are curated by Common Sense Media (which is a great resource in general). When schools closed in March, 25 partners — including Scholastic, Khan Academy, Google, and National Geographic — quickly built the site to provide learning opportunities for kids stuck at home. Now they're providing summer learning, too. Parents can draw from the many activities available to create custom schedules for their children using the site's printable daily and weekly planner templates. Kids can go on many virtual field trips, too (preschool to 5th grade and 6th to 12th).
6. Varsity Tutors
Age: K–12
Topics: STEM, art, computer science, English, languages, social studies, etc.
Cost: Mostly free
Varsity Tutors' interactive, week-long camps are mostly free of charge, and parents can search the camp catalog by group size, grade, subject, and class days/times. (The site notes that camps are being added every day.) A few examples are Jurassic Class: All About Dinosaurs (grades K–1, 1 hour a day for 5 days), Create Your Own Storyland Using Minecraft (grades 3–6, 3 hours a day for 5 days), and Recycled Art (grades 2–3, 1 hour a day for 5 days). (Note that, for some reason, the site offers very little information about the company or the virtual summer camps, so trying one of the free offerings before springing for a paid class/camp is probably wise.)
7. Camp Wonderopolis
Age: School-age
Topics: STEM, reading, music, health/fitness, etc.
Cost: Free
I first heard of the educational site Wonderopolis through one of my son's teachers — she recently linked to it for an assignment. The site, which is provided by the National Center for Families Learning, also runs some interesting virtual camps. The five camps available are Symphony of Wonders (music), Build Your Own Wonderocity (engineering), Flex Your Wonder! (health and fitness), Mission to Wonder (science), and Connect With Your Wonders (science). Each camp goes beyond its general theme; for example, the music-based program encompasses production and composition, science and math, health, instruments, careers, and history and culture.
What are your kids doing this summer? Have you found any cool virtual camps or other online programs?