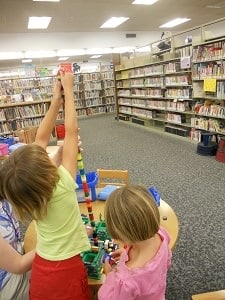 Do your kids go to school break camps during winter and spring school vacations? With day care, you usually don't have to worry — just send them to your regular provider. But parents of school-age kids need to find an alternative child care situation.
Good sources for information about school break camps include local parent magazines and websites, and local parent email lists/groups. Last month I asked about camps in a Facebook group for parents who live in my town and got some great ideas. (They included unexpected options from a chess center and aerial arts studio!) Depending on where you live, you might find school break camps from providers like these:
Cultural attractions: Check museums, art galleries, zoos, and other institutions. (Think outside the box: Even our local animal shelter offers break camps!)
Kid-oriented businesses: Good bets include martial arts centers, dance studios, climbing gyms, or places like The Little Gym.
STEM & arts centers: Your kids could spend a week enjoying photography, creative writing, robotics, Lego building, or Minecraft.
Grocery stores: Larger stores may offer kids' cooking classes during breaks.
Libraries and bookstores
Gyms/pools/YMCA
Community centers/rec centers
Academic/tutoring businesses
So, let's talk about what you do during school vacations! Do you ask family for help or hire a babysitter? Do you ask your nanny to work extra hours? Do you enroll your kids in camp? Do you take time off, or go on a family vacation? Also, how do you find out about camps?
When you've chosen a school break camp, does it usually fit your work schedule? (Or does it seem geared toward families with a stay-at-home parent?) When do you think kids are old enough to stay at home while you're at work?
Pictured at top: Lego Club — 2012, originally uploaded to Flickr by Clearwater Public Library System Photos.