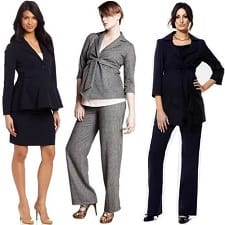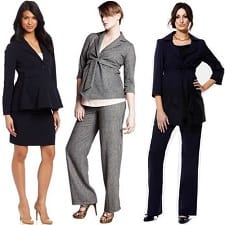 2018 Update: Looking for stylish maternity suits? Check out our latest roundup of maternity suits for professional women. 
Over at Corporette, we followed up on our recent roundup of suiting brands for women with a "Part 2" post of suiting in specialty sizes — including maternity suits. As we all know, maternity workwear can feel really limited, but stylish maternity suits are particularly lacking. The options we noted:
But I thought it would make a good topic for discussion over here.  For those of you who needed a suit while pregnant, which brand was your favorite? If you cobbled together a mismatched suit from separates, what are your tips?  I bought some maternity blazers in my first pregnancy, but in my second pregnancy (where admittedly I only gained the minimum weight), I found that my regular, non-maternity blazers fit up until week 38 or so.
Commenters have discussed this topic in the past, as well, coming up with the following ideas:
wearing a jacket (regular or maternity) with a work-appropriate dress
buying non-maternity suits in a larger size (sometimes several sizes larger) and making do with a Bella band for any fit issues with the pants
wearing neutral maternity bottoms (Loft pants, this reader favorite maternity pencil skirt) with a non-maternity blazer that was clearly a separate, such as a tweed or linen blazer
"making a suit" out of almost-matching fabrics (not usually recommended, but you get a pass when pregnant) —

some readers wore a long, tunic-y style maternity shirt so the blazer/pants purposely didn't touch so the mismatched fabrics weren't obvious
other readers went the other way and bought jackets longer than they normally wear, in fabrics that almost matched their maternity pants, since they thought that suited their pregnant frames better. (The reader particularly mentioned pairing Gap maternity pants with affordable Calvin Klein blazers-as-separates.)
Moms-to-be: Have you found stylish maternity suits you like(d)? If not, what have you been wearing as alternatives? Do you buy maternity blazers or simply wear your jackets unbuttoned?
(Like this article? Feel free to pin it or otherwise share with your friends!)