While many offices have relaxed their dress codes a bit over the past two years, you may still find yourself in need of a suit sometimes — and that can get complicated when you're pregnant. As we all know, maternity workwear can feel really limited, but stylish maternity suits (and even maternity blazers) are particularly lacking. It's even tougher if you're looking for plus sizes. (In fact, this is an update of an older post, and there are even fewer maternity suits and blazers available now than a few years ago.)
For those of you who needed a suit while pregnant, which brand was your favorite? If you've cobbled together a mismatched suit from separates, what are your tips?
This post contains affiliate links and CorporetteMoms may earn commissions for purchases made through links in this post. For more details see here. Thank you so much for your support!
Some of our Latest Favo [this was what the autosave draft had]
Check sites like eBay and Poshmark for maternity blazers and suits, particularly for hits from the past, such as maternity suits from Theory or Eva Alexander, or A Pea in the Pod's suiting line, and also search Etsy for vintage or new finds that might work.
Also, we've talked about rent maternity workwear in the past, but you can also buy "pre-loved items in excellent condition" from Rent the Runway, such as this maternity blazer from Soon Maternity.
I bought some maternity blazers in my first pregnancy, but in my second pregnancy (when admittedly I only gained the minimum weight), I found that my regular, non-maternity blazers fit up until week 38 or so.
What to Wear Instead of Suits When You're Pregnant
Commenters have discussed this topic in the past, coming up with the following ideas for what to wear instead of suits when you're pregnant:
1. Wearing a jacket (regular or maternity) with a work-appropriate dress
2. Buying non-maternity suits in a larger size (sometimes several sizes larger) and making do with a BellaBand for any fit issues with the pants.
3. Wearing neutral maternity bottoms (tailored maternity pants like this pair from Angel Maternity or a pencil skirt like this one from Emilia George) with a purposely non-coordinating, non-maternity blazer, such as something in tweed or linen
4. "Making a suit" out of almost-matching fabrics (not usually recommended, but you get a pass when pregnant)
Some readers have said they've worn a long, tunic-y style maternity shirt so the blazer/pants purposely didn't touch, preventing the mismatched fabrics from being obvious.
Other readers went the other way and bought jackets longer than they normally wear, in fabrics that almost matched their maternity pants, since they thought that suited their pregnant frames better. (One particularly mentioned pairing Gap maternity pants with affordable Calvin Klein blazers-as-separates.)
Moms-to-be: Have you found stylish maternity suits you like(d)? If not, what have you been wearing as alternatives? Do you buy maternity blazers or simply wear your jackets unbuttoned?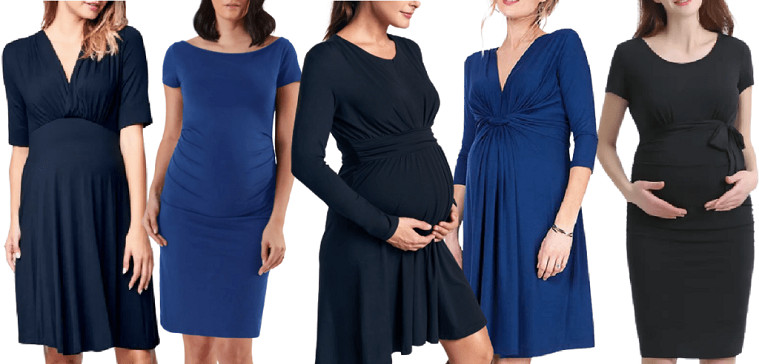 Some of our favorite, must-have maternity dresses for the office as of 2022: navy / royal / navy / royal / black (not pictured, but also) (also check this new indie maternity workwear brand)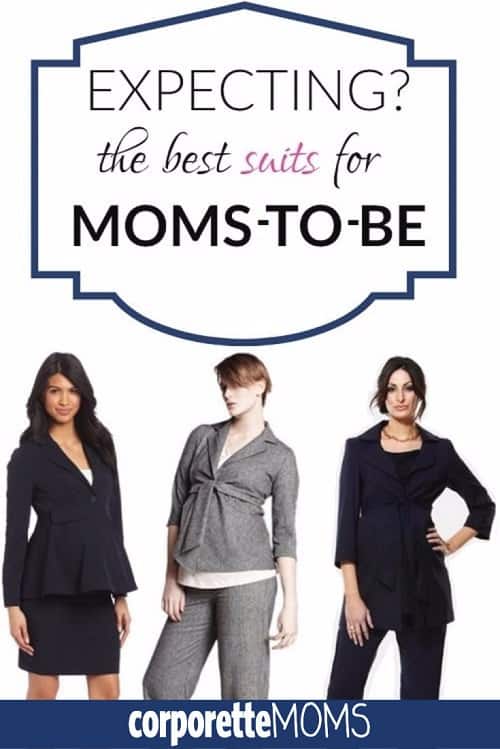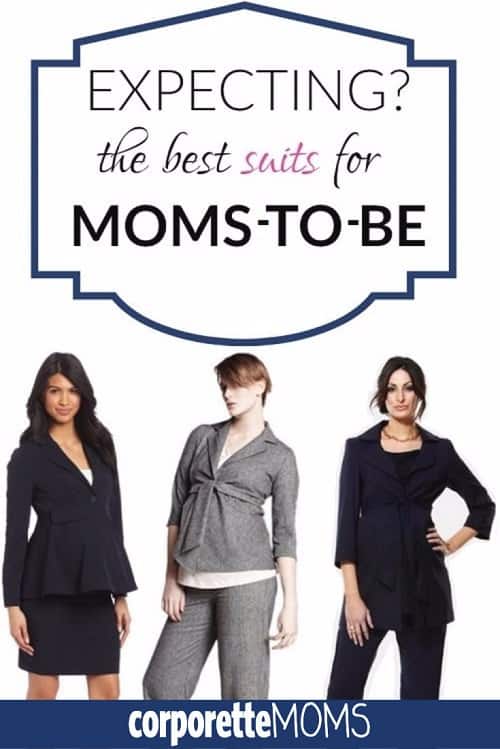 We are a participant in the Amazon Services LLC Associates Program, an affiliate advertising program designed to provide a means for us to earn fees by linking to Amazon.com and affiliated sites.