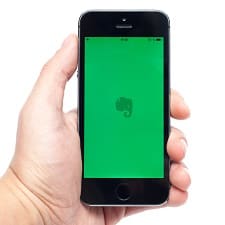 Kate and I were talking recently about how we keep track of kid-related paperwork and information, and I mentioned I was using Evernote for a lot of stuff. I really love it for my mom-related research, so I thought I'd write something up. A couple of years ago over at Corporette, we shared the busy woman's guide to using Evernote and other note-keeping apps, but we haven't specifically offered suggestions for how working moms can use Evernote for all sorts of family-related things. On this site, we've discussed a lot of tech for working moms, including meal-planning apps for working moms, the best smartwatch apps for parents, and apps that help working moms connect to school or daycare.
Here are a few quick Evernote tips for moms:
General Organization Tips for Evernote
Before I started using Evernote for mom-related research (the basic version is free, by the way), I mostly used it to collect various articles for the business as well as a few personal things I'm interested in (like eventually writing a novel). In short, I mostly used it as Pinterest for articles without pictures.
The biggest tip I can give you at the beginning is this: If you think you might want to use Evernote for a few different purposes, start the name of each notebook with an initial to keep your things organized. My personal notebooks start with K-, while everything for Casa Griffin starts with the initial of our street, and then everything for my sons starts with either of their first initials. Within the program itself you can create "stacks" to organize notebooks together, but the stacks don't show up when it's time to share things from your phone or iPad — which is why it's helpful to have it organized by initial, particularly if you have similarly titled notebooks. ("Notes from phone calls, conversations, and emails" is the name of a notebook I've created in a lot of different places within the app.) This way, it's really easy to remember what notebooks I've got for which research purpose. Also, I almost always have a notebook called "H-to file", so if I want to save something but don't have a specific notebook set up yet for the kids or for myself then it's still semi-organized. You can also assign one or more tags to each note (such as "health" or "school" or "camp") and view a list of everything categorized that way, if you want. (The usefulness of tags has been a subject of internet debate, however.)
How to Share Things to Evernote
You don't have to spend a lot of time in the program/app itself — I mostly just send things to Evernote using either the browser bookmarklet or the share button on my iPhone. You can also email things to the app, but that's actually my least favorite way to do it, because I've yet to find an easy way to choose a notebook when I send it — everything just goes in the first alphabetical notebook. (I named one notebook "aaa-toFile" for just that purpose, but I often forget about things I've sent there.) If you have a small number of notebooks that you can easily remember the names of, however, it's easy to designate a particular notebook when you email something to Evernote. You can also drag things into Evernote or copy/paste them; I do this with PDFs I've scanned.
Quick Uses of Evernote for Moms
Articles (for me, mostly health-related research): I can't tell you the number of times I've googled things regarding sleep hygiene, eczema, potty training issues, etc. — but now I send any interesting article with a link and sometimes even a quote to the relevant kid's folder in Evernote. (One of my kiddos has a speech delay and some other sensory issues, and each of those issues have led me down a thousand rabbit holes on the internet.)
Facebook comment threads: If you're like me, you're in a lot of Facebook groups for mom-related things (for me, business-related things, too), where you can find some fabulous threads filled with advice and tips. I just expand the entire thread and send it to Evernote, with appropriate keywords, personal notes, or brief takeaways at the top of the note so I can immediately remember why I wanted to save it.
Notes from conversations, calls, teacher conferences, doctor's appointments, insurance discussions, etc.: You know how sometimes you have a conversation with someone about your kiddo and then write an email to your partner (possibly your caregiver, too) to relay the information and get you both on the same page? I send that kind of thing to Evernote, and then I have everything in one place.
Paperwork: A caveat here: Evernote stores data in the cloud — so keep those plans to overthrow the government somewhere more secure! (You can read about security at the Evernote website and in these two blog posts.) Still: When I scan a ton of documents (doctors' paperwork, school report cards, treatment plans, etc.) and put them in the appropriate folder on my desktop, I also add them to Evernote, along with any notes or takeaways I might have.
Pictures of papers that I don't want to scan: For example, if your kiddo has special needs, has an IEP, or receives services (speech therapy, occupational therapy, etc.) — or all of the above — you know that there are always a lot of weekly progress reports and other papers floating around. I take a picture of those on my phone and then send them to Evernote.
Pictures from books, magazine articles, screenshots from text messages, links to YouTube videos (with explanations for why I'm sending them to Evernote), and so on: I find Pinterest to be a better place to save very visual information like those crazy informational charts or Instagram things or quotes — but sometimes you just want everything in one place, so you can always send those to Evernote as well. I find it particularly helpful for books — long ago, I used to take notes on books and copy important chapters and things; these days I just take a picture of the relevant page or pages, use the "screen markup" tool in my iPhone to highlight relevant portions, and then save the pictures in Evernote.
I also use Slack for ongoing conversations with my husband — I'll have to do a separate post about using Slack.
Ladies, do you use find Evernote useful as a mom? Did you use it before you became a parent? Do you have a similar organizational system for all the notes, papers, and other documents and research you collect for/about/from your kiddos — either an app or hard-copy method?
Further reading:
Stock photo: Deposit Photos / vdovichenko.