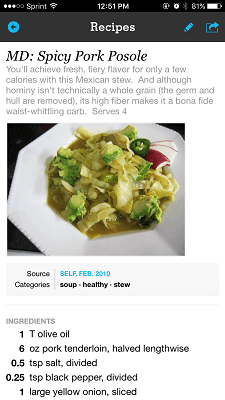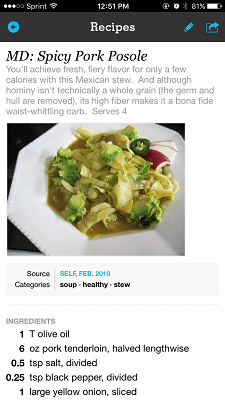 2020 Update: We still stand by this advice on our favorite meal planning apps (and I'm still using Pepperplate!) — but you may also want to check out some of our newer stories on tech for working moms.
Ladies, do you have any favorite meal planning apps? Have you tried and abandoned any? Reader M wonders:
Are there any resources that you have gathered/written about for meal planning for working moms? I am looking for a good app or system that will help!
We actually have talked about this in general, rounding up 5 family dinner strategies better than delivery, as well as having a nice discussion about how to share dinner duties between two working parents — but we haven't talked directly about apps (and I have a good one!), so let's discuss — I'm always curious to hear what people are using!
We keep trying different things here at Casa Griffin. We fell off The Fresh 20 because the meal prep was just too involved for the time we wanted to invest — we also don't eat at home reliably 5 nights a week, and adjusting the shopping list to only 4 nights took a surprising amount of thought. Prior to that we had a system of just cooking 10 easy meals "on rotation," but we got bored with that. I, too, was seeking an app that would help with meal planning, shopping lists, and also hold the recipe so I could consult it if I needed to in the store. (Or am I the only one who, when faced with a food item I can't find, consults the recipe and says, "well, screw it, they only want 1Tbsp of shallots anyway!" and moves on?) I really like the free app we've found: Pepperplate. It has a web version, as well as an app for my iPhone and my iPad, and I've set it up on my husband's phone as well (which gives him ready access to the recipes and shopping lists as well). The program can import recipes from some of its partner sites (allegedly), but it's also easy enough to add recipes manually. (I like that you can add a picture — they're always my favorite part when looking for recipes!) When you're sitting down to do the meal planning for the week you add a specific recipe to a calendar, making it easy for your partner or a helpful third party (nanny, au pair, whomever) to know what the plan is for that night. And one of the things I like best is that you can add all of the recipe ingredients to a single shopping list where items are grouped by general grocery store section (dairy, meat, etc) and consolidated. (You can also pick and choose which ingredients to add to the shopping list, which is always helpful when you already have 60% of what you need in the house.)
One tip: I keep a backup of all my recipes in B-Folders (which doesn't have an iPhone app, so it can't quite serve the same purpose). Both in Pepperplate and in B-Folders, I organize recipes by putting the meal in the title of the recipe, so if I'm sorting by alphabet I see all of my BF (breakfast) or MD (main dishes) together. I also put notations like MD:CP in the main title (so all of my crockpot main dishes are together), and I tag them with words like "slow cooker, clean, low carb, etc" since I sometimes go on and off different eating regimens. (Pictured: Spicy pork posole, from Self magazine many moons ago!)
This Lifehacker article rounds up some other apps, including the Lifehacker reader favorite, CookSmarts (currently $6-$8 a month). Ladies, what meal planning apps do you use? If you're still on the hunt, what are you looking for in one? If you've found a system other than an app, what do you use?
Social media picture credit: Pixabay.