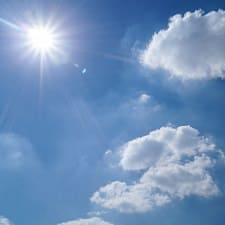 Ladies, let's talk about sun protection strategies for kids — do you sunscreen them up before daycare or school? Only if told to, either by policy or special direction?
I was just thinking about this a week or so ago: does anyone else feel guilty if your kid gets a farmer's tan, i.e. bronzed forearms and lily white upper arms? I have my own anti-sun agenda, but I feel particularly, perhaps excessively, protective of my fair-haired, pale-skinned boys. We all wear rash guards and sun hats whenever we're outside, and no one's gotten burned yet (which is good because multiple childhood sunburns greatly increase your risk for melanoma). Still, their forearms are all deeply tan right now, and I feel guilty, like I'm not doing enough to protect them. So let's hear it, ladies: Do you slather your kids with sunscreen every day? Do you get their ears and neck and forearms, or just, say, their nose and cheeks? What do you use yourself, and what do you use on your kids?
For my $.02, I'm kind of odd for myself: I just bought some tank tops so that if I go out on a 20-minute walk I can get some vitamin D and avoid a farmer's tan, but I'm also that weirdo on the beach with the long-sleeved rash guard, huge hat, and probably a too-white face because I haven't blended my serious mineral sunscreen. With my kids, if I know they'll be out in the sun for 30 minutes or more, I sunscreen the heck out of them — but on the flip side, if I'm not expecting a lot of sun exposure, I just send them out with hats.
How about you guys? Are you serious about sunscreen for your kids and/or yourself? Which products are your favorites? Are you a fan of any particular brand of rash guards or hats?
Image source: Stencil