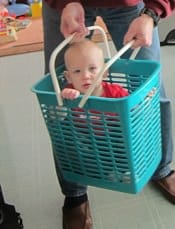 What are your laziest/smartest mom hacks? What are your best tips for getting stuff done around the house in "unperfect" ways?
Some readers seemed miffed by my posts on photo organization and organizing kids' clothes — but I am faaaar from perfect, and hate to give that impression. (Sorry, ladies!) Of course I'm going to write a post about the things that I feel like I've figured out, while skipping posts about the piles of laundry around my house (and lo, there are many). So I thought we'd do a post about some of our laziest mom hacks — what are your imperfect systems for Getting Stuff Done? Of course, some of these "lazy" things below are also some of the smartest things I've done. It's like folding underwear (which I haven't done in a LOOONG time, well before kids). Once you stop, you're never going back.
For my $.02, these are 9 of my lazy mom hacks:

We have the same 10 dinners on repeat — and even those are pretty lazy dinners! I have a little board where I write what we're having for the next week and make sure we have those supplies on hand. Fooey on new recipes and experimentation — that's what ordering Seamless is for, right? (Which is what happens when I don't have the week planned out.)
I "sort" the laundry by throwing it into different drawers. My boys are a wrinkled mess, and I toootally don't care. (Similar to this video, I suppose.) (Update: check out our whole discussion on how working parents handle laundry!)
We now put a lingerie bag on the top rack of the dishwasher filled with straws, pacifiers, Take and Toss tops, bottle nipples, et cetera, and see how they come out. Some we redo by hand, but a lot are fine.
I've kept my baby in footed pajamas for most of his first year. He only wears separate pants/shirt outfits when we're going to a party or some other event.
I've adopted a "one touch rule" for picking stuff up around the house — it's probably slower than making bins or something like that but at least some stuff gets put away. The rule: if I pick up something once I have to put it back where it rightfully belongs, not move it to another place.
I've talked before about how my new mom makeup changed after I had J, but I recently changed my makeup routine again based on the "one touch" rule — when I use eyeliner it's liquid eyeliner (one touch) versus pencil eyeliner (which looks better, but requires me to draw the line with the pencil, put down the pencil and pick up the smudgy brush, open a pot of eyeshadow to dip the smudgy brush into it, and then use the smudgy brush); I've also stopped curling my eyelashes on most days and just swipe on mascara.
We only use three main credit cards (I haaaate store cards) and I have those three set up to automatically pay the minimum. (We almost always pay them off in full every month, but I set up the automatic payment after I forgot once.)
I studied a few categories of big expenses (dentist bills, children's classes, home/term/personal articles insurance), figured out what the yearly total was, amortized the expenses to a monthly number, and set up an automatic transfer to various Ally accounts for those big expenses.
I plan to outsource vacation planning to my son once he's old enough.
Ladies, what are your laziest (or smartest) mom hacks?
Pictured: Laundry delivery! Personal photo from Xmas 2012 (at my parents' house). All rights reserved.
Sales of note for 11.30.23…
(See all of the latest workwear sales at Corporette!)
See some of our latest articles on CorporetteMoms:
Click here to see our top posts!
And — here are some of our latest threadjacks of interest – working mom questions asked by the commenters!